Remember when the kitchen was hidden behind closed doors? And it was nothing more than a room where meals were prepared and eaten and dishes washed? Yeah, we do too.
However, today's kitchen is the heart of the home, its focal point, the place that brings families together at the start and the end of the day.
With so many changes having already occurred in kitchen design, style and use, what does the future hold for the kitchen of the next several years?
Smart Tech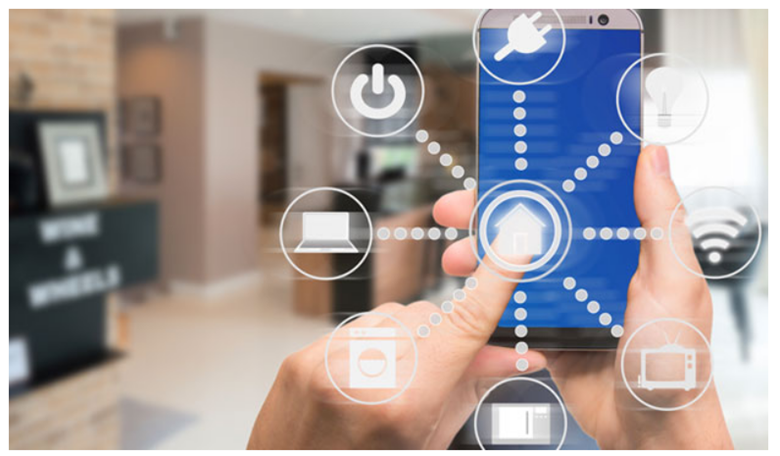 Technology-integrated kitchens are one of the biggest trends going into the future. Use of technology in the kitchen is increasing. And as kitchen designers, you have your work cut out for you!
Staying on top of the smart appliance trends isn't a once-and-done process. New products arrive on the market every day, and homeowners will ask for your recommendations.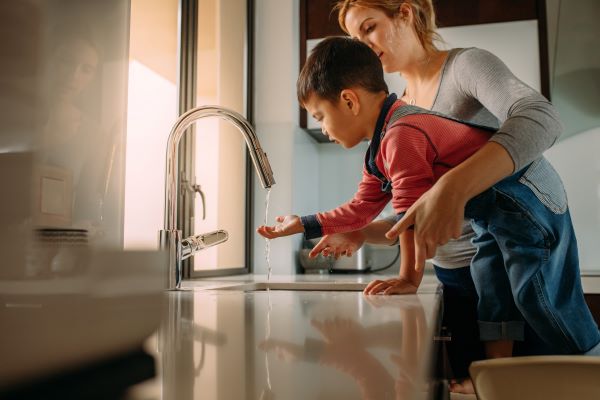 Technology has moved from entertainment and security into the kitchen. In today's smart kitchen, technology can be integrated into every function and appliance, from the faucets to the fridge to ovens to the lighting. Touchless or one-touch faucet technology is becoming a standard feature, refrigerators send an alert when grocery items are running low, coffee makers have coffee ready in the morning, microwave and countertop ovens can be turned on and off and temperature adjusted from anywhere. Most smart cooking appliances provide recipes. Smart dishwashers will tell you when you're low on detergent. The list goes on and on.
New homes have kitchens built smart from the ground up. For older kitchens, smart appliances and other devices can be upgraded to "smart" using WiFi and phone apps.
Cabinet Colors
White.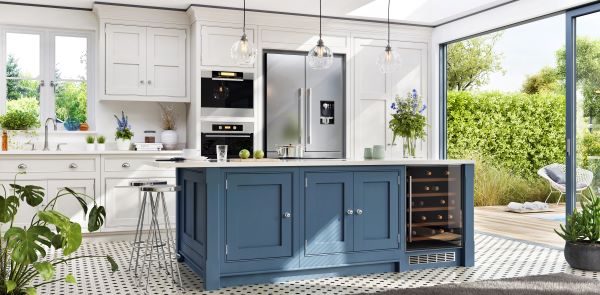 White is still a big favorite for kitchen cabinets. White cabinets are simple, beautiful and timeless and can be used in any kitchen style.
Gray.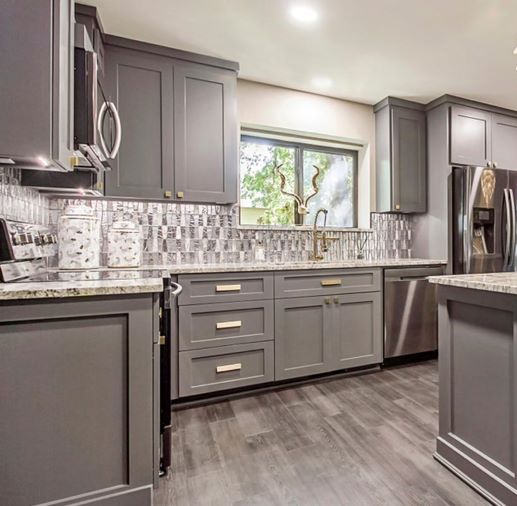 Gray is a neutral, cool color for cabinets. "Cool" as in cool color, described as calm or soothing. Not "cool" as in hip or happening. Gray can be used as the background for colored accents, like stools, countertops, tiles, backsplashes, walls and window treatments.
Many shades of gray have been popular for some time, and its popularity appears to be waning. If your customers want gray, recommend they go for a rich, warm gray for a more updated look.
Green.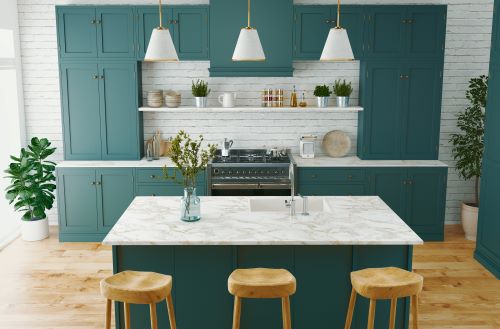 Cabinets in any shade of green can bring a nature-inspired vibe into a kitchen. Green represents new beginnings, thus having green in the kitchen is a great way to start each day fresh. It's also part of the Wellness Kitchen, where nature influences play an important role.
There are plenty of green hue options — choose shades from mint to sage, with blue or yellow undertones. The photo above shows green/blue painted cabinets.
Blue.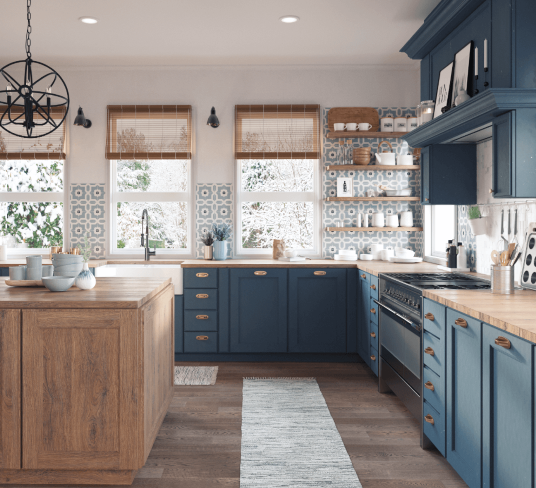 Traditionally, blue has not been considered a kitchen color because it's not thought to stimulate a person's appetite. However, blue is having a moment. Cabinet manufacturers have reported that it's a requested cabinet finish color. And designers are reporting that blue paired with metallics is very popular right now.
Introducing a shade of blue – especially one with gray tones — into a kitchen can be the perfect way to create a sense of peacefulness. Blue can bring the calm and comfort that people often need after a long day.
Black.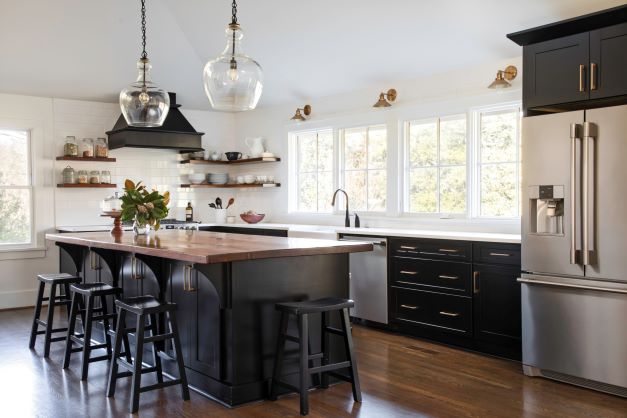 Another color that was considered a "bad" kitchen color is black. It's no longer considered "gloomy". Black is very flexible. It creates sophistication and drama, especially when paired with metallics, such as stainless steel appliances, polished nickel door and drawer hardware or brass pendant lights. Black cabinets can be chic, modern and warm, sometimes all at the same time.
Designers are loving Sherwin Williams Black Fox for its earthy undertones.
Contemporary Design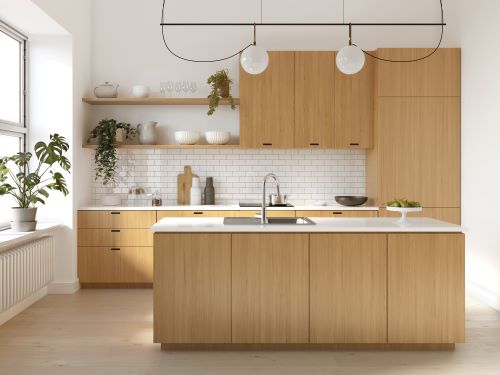 Kitchen designs have moved to contemporary styling, as a reaction away from the heavily ornamented styles of the 90s and early 00s. It's taken a while for homeowners to get on board, but they are there now. They're loving the edgy, stylish and functional contemporary kitchens.
Contemporary is not an actual design movement. It's a term that means 'in the now'. Clean lines and simple design are the elements of the contemporary kitchen.
In general, contemporary cabinets have a sleek, more angular design with little or no ornamentation. There are two types of cabinet doors that are typically used in contemporary kitchens—Shaker and flat-front. Both have simple lines.
According to an NKBA survey, contemporary is now more popular than traditional as the second most requested kitchen design style. Transitional is the most popular.
Granite vs Quartz Countertops
Granite has had a good run, but Quartz has taken over as the most popular countertop material.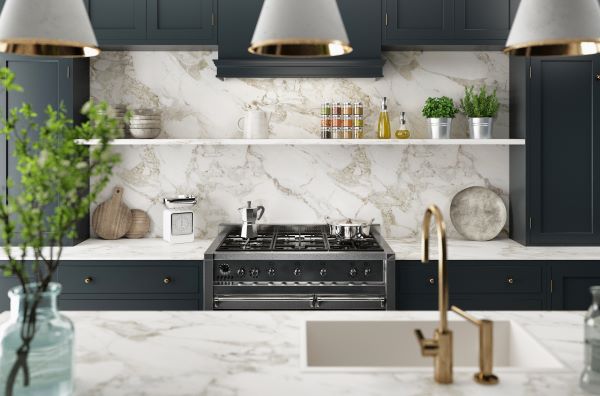 When quartz countertops first came on the market, people didn't like them because there was a lack of variety in colors and finishes. But today, manufacturers provide a wide range of colors to choose from, as well as realistic stone patterns. Like the marble-look quartz in the photo.
In fact, we probably aren't wrong to say that the choices can be overwhelming. That's where you come in, kitchen designer. Help guide your clients' selection process and keep them focused.
In-Cabinet Storage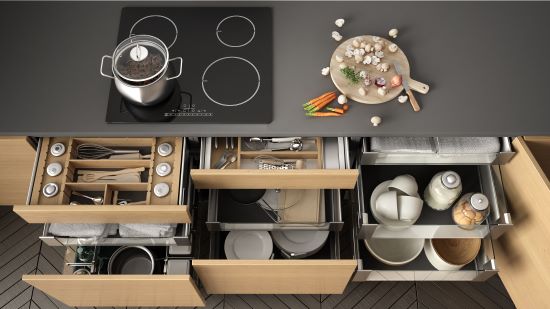 Sometimes available space inside kitchen cabinets is too small for larger things, or the opposite occurs: it's too wide and the space can't be organized efficiently. Thanks to Houzz, Pinterest, Instagram and HGTV today's homeowners want better storage solutions and they know what they want.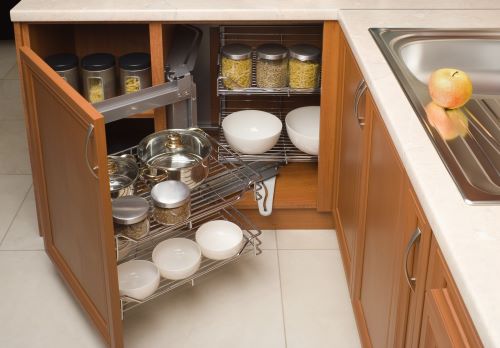 Conclusion
Trends are tricky to report and even trickier to predict. Consumers want their new kitchen to look hip and happening with all the bells and whistles to show off. Yet no one wants the kitchen they've invested thousands of dollars in to be out of style or dated in a few years. It's a delicate balance when making style choices.
But your clients will ask you what's "in", so staying on top of styles trends is an important part of your business.
---
Bob Aungst Cabinet Sales is a full-service rep agency with one goal: to match kitchen designers and remodelers with the cabinet manufacturers best suited to their business' style and clientele. Owner Bob Aungst III represents Brighton Cabinetry, US Cabinet Depot, Jay Rambo Cabinetry and Great Northern Cabinetry.