Black stainless steel is an excellent alternative to regular stainless kitchen appliances. Although it's still popular, stainless steel has lost some of its appeal as the most popular finish for appliances. The end of stainless steel as the favorite appliance finish is often predicted, especially when an appliance manufacturer introduces something new.
What Exactly is Black Stainless Steel Finish?
Black stainless steel and traditional metallic stainless steel are the same material. Both are made from a mixture of iron, chromium, silicon, nickel and carbon. However, black stainless steel gets a coating of black protective polymer. It's not a painted or baked-on finish. Except for Bosch that bakes the black finish to the stainless, making it more scratch-resistant (but not scratch proof).
Why Black Stainless Steel for Appliances in the Kitchen?
Black Stainless Steel can be a good choice for people who
don't like the industrial look of regular Stainless Steel
want something different from what their neighbors have
are tired of cleaning smudges and fingerprints off their stainless appliances
find that the style is now both widely available and affordable (like what happened with granite. When everybody could find it and afford it, it was no longer desirable)
think that it's no longer as special and unique as it once was
Black stainless steel has a timeless appeal. It can be a prominent statement color, or it can blend in with dark cabinets, or it can make a bold statement among lighter cabinets. Black stainless can be used as a softer, warmer alternative to traditional stainless steel.  
Since transitional is the most popular style for kitchens, the black stainless "contemporary-but-still-classic" finish will fit in perfectly. Also popular right now is mixing textures in the kitchen, and black stainless with its matte finish will balance out any shiny surface (although polished countertops and shiny chrome and other shiny surfaces are not as popular as they once were).
The Finish is Subtle
Appliances with this finish are not as "showy" (for lack of a better adjective) than their metallic, shiny stainless steel counterparts. The sheen on black stainless steel is either flat or matte — anything but polished and gleaming.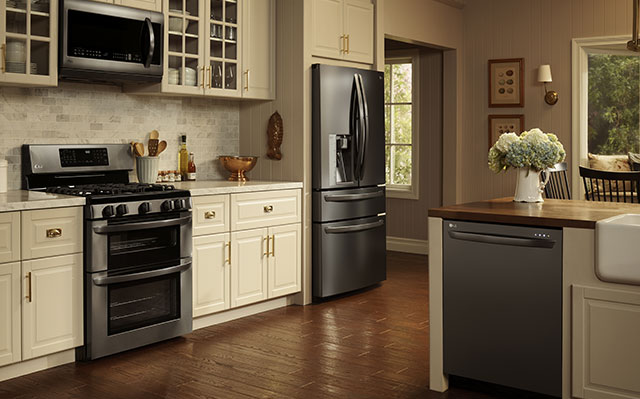 The Matte Finish is Practical
Matte finishes are both stylish and practical since fingerprints, smudges and minor stains disappear or are minimized on flat finishes. No appliance surface hides all smudges. But matte black does a good job of hiding most smudges and fingerprints.
Metallic-finish stainless steel requires special cleaners. Because black stainless steel is coated, it can be cleaned with warm water and a soft rag or with non-abrasive kitchen cleaners.
Black Stainless Steel Goes with Most Every Other Color. But Not other Blacks.
Black is a special primary color in that it can be matched with all other shades. Black matches well with both warm and cool neutrals. It also goes with gray, brown, white, beige, and navy. So it will fit into any kitchen.
When pairing black stainless steel appliances from different manufacturers, the blacks may not match, either in shade or in sheen. It's best to stick to the same brand when purchasing a collection of black stainless steel appliances. A black stove from LG may not match a black Samsung fridge, for example, so mixing and matching is not a good idea.
Unfortunately, It is Not Perfect
Scratches.
Samsung and Bosch have the most scratch-resistant black stainless finishes. That is not to say they are scratch proof. In fact, susceptibility to scratches is the #1 complaint about black stainless steel – it shows scratches. An appliance retailer has taken photos of how scratches show up on different black stainless finishes. They have made a couple videos showing how they performed their tests.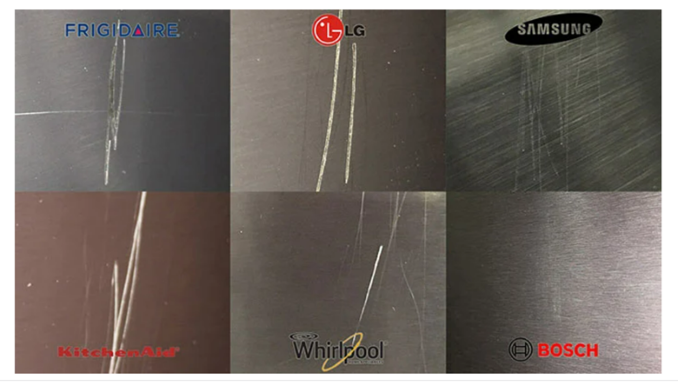 Since most manufacturers apply the black stainless color as a coating on top of stainless steel, cosmetic issues are more obvious than a scratched stainless steel appliance, since the stainless steel underneath the black coating shines through.
Peeling.
Further, consumers report the black on their black stainless appliances peels off. While this coating may seem great at first, homeowners have learned that it's not perfect. It's an oxide coating that turned out to be easily peelable.
In fact, this peeling is the cause of numerous consumer complaints. Best Buy customers reported that the finish of their black stainless Samsung, LG, and Kenmore appliances started to peel away within a year of minimal use, leaving large flecks of silver exposed on the surface. Further, when consumers reported what was happening, retailers had the same answer: the damage was "cosmetic" and, therefore, not covered under warranty.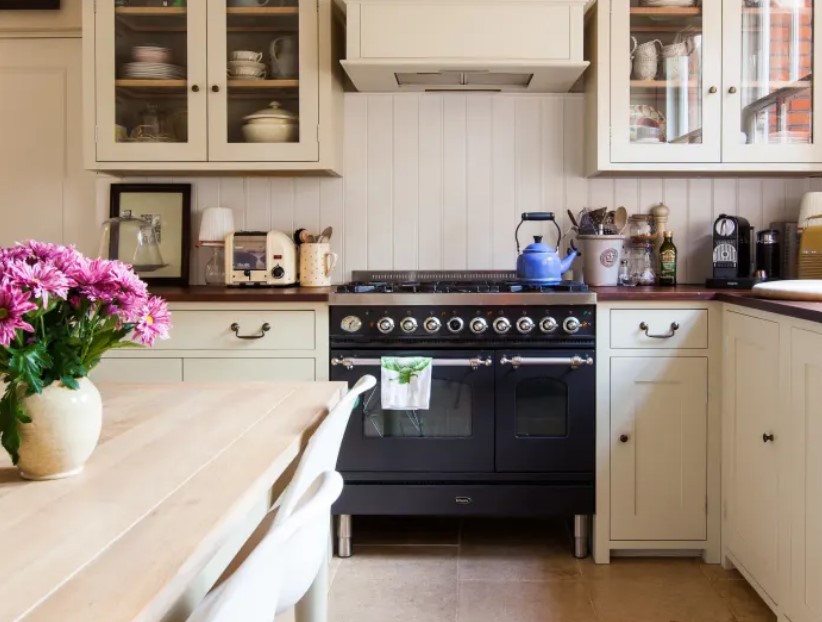 Does This Finish Have Staying Power as an Appliance Finish?
Whether the black stainless  appliance finish has staying power or is merely a trend has yet to be proven. If the products don't sell well, manufacturers may discontinue the color option, making it difficult for consumers that buy a package now to replace a piece a few years from now.
One appliance retailer goes so far as to recommend against buying appliances with black stainless finishes. They report that sales have decreased year-after-year, and they predict manufacturers will discontinue the products.  
Black as an Appliance Finish Doesn't Have to Be Stainless Steel
Black as a finish doesn't have to be stainless. Fisher & Paykel, Café Appliances, BlueStar, Viking, and La Cornue offer black finish, as well as additional color options. 
GE's Slate appliance finish is ideal for today's styles, as it perfectly complements modern colors and kitchen materials. The rich matte finish disguises fingerprints.
Slate is easy to maintain and does not attract dirt and stains as much as stainless does. It an also be used to display photos and kids' artwork since it's magnetic.
Conclusion
Appliances Connection named black stainless steel one of the best appliance finishes for 2021. Let's see what homeowners have to say in 2022.
Will Black Stainless replace traditional Stainless Steel as the most popular appliance finish? That remains to be seen, but it appears homeowners want something different, and this could be it.
For Further Reading
---
Bob Aungst Cabinet Sales is a full-service rep agency with one goal: to match kitchen designers and remodelers with the cabinet manufacturers best suited to their business' style and clientele. Owner Bob Aungst III represents  Brighton Cabinetry, US Cabinet Depot, Jay Rambo Cabinetry and Great Northern Cabinetry.