The increased demand for outdoor kitchens has seen them grow in size, scope and budget.
Designs for outdoor kitchens often extend the look and style of the indoor space. As a designer, don't you love to see the inside blend with the outside? They are much, much more than the old hibachi and picnic table from years ago.
Outdoor kitchens have become an integral part of the category "outdoor living", with items made specifically for the outdoors. They can include some or all of the following:
Grills, some as large as a small car that can cost thousands of dollars
Pizza Ovens
Smokers
Beer Taps, i.e., a kegerator
Sink(s)
Refrigeration, including a freezer, wine cooler
Cabinetry
Dishwasher
Furniture
Lighting
Heating – natural gas patio heaters or portable propane patio heaters
Flooring
Entertainment Systems – TVs need to deliver a good picture in bright sunlight
Decorating Accessories – outdoor rated furniture and fabrics now deliver indoor style and comfort
Why An Outdoor Kitchen?
Extend Living Space.
Possibly the #1 benefit of an outdoor kitchen is that it extends living and entertaining space. Help your clients make the most of this additional space by including shade and shelter in the summer and warmth in cooler months in your outdoor kitchen design. Think fire pit, outdoor heaters and/or radiant heat.
Kalamazoo Outdoor Gourmet, a brand of luxury outdoor appliances and cooking systems, has reported that they are selling more and more into the areas north of the Sunbelt – even as far north as Canada. These areas are newer to outdoor kitchens and people realize they can have the outdoor kitchen they want, regardless of climate. People everywhere are grilling year-round and enjoying their outdoor kitchens.
Tips for Designers
You'll be happy to know that outdoor living experts report those with indoor kitchen design experience are best suited for planning today's outdoor kitchens.
To understand the homeowner's needs, ask them specific questions, such as:
Explain how you cook inside?
How will you cook outside?
Do you do your own cooking at parties or hire a chef/caterer?
What is the typical number of people you entertain for?
How often do you entertain?
What is your budget and what are you expecting to spend?
As with any design project, revisit the budget frequently throughout all stages of the project to avoid miscalculations and unpleasant surprises.
Walk your clients through the process from food storage and prep through cooking and cleanup to make sure they include everything they want and expect to get.
Check for permitting if you need to run a gas line, for instance.
Maintenance and upkeep are key. For example, Kalamazoo Gourmet units feature a seamless gutter around door and drawer openings to prevent water and dirt from getting inside.
Consider the Surroundings
An outdoor kitchen needs to fit in to the yard and surrounding area. The colors and textures you and your clients choose should complement and/or extend the style of the home's exterior and landscape.
Plan the Layout
An indoor kitchen's layout is defined by walls, doors and windows. Outdoor kitchens typically lack this clear-cut definition. That's why L-shaped designs are popular choices for outside, because they create a sense of room division.
Functional Zones
Consider the best locations for the functional zones of the kitchen. Cold areas (refrigeration), hot areas (grills and cooktops), wet areas (sinks) and dry areas (prep counters and storage) must each have enough space to work efficiently. For example, the refrigerator should be out of direct sunlight and not next to the grill to help it work efficiently, conserve energy and last longer.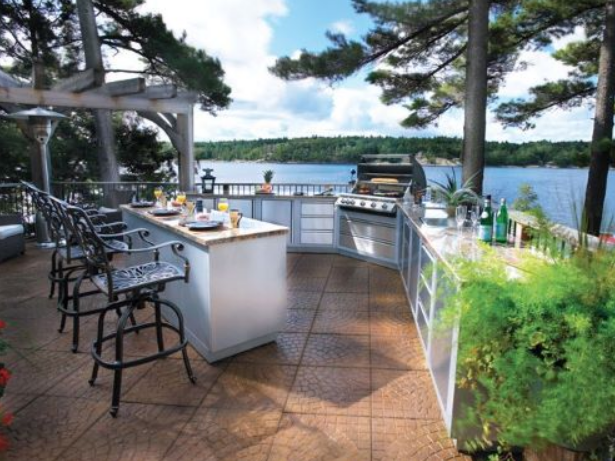 Outdoor Appliances
After the layout, help your clients make informed appliance choices. Because there are so many appliances to choose from, they should look at the appliances you believe they will use the most, based on the information they have given you.
They need to focus on "outdoor" appliances. The indoor version will probably work OK, but since they aren't designed for outdoor use, they are less likely to last as long.
Here are a few of the most popular appliances for outdoor kitchens:
Grills and Smokers
Many types of grills are available for outdoor kitchens, so help your clients to do their research before buying. Choices include grills powered by: 
gas
charcoal
electricity
wood.
Grilling enthusiasts may want more than one!
Your clients will want to look for these features when grill shopping:
Built-in thermostat
Shelves to hold condiments, cheese, spices, etc.
Burners with at least 12,000 BTUs per burner
Ample cooking space. Some experts recommend 100 square inches per person. So if your clients have a big family or they expect to cook for a lot of people, help them choose the appropriate grill size
A grill cover
Built-in Refrigerator
A built-in refrigerator is a necessity for outdoor kitchens, and people are incorporating more and larger refrigeration units. They have discovered that having water bottles, sodas, beer or juice boxes stored outdoors makes it easier for everyone. And it keeps people from constantly going in and out of your house.
Possibly a Built-In Kegerator
For people who entertain a lot or who just like to drink beer, a kegerator is a popular option for an outdoor kitchen. A built-in kegerator with at least two taps is recommended so multiple types of beer and/or root beer can be offered.
Ice Maker
Outdoor living requires lots of ice, so an ice maker for the outdoor kitchen is a smart addition. Built-in ice makers are available, but if space is a problem, a portable ice maker can do its job, then be stored away when not needed.
Lighting the Outdoor Kitchen
Task lights that will light up food prep, cooking, eating and clean up zones are important. If the outdoor kitchen has a ceiling, an overhead fan with lights can serve a dual purpose. Many modern grills are equipped with LED lights that come on when the lid is lifted.
Solar-powered accent lighting and/or strings of lights over the areas where people will be gathered add ambiance. And citronella candles or tiki torches will provide some mosquito repellent.
Countertop Materials for the Outdoor Kitchen
Depending on the climate, certain materials work better outdoors. Granite, glazed ceramic tile, porcelain and concrete are all good options. They provide strength and durability while still being decorative. However, these materials need to be maintained and sealed.
Dekton from Cosentino was created specifically for outdoor use.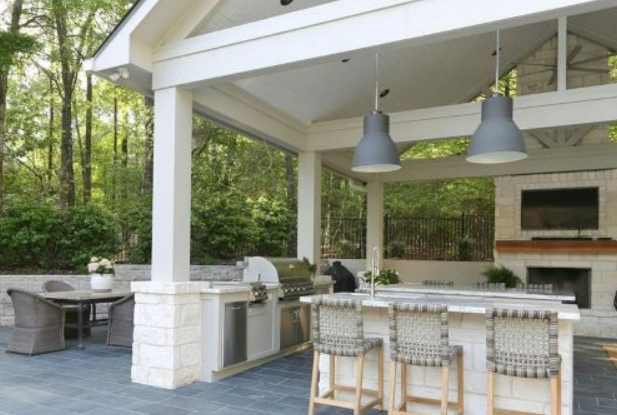 Flooring Materials for an Outdoor Kitchen
Flooring, patio or decking material should be highly resistant to grease stains and be able to withstand high temperatures. For safety purposes, stone or wood-look tile that has texture is great.
Porcelain is being used for indoor-outdoor flooring. It can go from the inside right through to the outside, and doubles the space visually.  Sealed pavers and concrete both work well also.
Cabinets for an Outdoor Kitchen
Material consideration is especially important when choosing outdoor cabinets. The weather and climate in your region must be considered first, and style second.
Options for outdoor cabinet materials that are weather-resistant include:
stainless steel
marine-grade polymer
teak and cypress
Stainless Steel
Stainless steel is a good material to use for outdoor kitchen cabinets as it is weather- and bug-proof. The type or grade of metal typically used in outdoor cabinets is 304 stainless steel, as it is the most resistant to corrosion and staining.
To ensure that cabinets are fully weatherproof, all hardware must be stainless steel. This includes not only stainless steel door knobs and drawer pulls, but also the unseen hardware, like fasteners and hinges.
Looking for a colored finish? Stainless-steel cabinets can be powder-coated in various colors.  
Be aware that stainless steel outdoor cabinets can get very hot when exposed to the sun. Also, stainless isn't stain-proof and will show its age. It requires regular applications of protective coating or it will get damaged. 
Polymer
Another popular outdoor kitchen cabinet material is marine-grade polymer. Polymer is a synthetic material like a heavy-duty plastic, and marine-grade means it can be used outdoors, it can get wet without rusting and deteriorating, it doesn't stain and is UV-resistant. Polymer is truly weather proof and not simply weather resistant. It can take anything Mother Nature throws at it and still keep its good looks. 
Polymer is engineered for direct exposure to rain, snow and extreme temperatures, hot or cold. This cabinetry will not split, fade or crack.  And it definitely won't absorb water and swell like wood cabinets do. Plus, it comes in different colors and different door styles are available.
It can be hosed down for cleaning. And it's bug proof!  Because there's no organic material used, there's nothing for bugs to munch on.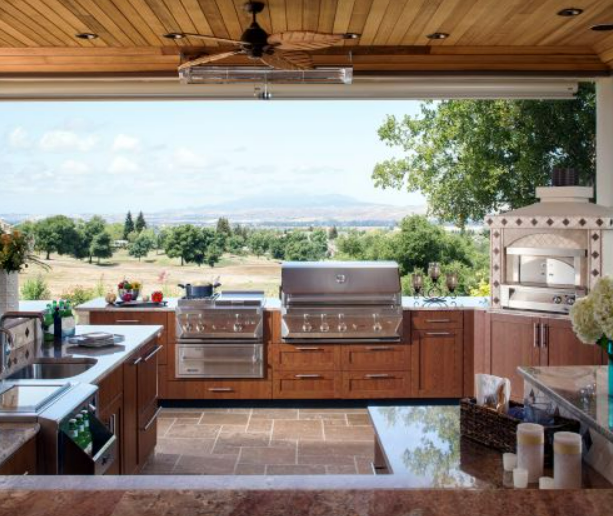 Teak / Cypress
Teak and Cypress are desirable for outdoor kitchen cabinets for people who want wood and not metal or plastic.
Teak and cypress are not as weather-resistant as steel or polymer, but they possess natural attributes that make them more weather-resistant than other woods, such as Oak or Cherry. They can withstand all types of weather. They repel water, and as a result, don't warp, crack or become brittle.
When new, Teak wood has a honey brown color. Over time it will fade and age naturally into a soft grey. Many people like the weathered look and can't wait for their teak to develop its natural patina.
Cypress is ideal for the constant heat, humidity and torrential rains of coastal locations. And people love it because of its longevity and good looks. It's used as siding and shingles in areas with high heat and humidity, so its ability to stand up to Mother Nature has long been proven.
Just FYI – Teak and Cypress are used for the doors and drawer fronts on outdoor cabinetry. The cases will be stainless steel or polymer.
Storage
Insufficient storage space will surely diminish the usefulness of an outdoor kitchen. Ask your clients to be realistic about what they will store outdoors so you can maximize the cabinets to match their needs. A mix of deep and shallow cabinets will avoid the problem of things getting lost in deep cabinets.
You may need to remind your customers that outdoor kitchens are – well, outdoors. They will be exposed to dirt, dust, leaves, grass clippings and pollen, in addition to temperature changes, humidity and precipitation. To keep dishes and tools clean and ready to use, help them choose cabinets that are fully enclosed. Look for cabinets that have sealed doors and tops because dust will filter down from the countertop if tops aren't sealed.
Conclusion
The one universal truth that all outdoor kitchen designers must keep in mind is this: All building materials in an outdoor kitchen must be able to stand up to the elements. An outdoor kitchen needs to hold up to whatever the weather may bring, such as high winds, heavy rains, extreme heat and possibly even ice and snow storms. The materials must be tough enough to withstand the elements, while still being low maintenance for easy care.
With beautiful, durable outdoor cabinets and appliances installed in one of your fabulous designs, your clients will enjoy outdoor living in their outdoor kitchens year after year.
---
Bob Aungst Cabinet Sales is a full-service rep agency with the goal of matching kitchen designers and remodelers with the cabinet manufacturers best suited to their business' style and clientele. Owner Bob Aungst III represents Brighton Cabinetry, US Cabinet Depot and Great Northern Cabinetry.