A luxury walk-in closet is a major status symbol, one that has evolved into a personalized space that is much more than a place to store clothing. Men and woman both want a luxury walk-in closet customized to be as awesome as the rest of their home.
The walk-in closet is a feature people are willing to pay extra for. USA Today reported that the luxury walk-in closet is a major status symbol, with 60% of home buyers willing to pay extra for one. A survey by Zillow.com confirms this, citing walk-in closets as high on the list of amenities home buyers want most.
The Kitchen Designer and Closet Design
People today have lots of "stuff" and that "stuff" requires lots of storage. And no one is better at space planning than a kitchen designer.
Closet design is a natural addition to your skill set because whether you're finding storage for pots and pans or for shoes, the essential design guidelines are the same.
The Luxury Walk-in Closet Must Include Style, Functionality and Personalization
Here are the primary considerations for a new closet:
1.) Space
When it comes to the luxury walk-in closet, bigger is definitely better. Everyone wants plenty of storage space.
If your clients have the space and the budget, you may want to suggest including a dressing area with seating, a center island with drawers and full-length mirrors for functionality.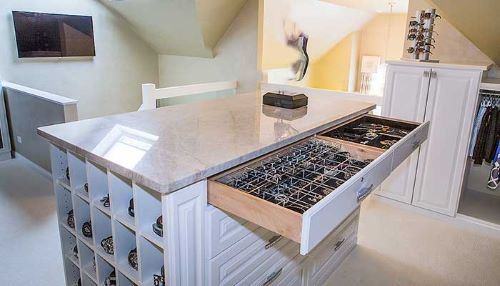 If they don't have the space, perhaps they would be willing to give up an unused bedroom that can be converted into a spacious walk-in closet and dressing area.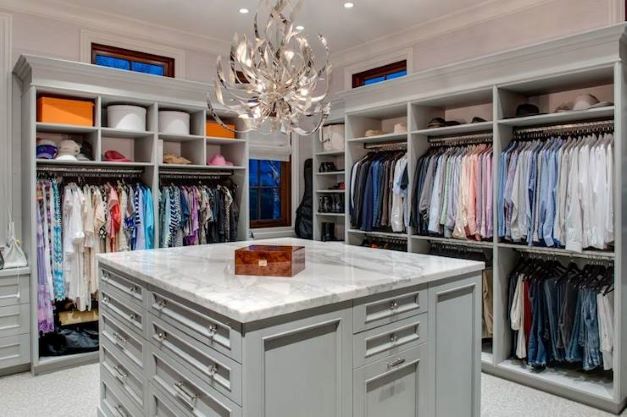 Your clients should take an inventory of their clothing items that are spread out in closets throughout their home, like winter coats and other seasonal items. The more items they have in places other than the bedroom closet, the more space you will need to find. You don't want to have to cram in shoes, handbags, coats, jackets and dresses. Your clients' new closet won't look or feel fabulous if it's jammed full and items are jumbled.
The idea is to emulate high-end department stores and the way they display items to their best advantage. They long ago discovered the secret to appealing displays: allow lots of space between articles of clothing and shoes and create an overall sense of spaciousness.
2.) How Do They Use Their Closet?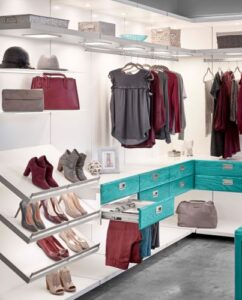 Closets are not a one-size-fits-all. As a personal space, they deserve to be customized to your clients specifically. That's why it's important to understand how they use the space, what type of clothes they have, what they need to store, what they access most frequently, whether they're neat and tidy (or not) with their clothing, and whether they have hanging clothes or folded clothes.
Here are a few additional questions that can help you design the ideal closet for your clients: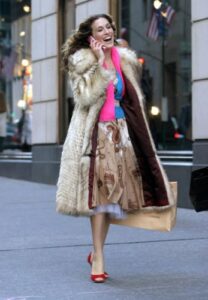 Do they have a shoe collection that rivals Carrie's in Sex and The City?
Does the man have ties in every pattern imaginable?
Are their outfits color coordinated?
Do they store their things haphazardly?
Is their closet filled with jeans and sweaters that can be placed in "stacked" storage?
Does their clothing include formal gowns, dresses and suits that require special hanging space?
What accessories, like handbags, belts, jewelry, do they need to store?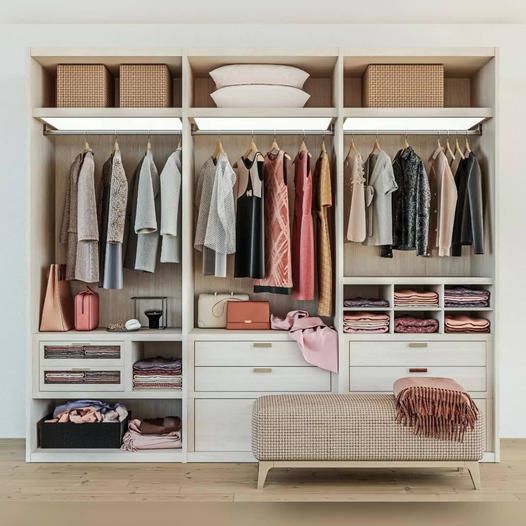 3.) Personalize the Space
How do the homeowners want their closet to look when they open the door? Closet design doesn't have to be boring. Some people incorporate unique features in their closets, such as: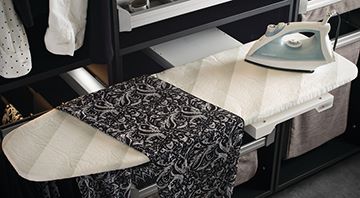 Washers and dryers with dedicated laundry stations, including a pull-out ironing board like this one from Hafele, the Häfele Ironfix®. It turns a drawer into a pull-out ironing board that rotates 180°.
Built-in espresso machines
Mini-refrigerators with wine bar
Desk with charging stations
A lounging area
Yoga/meditation area
Built-in dresser(s)
Artwork
Luxury walk-in closets can include:
Chandeliers and/or other decorative lighting
Wood flooring or luxurious thick pile carpeting
Natural stone countertops
Wall treatments and ceiling treatments
A sitting arrangement
Vanity for putting on make-up
Bench seat for putting on and taking off shoes
A chaise for relaxing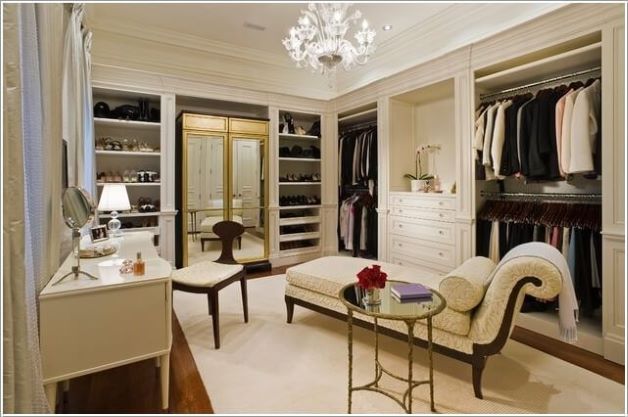 4.) Functionality, Efficiency and Universal Design
Homeowners often complain about lack of adequate closet space. But designers have found that it's not because the space itself is too small, but it's because people can't use the space effectively. A five-foot tall woman is probably not using the top third of the closet, simply because she can't reach it.
Likewise, a tall person may avoid using racks placed at lower levels that require stooping or bending to use. The solution may be as simple as moving a rack up or down 6".
Wardrobe Lifts  allow people to use higher spaces on a wall. Motorized or manual pull-down hardware fittings that bring the contents of high racks down can "give back" enough space to make a small closet seem larger.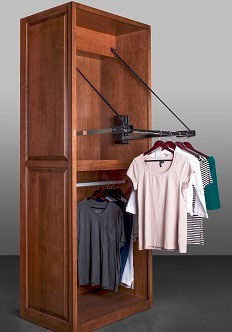 Don't overlook universal design principles when working on a new luxury walk-in closet design. Making a person's clothing accessible is not something that should be limited by age or physical ability; everyone should be able to reach their clothing easily, whether in the future or now, it doesn't matter. What does matter is that the convenience is there whenever it's needed.
People want to stay in their homes as long as possible and access their clothing as they always have done. The motorized lift brings contents down to the person who may have limited extended reach.
5. Lighting - Very Important!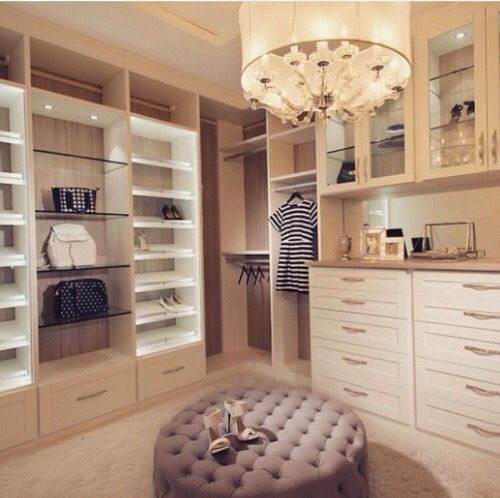 LED lights are energy efficient and last practically forever. They are versatile and can be used as task lighting, functional lighting, accent lighting, ambient lighting and spot lighting.
Turning them on and off is easy. Choose from mechanical push button and door-activated switches, remote control, motion detection switches, body heat activated switches and capacitive switches that can be turned on or dimmed with the wave of a hand.
LED light strips can be applied to get light exactly where it's needed. They can be cut to fit in most any space, putting light in previously dark corners.
Loox puck lights can be surface- or recess-mounted and are available in finish and trim options to match your design color scheme.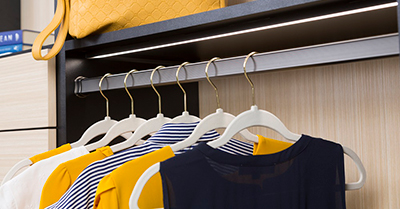 Drawers that automatically light when opened, or pull-downs that light up when they are pulled down – even closet rods for hanging clothes light up these days – can make it easier and more convenient to match colors. And find things, too.
5.) Luxe Materials in the Luxury Walk-in Closet
Of course, the closet must be functional. However, the styling is all about fashion. The number of finish options, furniture details and custom touches that add a sense of luxury are pretty much limitless.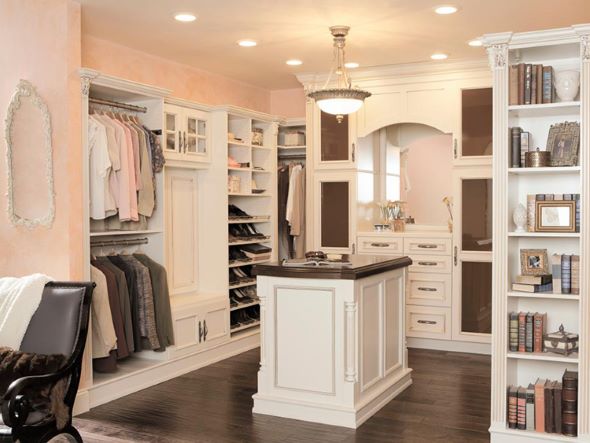 Many of the closet brands that are available now are not "real" cabinetry.  They are a system of shelves, drawer boxes, and rods, designed to maximize how much stuff you can squeeze into your closet, but they are not true wood cabinetry.  Specify the very best custom cabinetry your budget will allow.  No other aspect of the closet design is as important as this.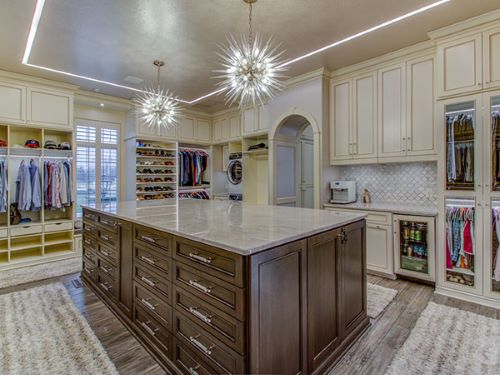 People love having an island in their new closet. It combines convenient drawer storage with a horizontal surface that can be used for setting down morning coffee, laying out clothes to see if they go together, folding laundry, packing for trips, etc. Plus, you can offer your clients a fabulous countertop material, such as marble or granite. Even leather.
The drawers in the island are the perfect place to store jewelry. Everything from necklaces, earrings and bracelets, to rings, cufflinks and watches are organized and easy to find.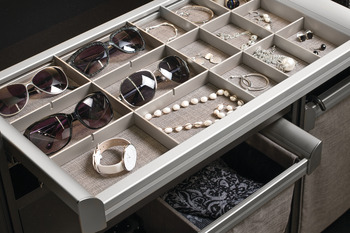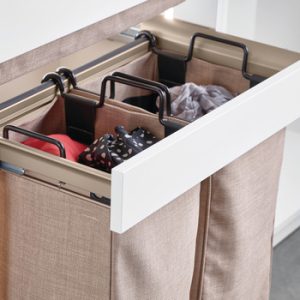 The island is also a great place to stash a clothes hamper out of sight.
Every luxury walk-in closet should have a place to sit down comfortably. Besides being able to sit while putting on shoes, a bench or window seat will also provide a space to pack a suitcase or lay out an outfit while getting dressed. 
A bench seat that has room for storage is especially practical. There can never be too much storage.
Incorporating glass front cabinets is another luxurious feature. Whether it's glass in doors, drawer fronts or shelves, it adds a special touch. Frosted glass is especially attractive and modern, and it hides any clutter that may be going on behind the doors.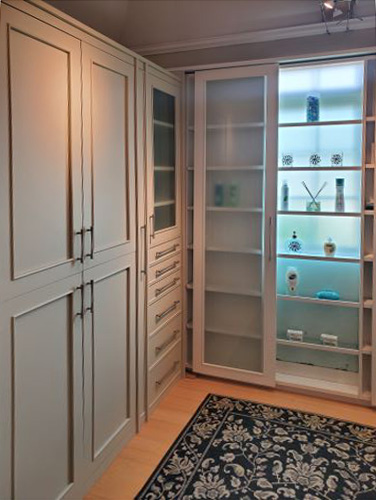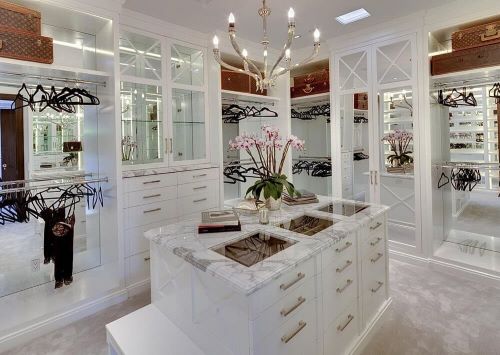 Mirrors are a must-have, especially a three-way type. A three-way mirror can make anyone look good — both coming and going.
If there isn't enough space for a three-way mirror, you can achieve the same effect by installing mirrors on doors. When they are placed strategically across from each other, the doors can be tilted at an angle so your client can see herself from all sides.
Whether they are floor-to-ceiling or a part of a vanity, mirrors are essential for evaluating one's appearance while dressing for the day.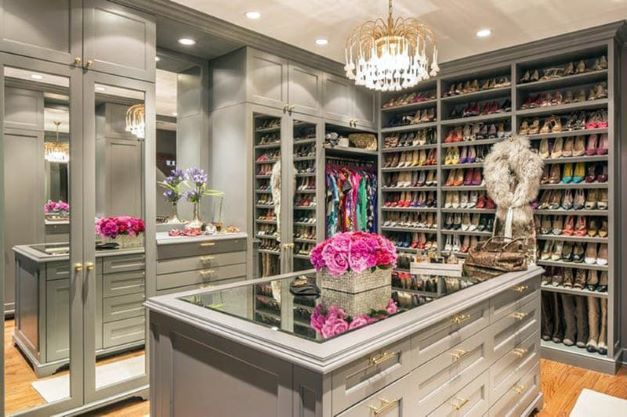 Shoe walls are no longer reserved for the Kardashians of this world. Shoes are the one accessory that accumulates quickly. With a shoe wall, shoes will be properly stored, better protected, and easily seen.
A custom closet can serve as a showcase for your clients' unique style and taste. When the closet is well organized, getting dressed for the day will be less stressful.
A luxury walk in closet can be a financially smart choice as it will add to the home's value by providing more space, storage and organization.
Bob Aungst Cabinet Sales is a full-service rep agency with the goal of matching kitchen designers and remodelers with the cabinet manufacturers best suited to their business' style and clientele. Owner Bob Aungst III represents Brighton Cabinetry, US Cabinet Depot, Integrity Cabinets and StyleCraft Luxury Custom Cabinets.