Your clients want marble countertops. They fell in love with a Calacatta Gold Marble slab in the stone yard. Or they saw pictures in Architectural Digest, Pinterest or Houzz.  They can't stop thinking about it and talking about it and imagining how it will look in the new kitchen you're designing for them.
What do you tell them?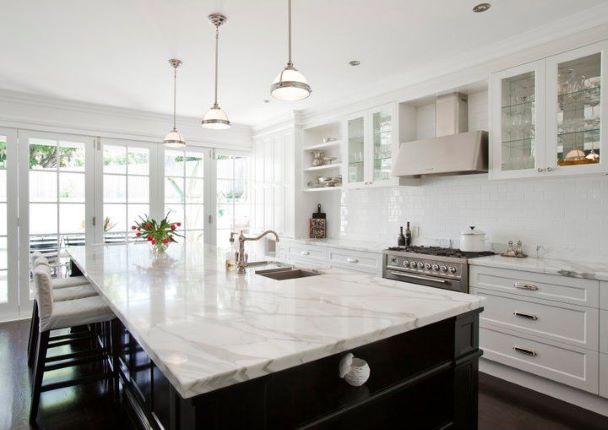 From the time of the ancient Greeks, mankind has had a love affair with marble. Now owning it is no longer limited to the wealthy. Slab marble is cheaper than in in the past, thanks to improved quarrying methods and reduced shipping costs. 
Some of the most well-known and often seen marble varieties:
Snow White Thassos Marble, "the whitest marble on earth"
Carrera Marble, "an iconic luxury Italian marble"
White Himalaya Marble, from China, white with gray veins
Black Marble, created by sediments and organic matter during the Mesozoic era
Crema Marfil Marble, elegant creamy beige stone with veins of yellow, cinnamon, white 
Calacatta Gold Marble, a "distinctive white Italian marble with gray and gold veining". You know it's popular when you can buy it at Home Depot.
It's your job to tell your clients that installing marble in their new kitchen is like dating a super model – both are beautiful, elegant and enticing with gorgeous good looks, but both are high maintenance and so very expensive.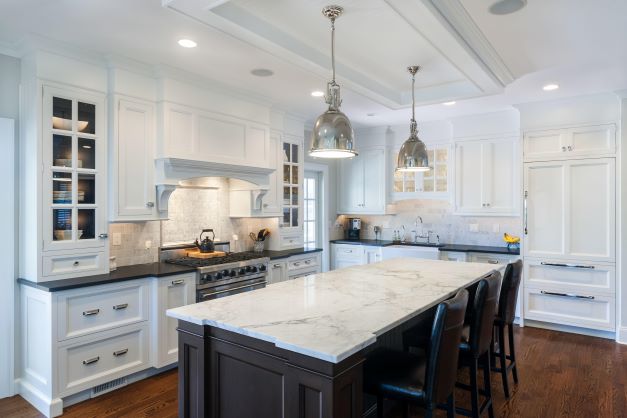 Advantages of Marble Countertops
Marble has many excellent qualities.
One of the best is its variety of color and veining, the result of impurities in the original limestone. Nothing comes close to the three-dimensional depth, richness and veining of real stone. 
Marble maintains its value and adds equity to any home.
Marble always feels cool. It's the perfect surface for rolling pastry dough.
It's extremely durable and can withstand hard use. That's why it's used extensively in public spaces.
Disadvantages of Marble Countertops
Marble costs more than granite or quartz.
Your clients' new marble countertops need to be sealed when installed.
They need to be cautious when working with anything acidic (tomatoes, wine, vinegar, ketchup, lemons and limes) because of staining and etching, where the acid eats into the stone.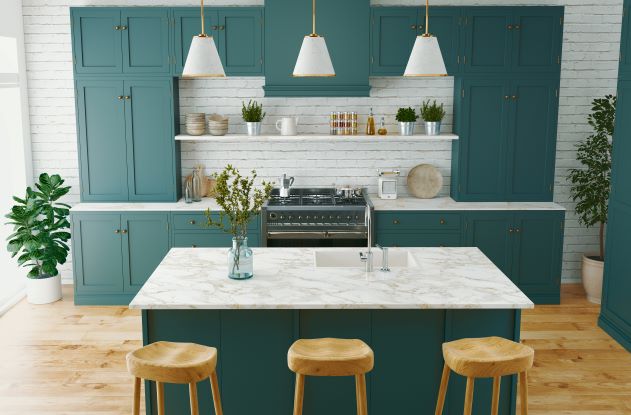 Sealing Marble Countertops in the Kitchen
An impregnating sealer needs to be applied to the marble right after it's installed. Marble sealers penetrate into the marble and create a protective, invisible barrier that prevents water and other liquids from soaking into the porous stone. Applying a sealer will not change the color or shine of the marble.
Sealing marble countertops does not make them stain-proof, but stain-resistant. It gives homeowners some time to wipe up any spills. So, if your client spills red wine and wipes it up within thirty minutes, the marble would be fine. If she left it there all night, she would probably have a stain.  
How often does marble need to be sealed? That depends on the product. Many sealers will protect marble for as long as 5 years. Others require more frequent applications.
To learn more about marble sealers, the Bob Vila website has a list of their top picks.
Care and Maintenance of Marble Countertops
Although marble is a beautiful and durable stone for countertops, it is softer and more porous than granite and as a result, you will see more scratches, pitting, cracks and stains.
Marble's calcium carbonate composition makes it susceptible to etching by acidic foods and drinks like tomatoes, citrus fruits, sodas, coffee, wine, fruit juice and vinegar. Recommend to your clients that they put down a protective silicone or plastic sheet or use a cutting board while working on a marble countertop.
Marble is heat resistant, but to keep countertops looking their best, experts say place hot pots on a kitchen towel or trivet. Use placemats and coasters under plates and glasses when serving on a marble countertop. Immediately after each meal, clean the countertop with mild dish soap and water on a soft microfiber cloth.
The Spruce, a website that knows all about cleaning anything and everything, has a list of recommended products for cleaning marble.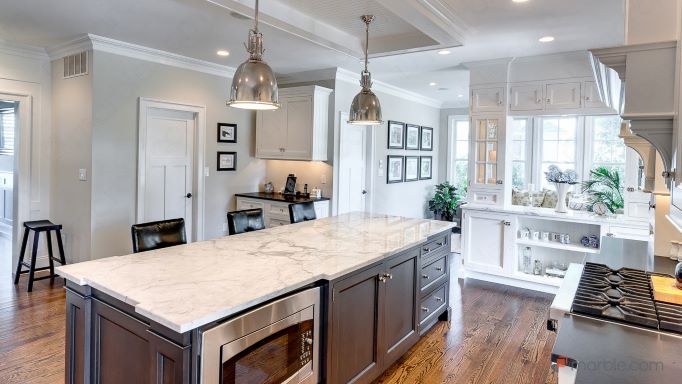 Marble is composed of calcium carbonate, which reacts to acidic substances, causing etching. Etching will create appear as dull spots. Wine, tomato sauce, citrus juice and vinegar in salad dressing will etch marble if left to sit for a while.
FYI: Honed marble will not show etch marks as badly as polished marble.
No impregnating sealer can protect against etching. To prevent etching, homeowners should always use coasters, trivets, place mats, cutting boards and only cleaning products specifically formulated to be safe on marble.
All marble countertops that get used regularly will eventually have etch marks. Some people look at the etch marks as part of a countertop's character, while others call the fabricators to grind down the top layer and re-polish the surface when etches accumulate.
If your clients can live with marble countertops' potential negatives, then they can look at Mother Nature's beautiful piece of art every day. However, if having marble in their kitchen will keep them from actually using and enjoying their beautiful countertop for fear of ruining it, then they should choose a different material.
Consider quartzite. (This is different from the engineered material called "Quartz.") It has a lot of the same beauty and veining as marble, and it is natural stone. Even better, it doesn't etch. It does, however, need to be protected with a sealer to prevent staining. It is perfect for busy kitchens that experience daily wear and tear.
But you know if your customers have fallen in love with marble, there can be no substitute. Just make sure they know what they're getting into before they throw their first margarita party to show off their new marble countertops.
Bob Aungst Cabinet Sales is a full-service rep agency with the goal of matching kitchen designers and remodelers with the cabinet manufacturers best suited to their business' style and clientele. Owner Bob Aungst III represents Brighton Cabinetry, US Cabinet Depot, Integrity Cabinets and StyleCraft Luxury Custom Cabinets.