With today's smart-home technology for seniors, their homes can be adapted so they can maintain an independent lifestyle. According to the AARP, 87% of senior citizens want to "age in place," instead of moving into a retirement community or assisted living facility.
Smart-home technology offers easy-to-use operation for the homeowners' devices. Further, it also keeps them connected to their loved ones who may live elsewhere.
Technology can make a home more secure, safer, more comfortable and easier to use.
Sensors, voice activation, GPS, Bluetooth, smart appliances, phone monitoring apps and other smart-home technology devices for seniors are making aging in place a workable option for an increasing number of people.
Smart-Home Technology Can Help with Cognition Issues and Forgetfulness
Features offered by smart-home technology can be helpful in situations where an older adult starts to become forgetful or enters the early stages of cognitive impairment. In addition, recent advances make it much more realistic to incorporate such ideas into a person's home.
The key components to this smart-home technology for seniors include:
voice assistants, such as Alexa, to control lights and door locks
The ability of Alexa to provide "friendly" reminders of daily activities.
"Reminders" when things are left on or open.
Auto shut-off for devices
Kitchen and bath designers know that people want to live in their homes for as long as possible. As a result, including smart technology in a beautifully designed kitchen creates the best of both worlds for seniors who want to age in place.
Universal design products were created to provide ease of use for people with a wide range of abilities and disabilities. So,when your next universal design project gets started, talk with your clients about how smart-home technology might improve their everyday lives and make everyday tasks easier.
Smart-home Technology for Seniors
One of the first things to consider when incorporating technology into a design is the home's capacity to handle all of the WiFi-enabled devices and appliances. This includes cell phones and televisions, smart lighting, a security system, sensors and smart appliances.
Smart-home technology systems don't have to be extensive or complicated. In fact, ease of use is key. If the technology is frustrating, it won't be used.
Here's a few examples of simple, easy-to-use smart home tech products seniors may find helpful:
sensors that monitor daily activities
alerts if the front door opens during the night
caregivers can be notified if the medicine cabinet has or hasn't been opened
sensors that detect falls
alerts when an appliance malfunctions or there is a plumbing leak
tools that let family caregivers be part of doctors' appointments remotely
turn lights on and off
lock and unlock doors
control the smart television, smart microwave, smart coffeemaker, smart faucet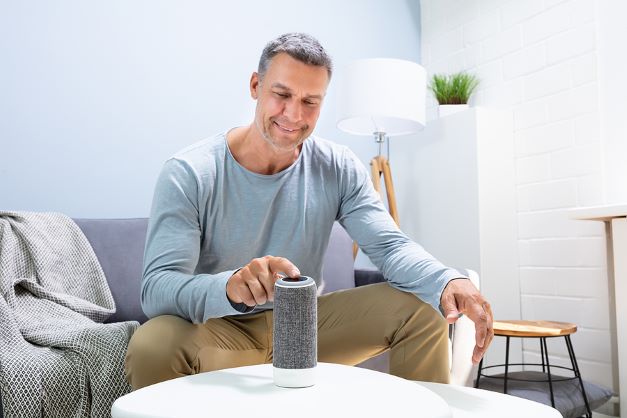 Smart-home Technology in the Kitchen
When it comes to the kitchen, smart-home technology products can make things more efficient and safer for seniors.
Some benefits of kitchen-specific technology include:
remote operation of appliances via app or voice command
monitoring whether the range has been left on or if the refrigerator door is open
being notified if there's a power failure or water leak
having appliances do automatic updates and self-diagnostics
monitoring supply levels of dishwasher soap
Unattended cooking was the top cause of cooking-related fires and casualties in 2020, according to a report from the National Fire Protection Association. Further, approximately 25% of deaths caused by stove fires occurred while the person was sleeping.
Smart stoves, such as the iGuard Stove, can be adjusted to shut off automatically when not in use for at least 15 minutes. In addition, smart stoves and ovens may also have remote access for turning the appliance on and off, as well as gas sensors, timers and activity monitors to alert family members and caregivers when the stove is left on and unattended.
iGuardStove smart stove stops fires before they start
motion sensor controlled automatic shut-off after 15 minutes of no activity near stove
manual reset button to restart stove after auto shut-off
24/7 activity tracking with alerts
Even for "un-smart" appliances, universal design principals say that knobs on ranges and cooktops should be easy to reach. Even more helpful would be a lighted feature under the knobs that indicate when the burner is on.
Ergonomics play a huge part in Universal Design. Thus, it is important when considering oven placement. Wall ovens can be installed a few inches lower on the wall than traditional placement, to give better access to someone who might be in a wheelchair, use a walker or have height issues.
Smart-Home Technology in the Oven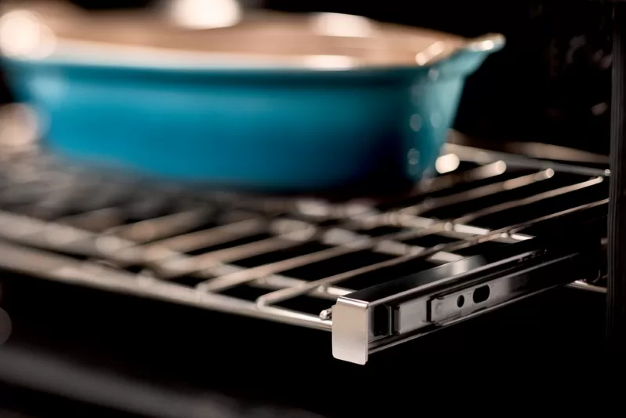 Homeowners can preheat and set a timer for turning on the oven via a remote app on their smart phone. The new Kitchen Hub feature from GE Appliances sends instructions to appliances for temperature and timing. As a result, this feature can assist homeowners who are having trouble reading fine print or operating knobs on a range, for example.
An oven with a swing-out door, installed below the cooktop, has its advantages. Someone with back issues would definitely appreciate not having to lean over a hot oven door that flips down. Homeowners can swing the door out of the way and have much easier access to the oven.
Telescoping racks in the oven offer better ergonomic access to the oven interior. The full extension telescopic rack supports heavy dishes and glides effortlessly.
A microwave drawer puts the microwave at a more convenient under-counter height for wheelchair users. Consequently, its usefulness is not limited to a person in a wheelchair. It is also for any homeowners that may be wary of pulling hot dishes from an over-the-cooktop installed microwave.
A smart microwave can be programmed via scan-to-cook using the package barcode. This is easier for vision-challenged individuals, or those with dexterity issues.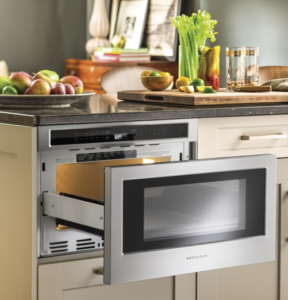 Sharp's newest Microwave Drawer Oven offers an easy-open handle or Easy Touch power-open and hands-free-close drawer. The concealed control panel tilts out 45 degrees for easy use and has an easy-to-read LCD display.
A microwave drawer helps countertops stay clear. Clutter on the countertops can prevent seniors from performing kitchen chores efficiently and safely.
Bonus! It's available in black stainless finish.
Smart-Home Technology includes Touchless and Voice-Activated Faucets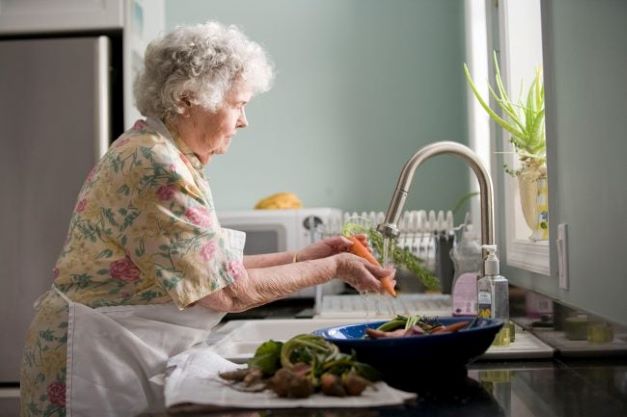 A touchless kitchen faucet is a smart appliance that uses motion sensor technology to activate the water flow. With a wave of the hand or a pan near the sensor, the water will turn on and off. 
Like other smart home technology powered devices, smart faucets can be paired with a connected home device (Alexa and Google Assistant) to enable voice-activated features. Even the faucet can now be turned on and off via voice activation.
Further, voice commands can be used to set the desired amount of water to be dispensed. They can be used to set the temperature, as well.
Some faucets have LED lights that indicate the temperature of the water, so users don't get burned. Also, LED task lighting at the tip of the spray head can provide illumination everywhere the spray goes.
Voice-controlled faucets that let a user specify a quantity and temperature make independent living much easier for someone with a physical challenge. 
Bob Vila has rated the best touchless faucets on his website.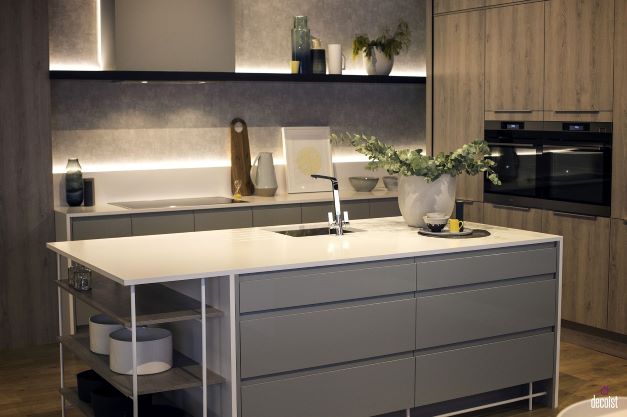 Having good bright lighting is very important because many older adults have reduced night vision and less good balance. Consequently, they are more likely to trip, bang into things, or fall if they try to walk around the house in the dark.
Smart light fixtures and light bulbs are a big part of smart home technology for seniors. They let homeowners turn the lights in their home on and off remotely with sensors or by using voice activation or other controls through a smart hub.
Hafele, a leader in LED lighting for homes and businesses, provides sensors for motion detection. These sensors can be set to automatically turn lights on in a dark kitchen. Strip lights can be installed in the toe kick of cabinets to illuminate the floor and in cabinet interiors so lights come on when the doors and drawers are opened.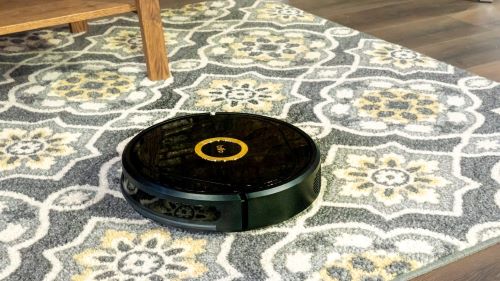 A smart vacuum, like Roomba, can be especially helpful to older adults. The Roomba can be voice activated, thus helping people with arthritis, decreased strength and endurance, individuals who use mobility aids, people with limited upper extremity strength or loss of function in their arms. 
Motion sensors are a big part of smart home technology for seniors. They can give caregivers some peace of mind, knowing their loved ones are being monitored even if they are home alone. 
Motion sensors can monitor seniors' activities remotely. Motion sensors installed by doors can alert caregivers if their seniors are trying to leave the house or if someone is trying to enter. Some motion detection systems can send a text to a caregiver's phone to let them know a sensor has been activated.
There are also motion detection systems that can alert the caregiver if there is no movement inside the home, indicating the person inside might have fallen.
Conclusion | Smart-home Technology is Freedom
Smart-home technology products for seniors are innovative, genuinely helpful, and use technology to make their lives better. Smart technology allows families to stay connected. Further, it allows seniors to stay in their own homes for as long as possible, giving them freedom and letting them live independently.
Bob Aungst Cabinet Sales is a full-service rep agency with the goal of matching kitchen designers and remodelers with the cabinet manufacturers best suited to their business' style and clientele. Owner Bob Aungst III represents Brighton Cabinetry, US Cabinet Depot, Integrity Cabinets and StyleCraft Luxury Custom Cabinets.