A mudroom is ideal for organizing homeowner's "stuff".
We don't have to tell you. A home has more rooms that can benefit from cabinets than just the kitchen. After the kitchen, bath, home office and walk-in closet, homeowners are looking for ways to reduce clutter, get organized and stash all their things.
Let's Look at the "Mud Room"
Mudrooms are experiencing a surge in popularity. People ask for them, remodelers are finding space for them, and new home builders are building them in.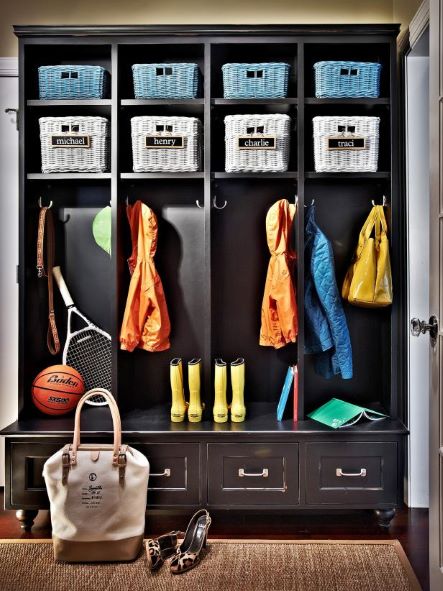 Remember when the mud room was just a place for muddy boots, kids' backpacks and dirty towels to wipe the dog's paws? That's in the past. Welcome to the new "mud room."
With all the "stuff" people have now, today's mud room is the place to organize most everything that goes into a busy family's day-to-day living.
The mud room is typically the first place your client enters when they walk through the door. They usually come in from the garage and drop keys and bags and take off jackets.
The Mudroom Serves as a Transitional Space Between the Outdoors and the Indoors
The mud room serves an important function: it's the welcoming space a person sees at the end of the day. The more organized and good-looking it is, the better the feeling it creates. 
On the practical side, the mud room acts as an intermediary between the outside dirt and germs and the clean surfaces inside.
The mud room holds everything from backpacks, computer bags, outerwear, shoes and boots to sporting equipment and pet leashes in storage cabinets with deep drawers, cubbies, benches and lots of built-in shelves.
It plays a role in helping families get ready to leave the house in the mornings. Hooks, cubby cabinets and drawers are great options for kids (and adults) to conveniently organize backpacks, lunchboxes and coats so they can be grabbed on the way out the door.
For a family with young children or infants, you will need to include space for the storage of a stroller, diaper bag, and baby travel needs. Even the youngest family member will want his or her own locker with a built-in bench and shoe cubby.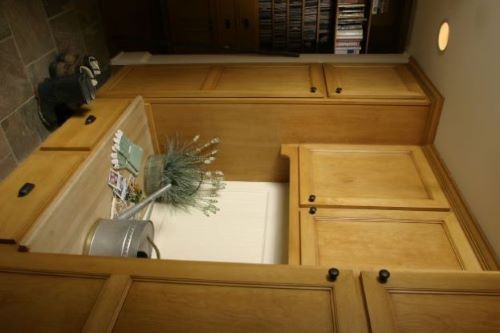 What Design Elements Go into the Mudroom?
When designing a mudroom, consider how it will fit the family's lifestyle. Taking the time to determine what they need to store and organize will help create an efficient space that makes life a whole lot easier for your clients.
Usually keeping the family "stuff" organized is the top priority in mudroom design. For others, the main objective of the mudroom is good storage for a favorite hobby, like golf.
Or maybe their main purpose is to have a designated spot for the pet supplies and accessories that are scattered all over the home. If they love their pets but not all the leashes, food containers and treats that overwhelm their home, the mudroom can bring order to that particular chaos. Hooks are nice for hanging leashes, collars and doggie sweaters, while deep drawers can keep pet toys, extra dry food and pet shampoos out of sight.
Seating is also an important component in the mudroom. Your clients will need a place to sit for putting on or removing shoes and boots. Or tying shoes for little ones on the way out the door.
A bench seat is perfect, especially if it includes a flip-up seat with storage underneath. If not using a bench seat, include a boot tray underneath it so footwear is out of the traffic.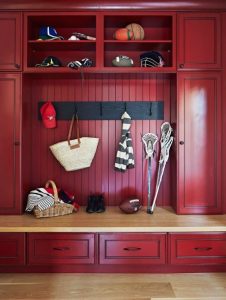 Everybody Deserves Their Own Space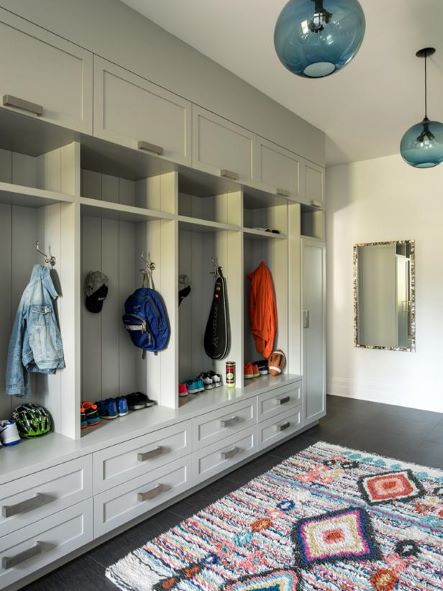 One design element everyone seems to agree on is having a separate space for each family member and their things. This type of lay-out makes mornings much, much easier, so each person can readily find his or her school and work essentials.
If sports equipment, bags, shoes – even yoga mats — are constantly underfoot in your client's home, again, give everybody a separate space for such gear. Open wire baskets can be used for storing damp items to prevent mildew.
What Else Goes in the Mudroom?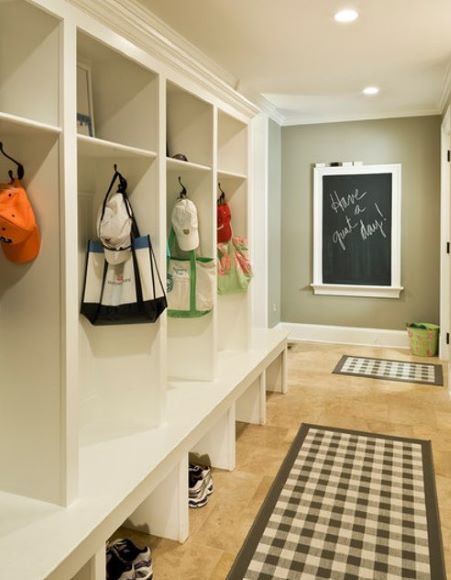 The mudroom is ideal for posting the family schedule, lunch menus and important school announcements on a wall-mounted chalkboard. Chalkboard material can be used on the front panels of storage cabinets. Formica offers a material that can be written on using chalk and then erased.
Cork boards can be used for the family calendar, posting party invitations and school reminders, etc. They can also be used to create a family art gallery, especially if the refrigerator is stainless steel and magnets won't stick to it.
It doesn't matter if the family uses a digital calendar, there will always be paper that must be kept – from school or church, etc. And the mudroom is an excellent place to post it for all to see since all family members must pass through the mudroom while coming and going.
Mud rooms are designed to keep your client's home clean from outside dirt, provide storage and keep clutter organized. But that doesn't mean style is out.
With so many design options, a mud room can be stylish and coordinate with the design theme of other rooms. And still perform its primary function as a catch-all for wet boots, pet supplies and keys.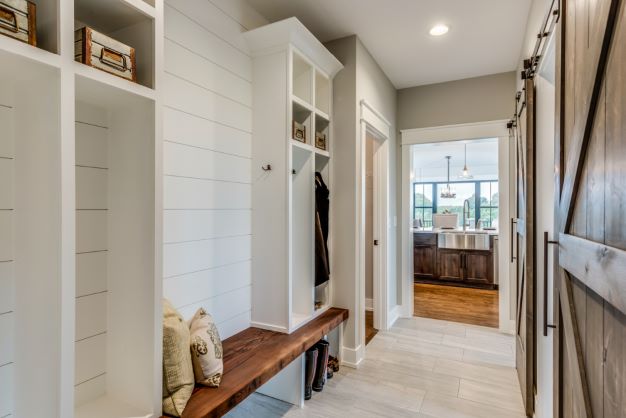 Recap: What Every Mudroom Should Have
Specialized storage, such as cubbies and/or shelves

Designated space for shoe storage

Hooks for hanging jackets. Don't forget to take into consideration family members' heights.

Slip resistant indoor/outdoor rugs to keep outside dirt in the mudroom area.

Lighting. Don't overlook lighting. Your clients will need overhead lighting as well as task lighting because they could be coming home to a dark house at the end of the day.

Seating. A place to sit down while putting on or taking off footwear. Having a seat in the mudroom will deter family members from tracking dirt and mud throughout the house.

A designated spot for incidentals, such as keys, mail, umbrellas, etc. When keys are routinely placed in their specified spot, the frantic search for them will be a thing of the past.

A durable floor, such as ceramic tile or luxury vinyl. The material chosen must be able to withstand wet boots, soccer cleats, paw prints and day-to-day foot traffic. Hardwood flooring is not recommended because it can be damaged by water and salt from snow-packed boots.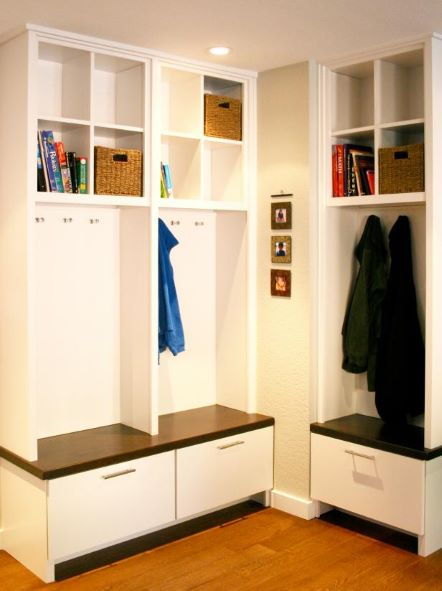 What goes into a mudroom will vary from household to household. An efficient mudroom in a home with young children will look very different from one in an empty nester's home. Both, however, will benefit from some or all of the features mentioned in this article that will reduce clutter and simplify coming home or leaving.