Decorative tile for a kitchen backsplash can be used to make a statement, add color, provide interest and offer easy maintenance, all at the same time.
Kitchen designers are able to introduce more options to clients for their kitchen backsplash than ever before. Whether the goal is to add personality, color or texture, there is a seemingly endless array of options to meet homeowner needs.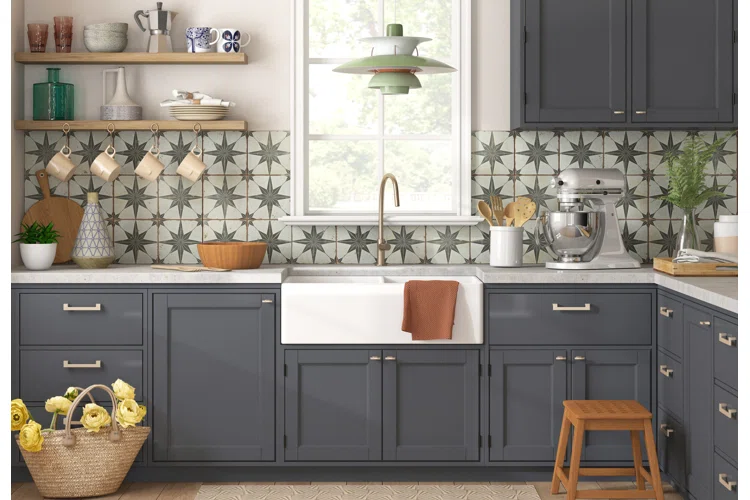 Tile Trends for Kitchen Backsplash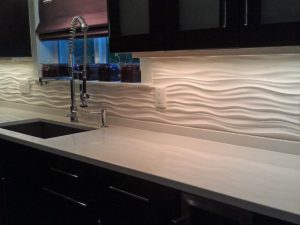 Textures. Everything from ribbed to undulating surfaces.
Marble look-alikes. They now include veining in a range of colors for clean, classic designs.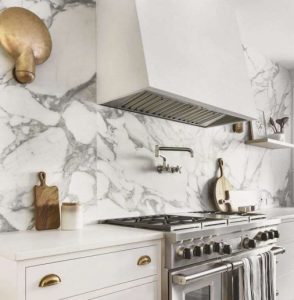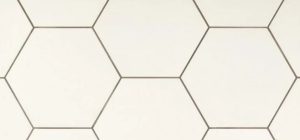 Porcelain and ceramic Tiles. They continue to be popular, thanks to their range of designs and easy maintenance.
Bright colors and patterns.  Add pizazz to neutral kitchen designs.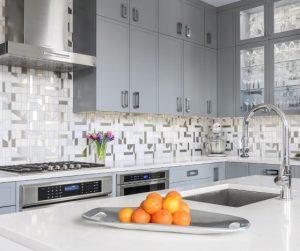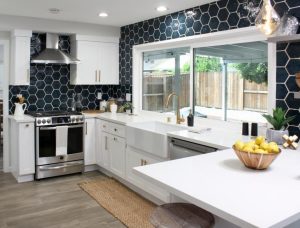 Shapes.  Think diamonds, arabesques, circles, lantern shapes, squares, triangles, polygons, hexagons, and pyramids. Hexagon and honeycomb tiles are the most popular.
Unique Tiles. Handmade and hand-painted tiles allow homeowners to express their individuality and create a one-of-a-kind look. Zellige tiles fit perfectly in this category. They are handcrafted clay tiles from Morocco, known for their variations in tone, shine, flatness and depth of glazing.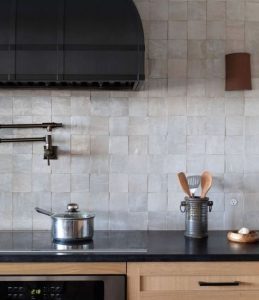 How to Choose Tile for Kitchen Backsplash
Did you know? There are more options for a kitchen backsplash than there are for countertops. This overabundance of options can make choosing the right material a challenge.
It's difficult for clients to decide exactly which one will work best in their space. However, you can point out that they can't go wrong with a classic. Subway tile, named for the style used in New York City subway stations, is an elegant solution for any kitchen. Plus, thanks to its simple design, it works well with most any design style.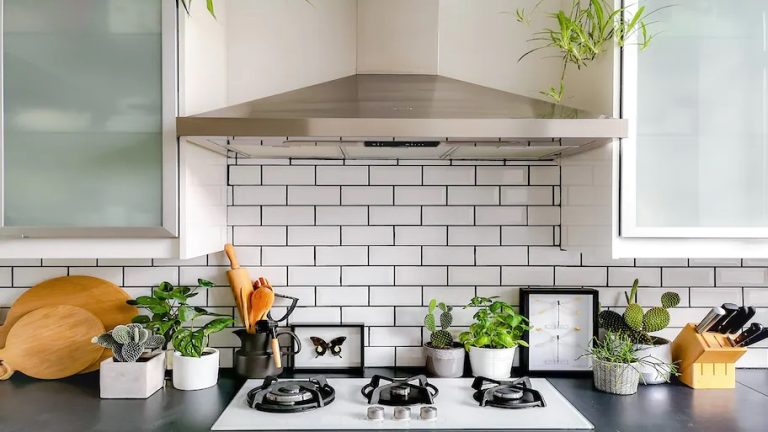 If subway tile isn't for your clients, another strategy you can suggest to make the selection process easier is to have them pick their countertop material first. This helps narrow down their options for the backsplash, since they can then look for materials that will partner well with the countertop they selected.
Do Countertop and Backsplash Have to "Match"?
Now there's a newly coined word in kitchen design–the "counter splash". Get it? Countertop + backsplash =  counter splash. Here, the backsplash is made from the same material as the countertops, typically a quartz or natural stone.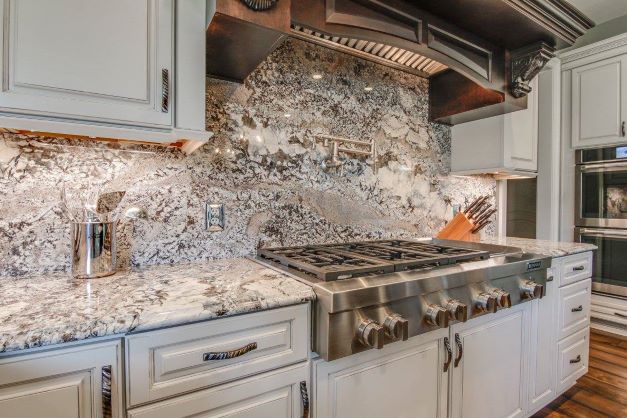 Using the same material as the countertop for a backsplash creates a pulled-together look for a kitchen. A continuous countertop and backsplash allows for a smooth transition between the two surfaces, and thus allows for bolder choices in cabinetry, wall treatments and other design elements in the kitchen.
While you can have the backsplash match the countertop, the backsplash can make a large visual statement in the kitchen all by itself.
Q: Should the backsplash be lighter or darker than the countertop?
A: There are no "rights or wrongs" here. The backsplash material should be used to balance out the light and dark shades of the other design element. Meaning if you have light cabinets and countertops, you may want to choose a dark backsplash to bring more visual interest to the kitchen overall. Using a light backsplash in a room with dark cabinets and/or countertops will brighten things up. 
Metallic, reflective tiles for a backsplash are a great way to add light to an otherwise dark kitchen. The reflective tiles make the space look larger. 
Ultimately, the focuse should be on the color scheme that suits the kitchen cabinets and the rest of the room's decor.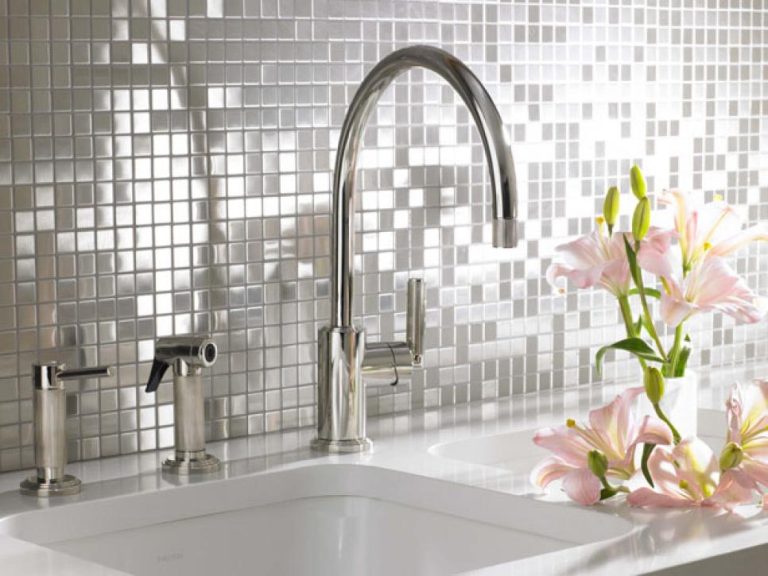 Q: What is the best type of backsplash for a kitchen?
A: If your clients are remodeling their kitchen with the intent to sell their home in a couple years, then choosing a "safe" backsplash material may help make the most of their investment. 
However, if you are designing a kitchen for them for their forever home, or even a home they plan to live in for the next five to ten years, then by all means let them have their statement backsplash. The beauty of a backsplash is that it's not typically a lot of square footage, so it's a worthwhile splurge. 
Q. How high should a kitchen backsplash be?
A. Until the 1950s, kitchen backsplashes were only four inches above the countertop and were meant only to protect walls from cooking splashes. However, this height might not be practical for protecting the walls above the backsplash. That's why extending the backsplash up to the bottom of the upper cabinets or even to the ceiling is a smart way to provide protection.
The standard height for the backsplash, like everything else in kitchen design, has been done away with. There are no more restrictions concerning how high the backsplash is or what material it's made from. It can be six inches, eight inches, or any other measurement that your clients might like.
In fact, in today's kitchens, backsplashes can be as short as a few inches tall, or they can extend all the way from the countertop to the ceiling.
Standard vs. Full Height Backsplashes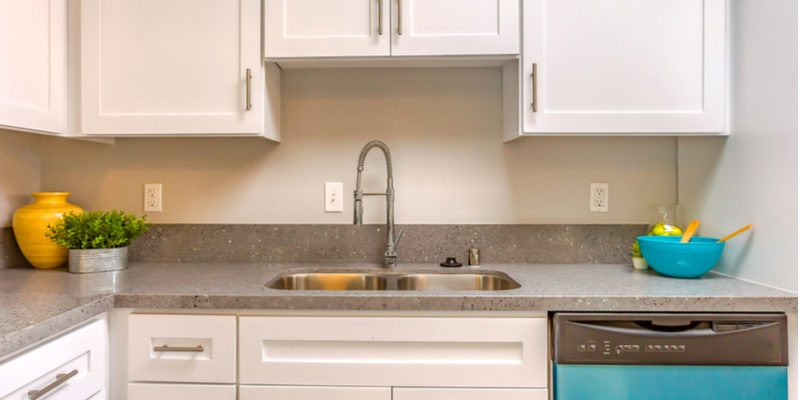 There is an ongoing debate among designers and homeowners concerning standard or full-height backsplash.
Full-height backsplashes have become a very popular kitchen design element. A standard backsplash measures 4 inches from the top of the countertop surface. Full-height backsplashes, also called slab or panel back splashes, can stretch from the top of the countertop to the bottom of upper cabinets or all the way to the ceiling.
A full-height backsplash can give tile a fresh and modern look. As the designer, you can play with different colors, patterns or textures to create a stunning ceiling-height backsplash.
Full-height backsplashes are a great option to place between cooktops and vent hoods.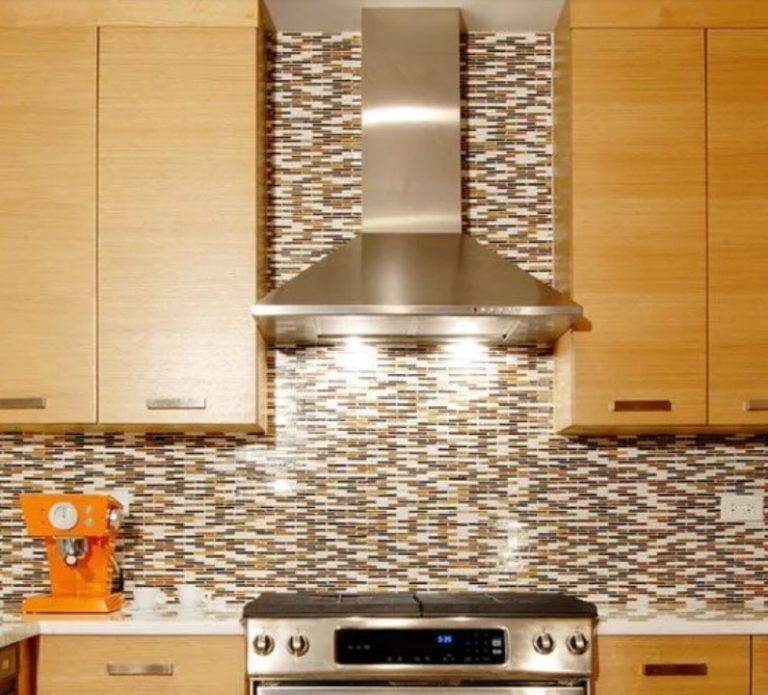 The Pros of the 4-Inch Backsplash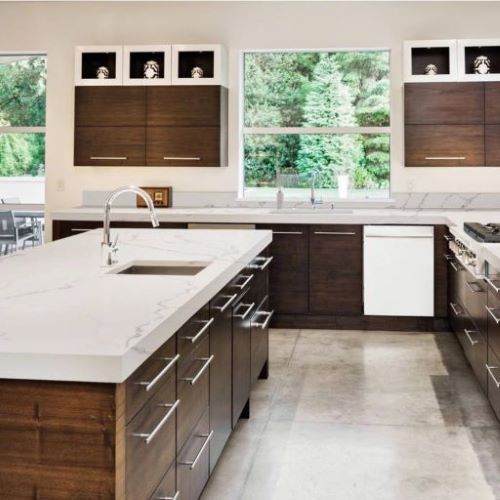 Budget friendly. If your clients are trying to keep to a budget, this might be a good consideration for them.
Room to accessorize.If your clients want to add artwork or other decorations to their walls, then having the backsplash take up only four inches will allow them to do so.
Some spill protection.Four inches offers a decent amount of space to protect walls from most spills or splashes while preparing meals and cooking.
Can match Using the countertop material for the 4-inch backsplash creates a cohesive look for the whole kitchen.
Install the same time as countertops.When clients use the same material as their countertops, 4-inch backsplashes typically have a quicker installation process than their different counterparts.
The Cons of the 4-Inch Backsplash
Grout needs to be exact.If the grout of a 4-inch backsplash is not grouted properly at the back and where the top of the backsplash meets the wall, cleaning will be difficult. Further, over time, soap, oil and food particles can get into that space.
Not full protection.While 4-inch backsplashes do offer some protection against everyday cooking, some splashes can still make it over the four-inch backsplash.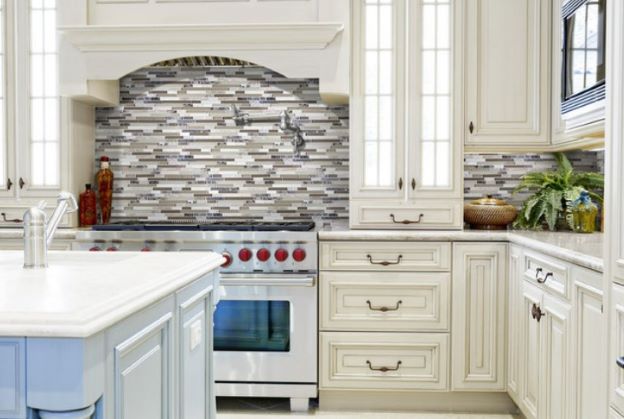 The Pros of a Full Height Backsplash
Impressive appearance.A full height backsplash creates a powerful look and tends to become the kitchen's focal point.
Easy to clean.Splatter can easily be wiped away, since the whole wall is made up of the same material.
The Cons of a Full Height Backsplash
More expensive. More material means more money.
Take longer to install. Since there's more material and a bigger space, installation time will increase accordingly.
Questions to Ask Your Clients To Help Them Choose Backsplash Material
What is your countertop material?
What is your backsplash budget?
How much color do you want in your kitchen?
Which of the following is most important to you when it comes to your kitchen backsplash – durability, low cost, good looks?
What is your design style – modern, traditional, eclectic, transitional, rustic, contemporary?
How long do you plan to live in your current home?
What is your cooking and cleaning style?
How do you feel about design trends?
Kitchen Backsplash Materials
Whether your clients want a custom designed tile pattern, an unusual material, a pop of color, a metallic finish or a classic look like subway tile, a backsplash can be more than just practical.
Writing about backsplash materials is like writing about cabinet hardware. The selections are endless, and everything depends on personal taste. We wrote another article detailing tile choices, however, it is a brief overview.  
A kitchen backsplash is a perfect decorative element for the kitchen, with options for every design style and personal taste. You can go bold with colorful accents like a painted glass tile backsplash or stick to the classic white subway tile. Cover only the space behind the cooktop or let the wall tile design stretch all the way to the ceiling for big impact. Rules no longer apply!
Bob Aungst Cabinet Sales is a full-service rep agency with the goal of matching kitchen designers and remodelers with the cabinet manufacturers best suited to their business' style and clientele. Owner Bob Aungst III represents Brighton Cabinetry, US Cabinet Depot, Integrity Cabinets and StyleCraft Luxury Custom Cabinets.