The modern-day kitchen needs creative storage solutions more than ever before. As the place for appliances, cookware and specialty gadgets, it has become difficult to organize everything. Blenders, mixers, food processors and boxes of cereal easily fill up every available inch of space.
Consumers have demanded more storage, and manufacturers have responded to the demand by inventing creative storage solutions to help solve kitchen organizing dilemmas.
How To Design Creative Storage Solutions for Your Client's New Kitchen
Your client's lifestyle and what she wants to store is the ultimate determination for the amount of space to set aside for storage in a layout. Every kitchen is unique, and every homeowner has a need for their own personalized storage. And the market is filled with options. 
Be sure to ask her if there is anything stored in other parts of the home she wants to store in the kitchen? How often does she cook? Does she bulk shop or buy groceries every few days?
Cabinet makers offer built-in storage, but their options are built from the same wood as the cabinets. Consequently, they can be heavy and clunky and often are not adjustable.
On the other hand, the manufacturers that specialize in storage solutions have introduced sleek, light-weight, European-styled items, which are very different from their wood counterparts.
What's New in In-Cabinet Storage?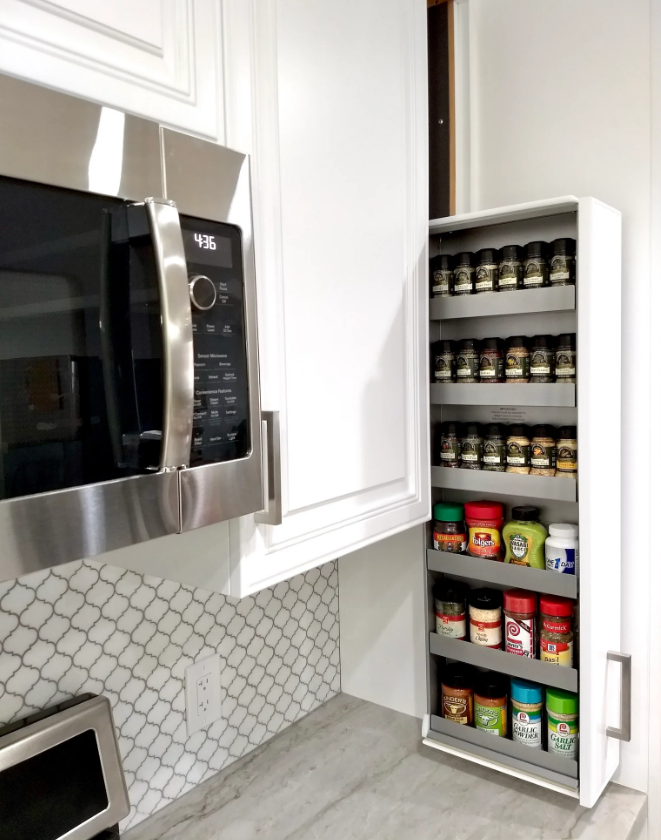 Spice Rack/Storage System from Dropout Cabinet Fixtures. This patented Spice Rack/Storage System comes out and down to almost countertop level for easy accessibility. Available in left or right facing configurations.
Pull-out Cutting Boards Century Components. Install this cutting board above trash receptacles. It features Blum Tandem slides and is available for framed and frameless openings. The disposal hole measures 3" x 5-1/2".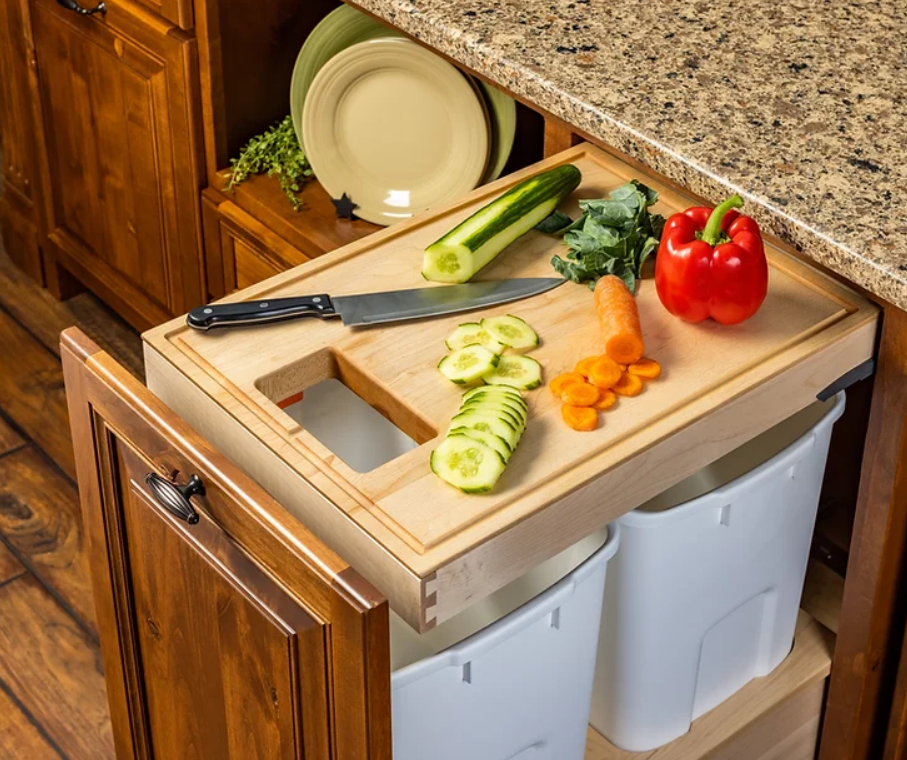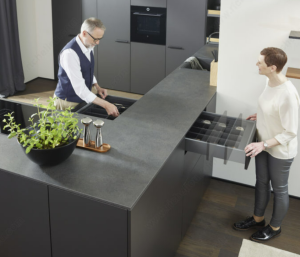 Bi-directional Sliding System from Richelieu Hardware. "Riverso" allows drawers to open from both sides of a cabinet when installed in an island. When one side is open, the other stays closed. The system includes a soft-close mechanism and a pressure-activation option for one side, allowing for a handle-free drawer front.
Hidden Charger System from Grothouse. Called the Qi Inductive Hidden Charging system, it's an integrated charging system that can be installed in any of the firm's wood or Anvil metal surfaces. The Qi offers completely hidden, seamless, wire-free charging.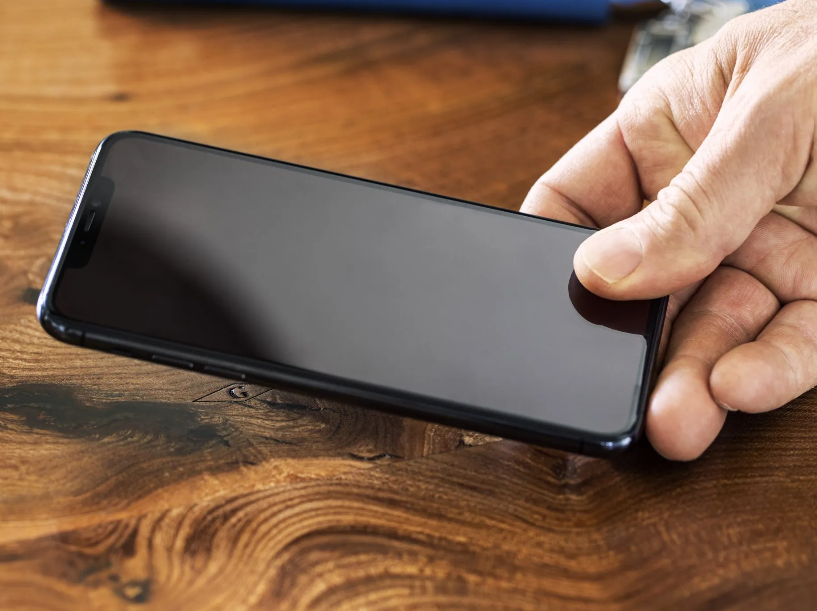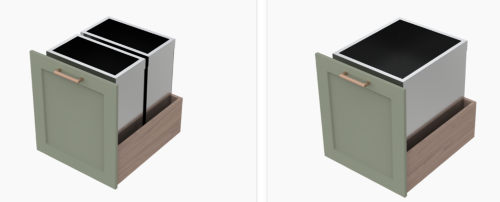 5. Stainless Steel Waste Container Inserts from Bradco Stainless Products. Bradco makes custom sized stainless steel waste container inserts for pull-outs. They're available in single or double configurations. Bradco offers many custom sized stainless inserts for everything from shelf liners to flour storage to pet food dishes.
6. Bottle Roll-out Cabinet Organizer from Hardware Resources. This double drawer configuration allows the top drawer to be pushed back for easy access to the bottom drawer. It features a 15-space bottle grid to hold bottles up to 4″ in diameter. Available in three widths (15″, 21″, and 27″).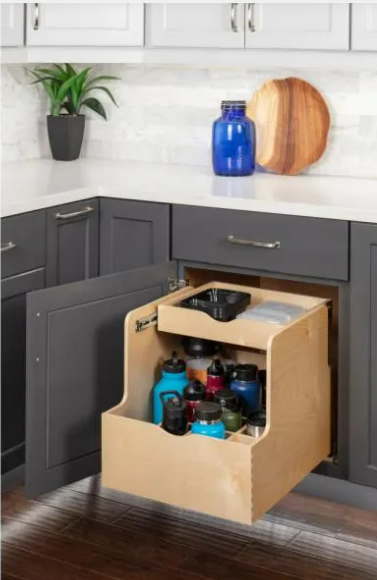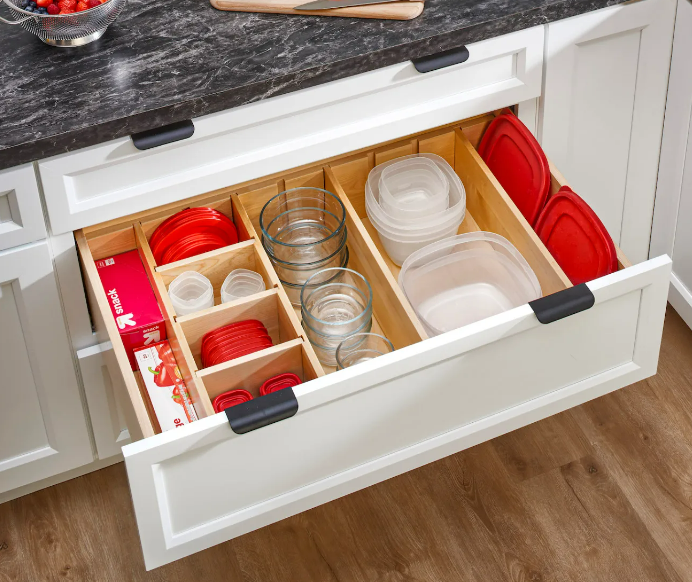 7. Deep Drawer Divider System from Rev-A-Shelf. Designed for deep drawers in base cabinets up to 36"W, the divider system is shipped ready to assemble. Maple construction with semi-gloss finish.
Popular Creative Storage Solutions
Let's look at some popular, often-requested, creative storage options.
More than any other storage solution, homeowners remodeling their kitchens want an organized pantry. Why? Because they want every item visible when they open the doors, and they want the items on shelves that pull out. No more dark corners with three half-used forgotten boxes of pasta.
The version shown here (Tandem Chef's Pantry pull-out from Hafele) attaches to tall cabinet doors, then slides out so that items in the back are always easily accessible.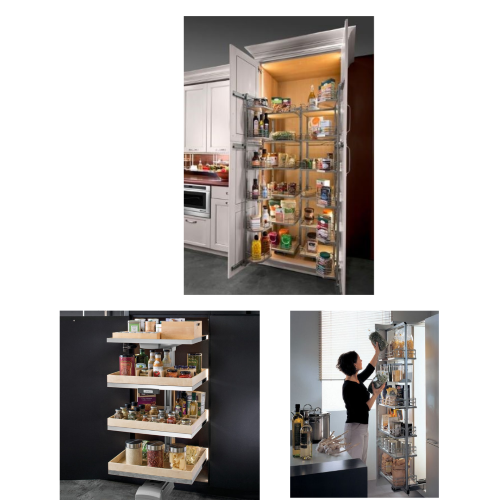 Hafele also has a video showing another version of its pantry hardware. 
Most cabinet manufacturers offer their own version of pantries, for tall cabinets, wall cabinets and base cabinets.
2. The "Swivel", a New Product from Rev-A-Shelf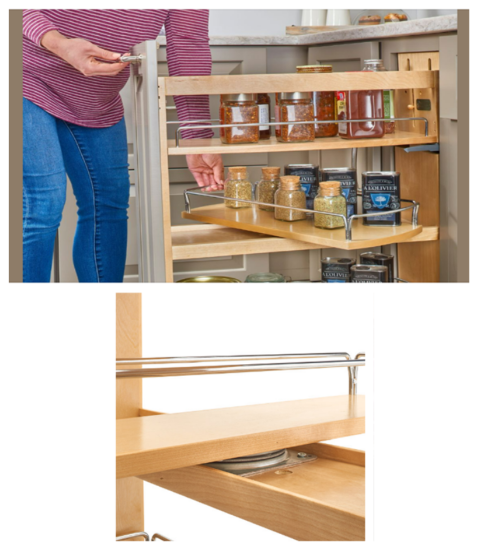 Rev-A-Shelf has re-engineered their base cabinet pull-out (that was pretty darn handy in its original form) by incorporating swiveling shelves. The shelf swivels in either direction, then returns to its center position with the self-centering, soft-close feature. Available for 9" or 12" full height base cabinets. 
The two swivel shelves feature chrome railing that not only keeps items in place, but also serves as a handle when rotating the shelves. Shelves are natural Maple, and the pull-out unit comes with full-extension slides with Blumotion soft-close.
With today's creative corner storage, every single thing is accessible and in its proper place. Gone are the days when people had to get down on their hands and knees with a flashlight looking for something that got shoved to the back of the corner cabinet. 
Although many corner storage solutions are available on the market today, the European styling of the Kesseboehmer LeMans unit is as attractive as it is useful. 
Individual trays swing smoothly out of and back into the cabinet.
Tray heights can be adjusted to accommodate a tall stand mixer or everyday pots and pans. 
Each tray can hold 50+ pounds, meaning one tray can hold the heaviest La Creuset Dutch Oven.
The unit is available with optional soft close.
Further, it can be ordered with different colors of trays and metal trims.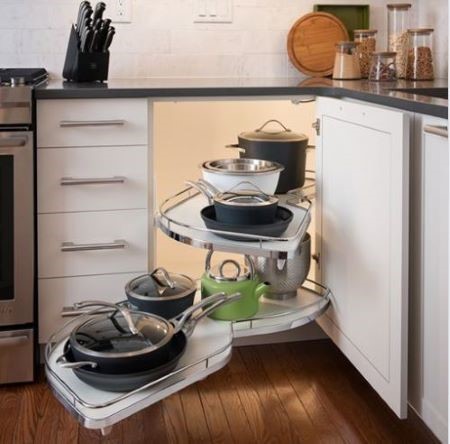 When it comes to useful and creative storage, Rev-A-Shelf has thought of everything. Rev-A-Shelf's base cabinet pull-out two-tier cookware organizer stores pots and pans on the bottom level, while the matching lids are on the top tier.
As a result, everything is conveniently organized in one place and the lid that matches the pot you are using is at your fingertips. 

5. Cookie Sheet Organizer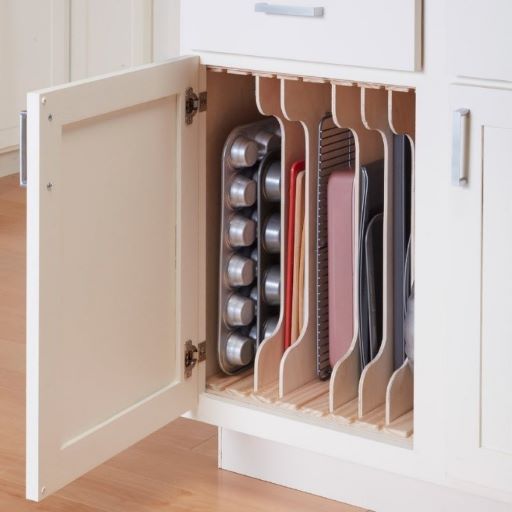 These handy built-in cookie sheet organizers are perfect for muffin tins, broiler pans, cooling racks, cookie sheets, serving trays and all sizes of cutting boards.
The organizer can be installed in a cabinet or in a pull-out configuration.
The one shown here is a good item to order from your cabinet manufacturer. They do a decent job building and installing them at the factory. However, metal options are available.
The cabinet under the sink can seem impossible to organize since things easily get pushed to the back. And then there's pipes and a garbage disposal to work around. 
A cleverly designed and appropriately sized pull-out supply caddy holds all cleaning supplies. The one in the photo even has space for dishwasher detergent. Some models can be lifted out so it can be taken where supplies are needed.
It's also convenient under the bathroom vanity for bathroom cleaning supplies.
A creative storage solution indeed.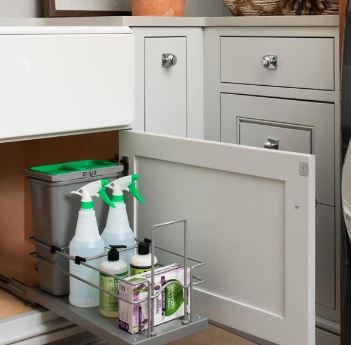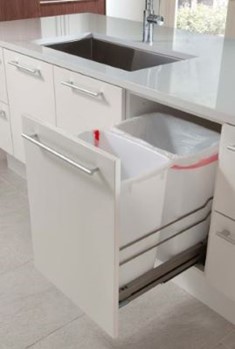 Every kitchen should include at least one pull-out trash can. No free-standing, smelly trash cans in your designed kitchen! The double bin configuration makes recycling easy. And for smaller spaces, singles are available.
Every manufacturer of built-in cabinet storage solutions offers many variations of under-cabinet trash storage.
You can get them with lids.
They are available bottom mounted or door mounted.
Different colors of trash receptacles and the support mechanism are available. 
You definitely need your client's input concerning their preferences when it comes to specifying trash pull-outs.
8. Hands-Free Trash Pull-Out
An improvement on the popular pull-out trash system is the hands-free version. The wave of a foot or touch of a knee opens the cabinet and brings out the trash bins.
Specialty hardware manufacturer Richelieu has an electronic system that opens the waste bin by waving your foot in front of the sensor in the toe kick. The electronic and automatic door opener pushes out the waste bin without touching the cabinet handle. An integrated LED light indicates the sensor's position.
Hands-free activation is an extremely helpful and sanitary feature to have when hands are full and/or dirty.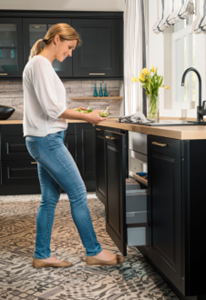 9. Odor Reducing Trash System
Rev-A-Shelf offers a complete line of pull-out waste containers that feature a self-contained odor-reducing feature. The unique design keeps odors from the trash sneaking into the kitchen.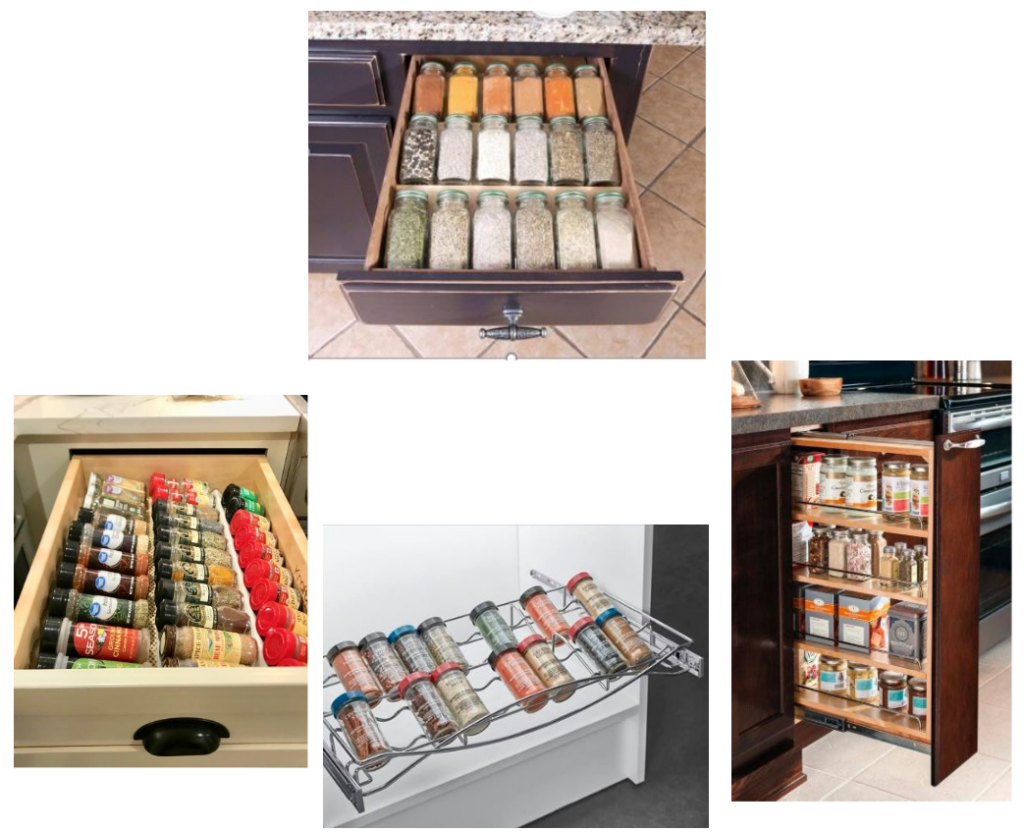 Providing enough space for storing and organizing spice jars and containers is always difficult. A one-size-fits-all solution doesn't work for a serious cook's spice collection.
Luckily, the manufacturers that make storage solutions are up to the challenge. As a result, they provide different configurations for inside drawers and cabinets.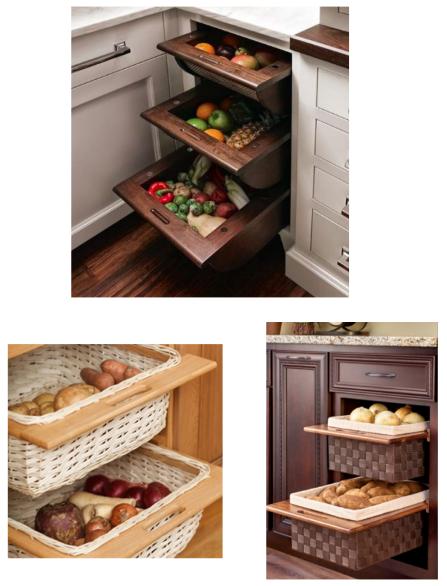 Wicker baskets on solid wood (Walnut or Maple) sliders are a popular decorative item. Further, they can prove practical for storing potatoes or anything that doesn't need refrigeration, like napkins or placemats. Because these baskets are a perennial favorite, the market provides many variations. Cabinet manufacturers typically offer the wicker baskets on Maple sliders.
12. Deep Drawer Storage Solutions for Dishes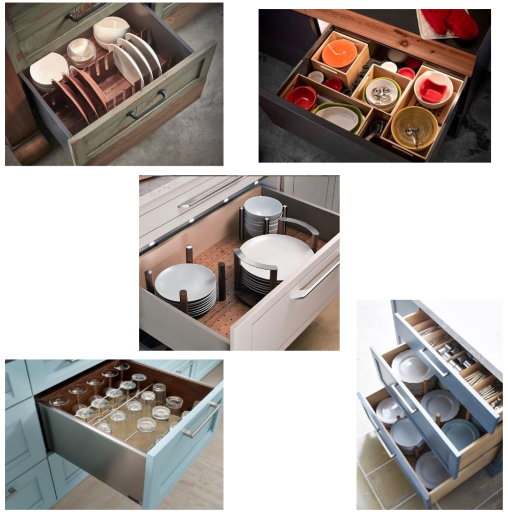 Storing dishes and glassware in a deep drawer rather than in a cabinet is definitely a creative storage solution. 
A piece of pegboard becomes the drawer bottom, then dowels, dividers and boxes can be arranged to accommodate whatever needs to be stored and organized. A plate lifter makes getting plates to the table easier.
Like any storage solution, many different variations are available. For example, wire rods can hold an entire drawerful of glassware in place. Dishes can be stored vertically instead of being laid flat.
There are ergonomic advantages to storing plates and glasses in a deep drawer. Things get stored at waist level instead of up high, making it a more ergonomic solution. Storing more items below the counter is great for aging in place, as well.
New Product from Rev-A-Shelf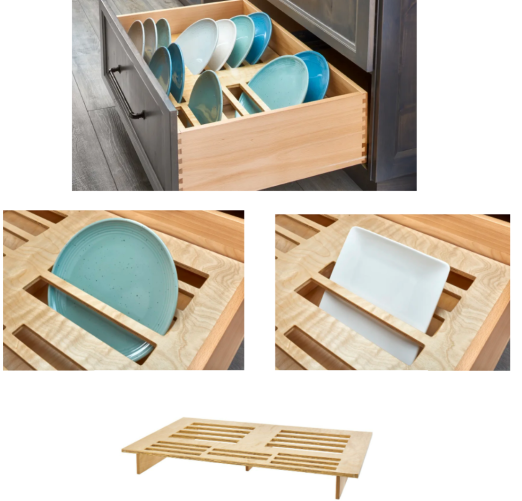 Rev-A-Shelf has introduced a drop-in plate insert for deep drawers, the 4PDI Series. It fits 36" wide drawers and can be cut down to fit 33". 
The 16 compartment natural Maple Insert holds 8 small plates up to 1" thick and 8-1/4" in diameter and 8 large plates up to 1-1/2" thick and 10-3/4" in diameter. Plates can be round or square.
The plate dimensions are as important as the insert dimensions. You don't want your clients to discover their plates don't fit. The peg board and peg dish drawer storage system is adjustable to fit any size plates. However, this is not.
13. More in-Drawer Storage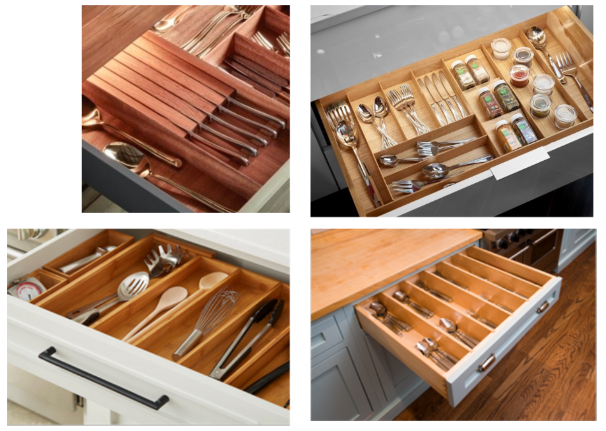 An essential "must-have" for any organized space is drawer inserts to corral both cooking utensils and cutlery. Your clients will appreciate the old saying: "A place for everything and everything in its place."
Your cabinet manufacturer can make and install their proprietary versions of these inserts at the factory, and you can specify the layout. For something a bit more elegant, consider Hafele's FineLine series of drawer inserts.
Blum's Orga-Line of storage accessories offers an efficient way to specify drawer organizers. Their drawer dividers can be configured to fit any assortment of utensils, flatware, knives, foil and film wraps and anything else your clients may need to store. The stainless versions can be removed and placed in the dishwasher for cleaning.
14. Stainless Steel Custom Drawer Inserts
Custom fitted stainless steel drawer inserts take in-drawer storage to the next level. They're attractive plus practical for keeping food fresh. You can get them as bread drawer inserts, produce drawer inserts, flour and sugar inserts. Further, they can be used for pet food storage and as a pet feeding drawer.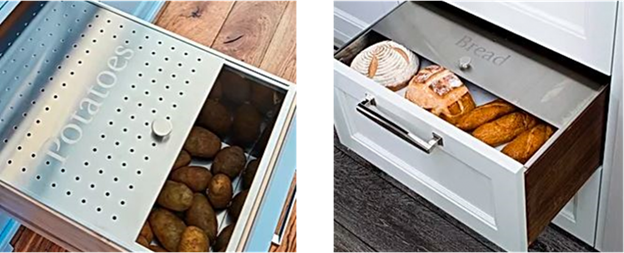 15. In-Drawer Charging and In-Drawer Powering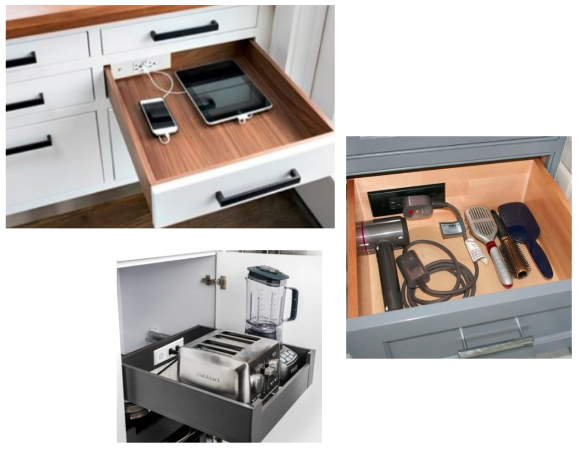 For your clients who are anti-clutter, here's a most practical and creative storage solution for keeping electronics out of sight. They can hide their devices inside a drawer while they're charging. Plus, cord clutter is in the drawer and off the counter top.
You can specify an outlet installed in a sliding pull-out shelf to provide power for a toaster or blender. Thus, it can  be used without removing it and counters are kept free.  
And it's not for kitchens only. A creative storage solution for the bathroom involves hair dryers and flat irons plugged into the outlet in the drawer. Then when the drawer is closed – voila! No more looking at tangled cords.
16. Utensil Pull-Out Storage
Stop searching through drawers for utensils while you're standing at the stove. This  pull-put organizer for base cabinets features adjustable shelves with chrome rails fitted with chrome containers to help keep everything in its place and easily accessible.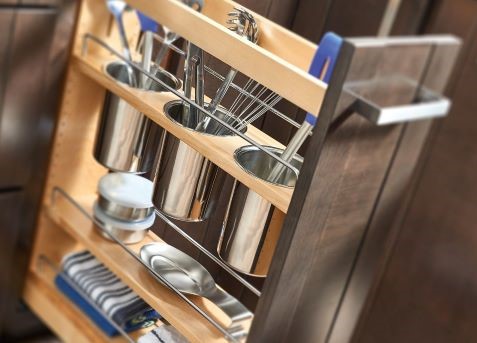 Help your clients organize the coffee station in their new kitchen with a coffee pods drawer insert.
The Rev-A-Shelf version is wood, and it can be trimmed to fit precisely into the drawer.

18. Plastic Containers and Lids Storage Organizer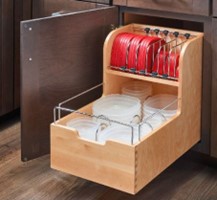 Bring sanity to the insanity that is plastic food storage containers-and-lids accumulation.
 This pull-out is nicely crafted with dovetail corners, chrome accent rails and soft close hardware.
Anyone who has ever struggled to find the right lid for a container will understand the need for this.
19. Over-Refrigerator Storage
The cabinet above the refrigerator is a difficult space to access.
One creative storage solution is a swing-out shelf that brings out the contents.
This shelf unit requires a 24″ deep cabinet, and not all refrigerator cabinets are that deep. However, when designing storage solutions for a new kitchen, you can specify a 24″ deep cabinet to give your client as much storage as possible.
Our collection of creative storage solutions can't be complete without including wine storage. The experts at Hafele have different options: vertical and horizontal, wood, metal and plexi pull-outs. 
Cabinet manufacturers offer variations of wine storage, like the X cabinet or the base cabinet with wine storage cubbies. Wine storage in a toe kick drawer is especially clever.
Of course, if your clients are oenophiles, they will have their own wine storage requirements.
The creative storage solutions presented here represent only a small sample of the many available options. The options are practically unlimited, both from cabinet manufacturers and manufacturers of storage accessories.  
No doubt your creativity will take you beyond what we've shown, but hopefully we've given you a starting point.
Bob Aungst Cabinet Sales is a full-service rep agency with the goal of matching kitchen designers and remodelers with the cabinet manufacturers best suited to their business' style and clientele. Owner Bob Aungst III represents Brighton Cabinetry, US Cabinet Depot, and Great Northern Cabinetry.