Great Kitchen Design Needs LED Lighting
Thanks to continued advancements in LED lighting technology, it is easier than ever to light up a kitchen. However, it doesn't matter how good the design is, it is all for nothing without great lighting. With today's lighting solutions, everything from a big kitchen to a small drawer can be lit with LED illumination.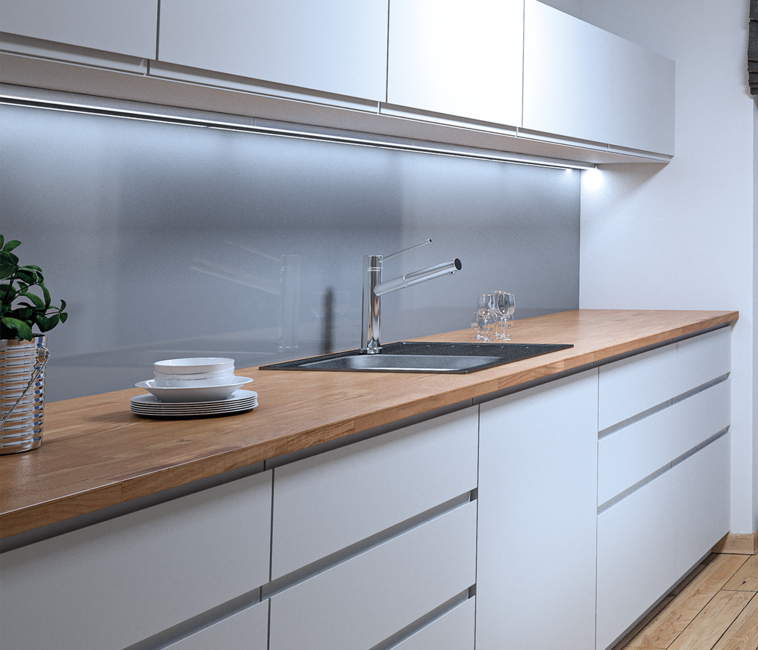 Designers report that LED lighting innovations have given them the freedom to install lighting in more places throughout a kitchen. Further, LEDs come with the added benefits of not overloading circuitry and creating excess heat.
Because of LED lighting's low profile and thin wires, it is now possible to easily light up places like cabinetry drawers and interiors. LED tape lighting can be installed anywhere, such as under floating shelves or inside an appliance garage.
LED Lighting and Design Style
Advancements in LED lighting have brought changes to kitchen designs.
Lighting selections have become an important part of the design style. For example, in a home with a modern kitchen, the lighting layout and fixture selections can illuminate the contemporary vibe. To further enhance the design, pendant lights over the island were intentionally omitted. Because of an abundance of recessed can lights complemented with undercabinet and toe kick lighting, the kitchen has full LED lighting coverage.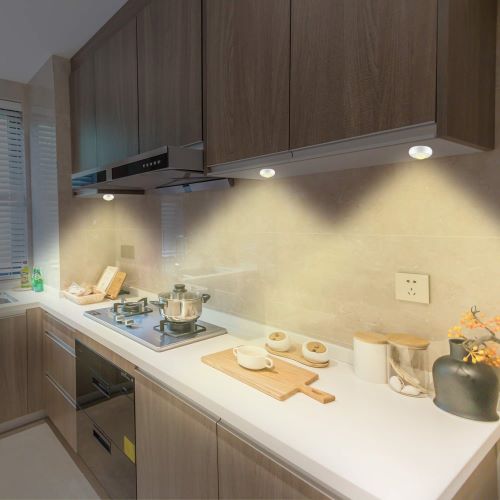 LEDs Replace Fluorescents and Halogens
Fluorescent lighting has always been a problem for kitchen designers. Fluorescent fixtures were annoying when they would buzz and/or flicker. Further, for many years, fluorescents didn't have warm color temperatures, making it very difficult to create a comfortable living space. With the advent of LED lighting, designers have been able to achieve much better lighting in their kitchens.
Another option to fluorescents was halogens. They produced more focused light, that's true, but, unfortunately, they would emit a lot of heat. Plus, they were not energy efficient. Now, LED lights have pretty much replaced both fluorescent and halogen lights.
Designers know not to rely on only one light source. Instead, they recommend using layers of light. Available choices now go beyond the three layers, i.e., task, direct and ambient. The availability of LEDs in a variety of fixture types makes it easier to layer light, an important design consideration.
Work surfaces need to be well lit so homeowners can see well enough to do various kitchen duties without any glare. In addition, they want lighting that is both controllable and dimmable. This can set a mood while still having abundant lighting to complete tasks.  
Beyond the three layers of light mentioned about, the final light layer is some kind of accent light. A pendant above the island is a good example. Accent lights enhance the general ambient light.
Lighting isn't only about artificial solutions. Natural light should be emphasized when planning the kitchen lighting scheme. Sunlight is wonderful because it changes the mood of the space and warms it up.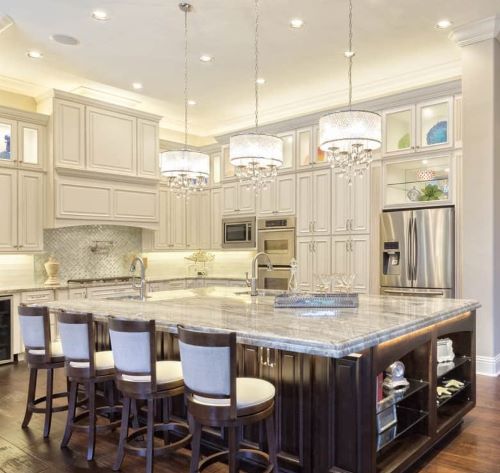 LED light sources are now available in smaller sizes and outputs. This variety gives designers a broader selection of products to fine-tune lighting to their specific designs. 
Recessed LED can lights don't take up much space in the ceiling. This allows designers the freedom to install both cans and pendants. Can lights meet the functional needs of a space. Pendant lights and other decorative lights meet the aesthetic needs.
Using a variety of lights, layered together, creates a cohesive design.
LED lights are energy-efficient, long-lasting and emit less heat than halogens. They use up to 90% less energy than incandescent bulbs, last up to 40 times longer and offer high-quality light output. LED lights are also versatile and suitable for any space, making them an excellent element to include in kitchen designs.
Bob Aungst Cabinet Sales is a full-service rep agency with the goal of matching kitchen designers and remodelers with the cabinet manufacturers best suited to their business' style and clientele. Owner Bob Aungst III represents Brighton Cabinetry, US Cabinet Depot, Integrity Cabinets and StyleCraft Luxury Custom Cabinets.