The Beko HARVESTFresh Refrigerator Crisper Drawer
In the science-fiction-meets-real-life department comes the Beko HARVESTFresh refrigerator crisper drawer. Beko claims their new 3-color refrigeration technology preserves vitamins in fruits and vegetables longer than in regular crisper drawers.
Fruits and vegetables begin losing vitamins immediately after they're picked. Many continue to lose vitamins even after they've been placed in the refrigerator. HARVESTFresh's technology uses 3 energy-efficient colors that simulate the daily 24-hour sun cycle as it rises (blue), reaches peak (green) and sets into nighttime (red). This preserves vitamins in fruits and vegetables for longer so owners can "enjoy a healthier lifestyle with more nutritious meals than ever."

Beko claims that their precise humidity and temperature controls keep produce fresh for up to 30 days. To make this claim, broccoli and lettuce were compared to a standard crisper. Tested by SGS.
Claims about increased freshness and vitamin retention have been tested by Intertek. Tests were based on Vitamin C and Vitamin A measurements in tomatoes, green peppers, carrots, spinach and celery that were directly exposed to the HARVESTFresh light technology compared with Day 0 conditions over a 5-day period.
Beko HarvestFresh refrigerators are available in a range of sizes including 28", 30" and 36" in both bottom mount and French door styles.
Liebherr BioFresh Professional with HydroBreeze
Beko is not the only manufacturer specializing in refrigeration technology. Liebherr, a Swiss-based manufacturer with factories in Germany that sell into the American market, also offers a fridge that provides the perfect climate for longer-lasting fresh food.
Their HydroBreeze technology keeps fruits and vegetables "crispy fresh", thanks to high humidity and a precise temperature close to 32 degrees F. Liebherr's freshness technology creates the optimum climatic conditions in different compartments — or "safes" as they call them.
Fruit and Vegetable Safe
The Fruit and Vegetable safe combines high humidity with a temperature just above 32 °F using BioFresh technology. The result is a compartment that provides 100% freshness and 0% ice damage. It easily keeps lettuce fresh for up to 13 days and apples and kiwis for up to 80 days.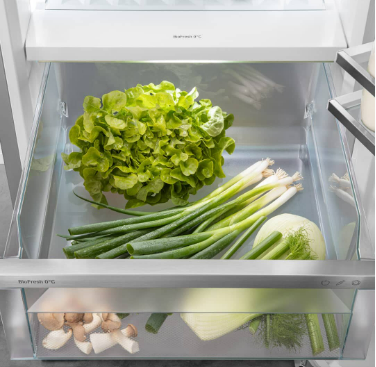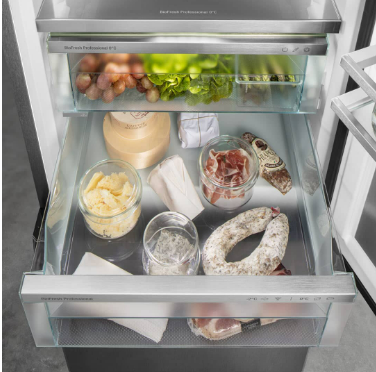 Meat and Dairy Safe
While fruit and vegetables prefer a humid climate, meat and dairy products keep longer in a drier environment with low temperatures. In the Meat and Dairy safe, they can be kept for even weeks or months.
FOTILE Sink and Dishwasher Combo
The manufacturer of this super cleverly designed sink and dishwasher combination, FOTILE, advertises that it is "designed for modern living in compact spaces."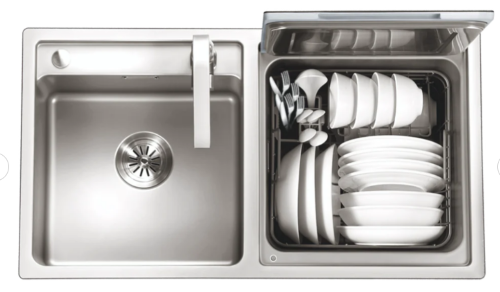 The sink-dishwasher combo fits a standard 36" kitchen sink cabinet. The overall appliance dimensions are 39″x19 5/16″x22" and requires a 38″x18″ cutout.
A rotary all-angle water spray provides 360-degree cleaning that removes 99.99% of e.coli  and staphylococcus aureus from dishes.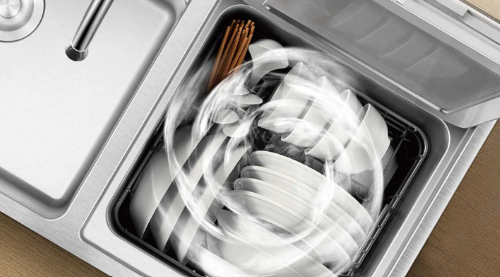 Five washing cycles and three modes are available: 20 min for delicate, 45 min for normal and 80 min for intensive
Delicate cleaning mode provides quiet dishwasher operation
Uses less water per wash cycle than a traditional dishwasher, 3.17 gallons vs. 6 gallons
Its faster standard wash cycle is energy efficient
Sterilization and bacteria elimination through 5 washing cycles with temperatures of 113˚ to 158˚ F
Pasteurizing convection drying process avoids secondary pollution from drying by hand
304 Food grade seamless stainless steel design prevents rust and any other dirt or soap build up
Ergonomic design eliminates bending over to load and unload dishes like using a traditional dishwasher
Won the K+BB Kitchen product of the year
The tempered glass dishwasher lid is pretty darn cool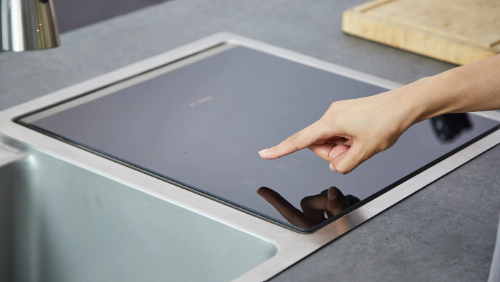 FOTILE also offers as an option a produce cleaner that removes dirt and pesticides from fresh fruits and veggies using an ultra-sonic turbulence technology.
The 2-in-1 in-sink dishwash combo is the Ideal solution for "space-challenged spaces" – tiny houses, home bars, second kitchens, condos and/or apartments.
Century Made All-in-One Charging Drawer
The Galaxy Charging Drawer from Century Made goes beyond the one outlet docking drawer. It provides an all-in-one charging solution for phones, tablets, watches, earbuds – everything that requires a charge. You can keep clutter off the countertop by charging all devices in a secure and out-of-sight location.
The drawer box features quality construction using solid Maple with dovetails and a little luxury provided by the genuine leather covered insert. You can recommend this Century Made Charging Drawer to your clients who are looking for the best.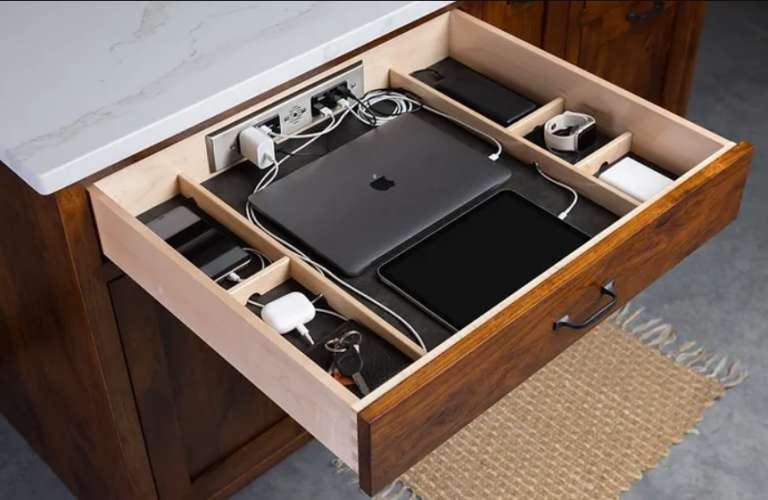 Solid Maple dovetailed drawer box with a 60-sheen natural conversion finish
ETL listed 15 amp Docking Drawer® Outlet to meet UL962a standards
AC, USB-A, and/or USB-C connections
Genuine leather covered insert with solid Maple dividers
Access holes in Maple dividers to guide charging cords through
8 sizes for kitchens (4 framed, 4 frameless) and 2 sizes for vanities (1 framed, 1 frameless)
Blum™ Tandem undermount slides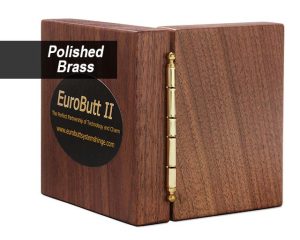 A product we've recently discovered is the EuroButt II hinge. Such an unfortunate name for a nice little product. The EuroButt II creates the decorative butt hinge look to doors installed with concealed hinges.
It gives those of you designers who use the concealed hinge a way to get the traditional butt hinge look while keeping all the high-tech adjustments and advantages of the Euro-styled concealed hinge.
Works with Salice, Grass, Mepla and Blum concealed hinges
Does not interfere with any concealed hinge adjustments
Fits into the required 3/32″ (2mm) door gap
Doesn't need screws or a mortise
Barrel is 3/16″ in diameter and 3-1/8" high overall
Comes in 9 finishes: Satin Black, Oil Rubbed Bronze, Polished Nickel, Satin Nickle, Weathered Nickle-Pewter, Polished Brass, Brushed Brass, Aged Brass, Antique Brass
DrawBar In-Drawer Wine Storage from Dometic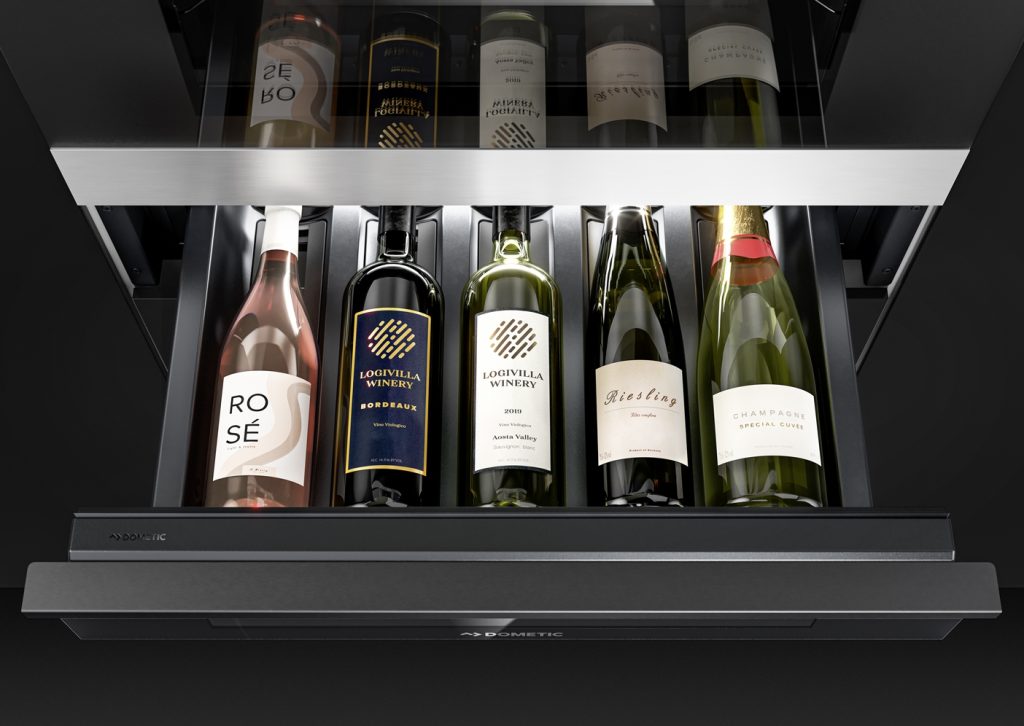 Dometic's DrawBar offers the functionality of a full-size wine cooler in a compact drawer design that fits five bottles. DrawBar is easily installed in any 24"W cabinet and can be added as a single or in multiples for optimal personalization. Features include a humidity tray that works to reduce excess moisture, plus five preset temperatures for cooling and storing red, white & sparkling wines. DrawBar can be installed behind custom paneling to match appliances or cabinets, or behind stainless steel. Another option is to show off the wine collection with a glass front. Soft illumination lights up contents when drawer is opened. Dometic.com
Drying Rack Drawer From Rev-A-Shelf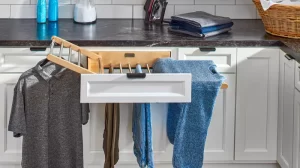 Rev-A-Shelf does it again, winning a K+BB Product Award in 2023 with its 4WDR drying rack drawer. It's an ideal solution for laundry rooms that need to accommodate flat or hang-to-dry clothing.
To use, open the drawer and unfold the arms for up to 18 linear feet of drying space. Then fold up when not in use. It's really nice because it eliminates ugly drying racks
Two positions of placement for flat or hang dry items. Shown in photo
Rust resistant stainless steel rods
Maple construction
Designed for 24" face frame base cabinets
Requires 42" of clearance when opened
Comes with door mount brackets and BLUM soft close drawer guides
Bob Aungst Cabinet Sales is a full-service rep agency with the goal of matching kitchen designers and remodelers with the cabinet manufacturers best suited to their business' style and clientele. Owner Bob Aungst III represents Brighton Cabinetry, US Cabinet Depot, Integrity Cabinets and StyleCraft Luxury Custom Cabinets.