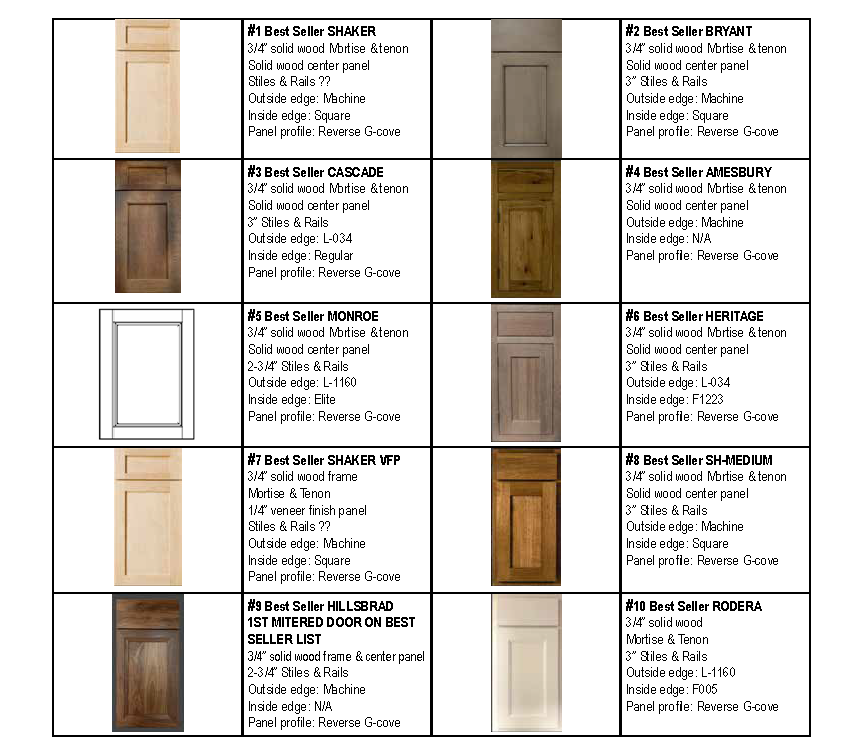 Best Selling Doors #11 to #20
#11 Best Seller HAMPTON ~ A mitered door with 3" stiles and rails
#12 Best Seller HEARTLAND ~ 1ST RAISED PANEL DOOR ON BEST SELLER LIST
#13 Best Seller NEOGA RIDGE RAISED ~ Another raised panel door. This one with beaded center panel
#14 Best Seller MADRID ~ A veneer slab door with 3/4″ substrate
#15 Best Seller HOMELAND RAISED ~ A 3/4" mortise and tenon door with Ogee inside edge profile
#16 Best Seller BELLA ~ A veneer slab door with 9/16" substrate and 3/4" applied edge molding
#17 Best Seller PLAINFIELD ~ A 3/4" solid batten door
#18 Best Seller LUNA ~ A 3/4″ door with 1/4″ veneer flat center panel and applied molding
#19 Best Seller THOMPSON ~ A 3/4" door with 2-3/4" stiles and rails. V-2 outside edge and FB472 inside edge create unique look
#20 Best Seller AMESBURY VFP ~ a 3/4″ Mortise & tenon door with 1/4″ veneer finish panel
Some Interesting Facts about Brighton Door Sales
When comparing Shaker to other door sales: the #7 door Shaker VFP is about half as much volume as Shaker.  
#11 Hampton is 25% of the Shaker sales.
Interestingly, #2 best seller Bryant, #3 best seller Cascade and #4 best seller Amesbury are clustered very close together in their individual sales. They are all about 25% less than Shaker door sales in total volume.