Smart home technology has become essential, not optional, in today's kitchen design. Clients expect it. And it's not something to "think about later". 
However, a recent NKBA report (Kitchen Technology & Millennials Report from NKBA 2022) indicates that designers are behind in adopting smart home technology, even while their clients are increasingly tech savvy. Only thirty percent of designers surveyed said they have integrated technology into kitchen projects.
As kitchen designers, you are expected to be experts on every aspect of the kitchens you create. It is challenging enough to keep up to date with design trends and ever-changing appliance models. However, it appears that smart home technology may be the toughest challenge for you to master.
Design + Smart Home Tech Offers Many Benefits to Designers
When you introduce smart home technology at the beginning of the design conversation, you create a connection with clients who want technology built into their new kitchen. Plus, it provides credibility to you and your expertise. It gives you a competitive edge when you can differentiate your designs from those who don't integrate technology.
How to Get Up to Speed with Smart Home Technology
Educate yourself.
Be curious
Become familiar with terminology and types and levels of technology
Read professional magazines, such as CE Pro and Technology Designer
Go to informational websites, like htacertified.org
Attend trade shows and talk with tech exhibitors. Ask questions! CEDIA EXPO is the leading event for smart home technology. And CES introduces new products and technologies in the consumer electronics industry.
Many appliance showrooms offer demonstrations of their smart products so you can see them in action. Dacor, Miele, Samsung, Control4 and Kohler are a few.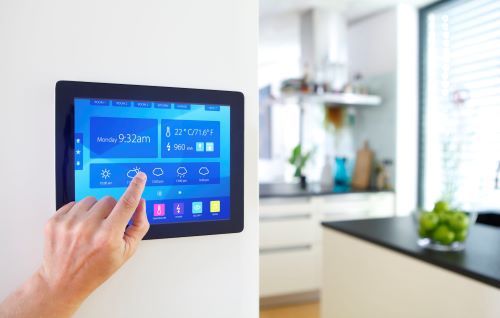 To Get the Best of Smart Home Tech, You Need a Technology Integrator
You'll need a partner to help you with your designs that incorporate smart home tech. And that partner will be a technology integrator: someone who knows the ins and outs of today's electronic systems, who is an expert in tech-related products, networks, security and infrastructure requirements.
And yet, the NKBA Study reports that only 29% of designers are using a home technology pro for their kitchen projects.
A technology integrator is a new category of subcontractor, the expert you need who will design and build a tech-based system. Just like an electrician or an HVAC technician, an integrator designs and installs smart home systems. The integrator will also teach your clients how to operate their smart homes. Further, they make adjustments after homeowners have lived in their homes for a while.
A qualified tech integrator will be your resource for answering all your and your clients smart home tech questions. They are the expert so you don't have to be.
Homeowners want their homes to be connected hubs that tie together all of their smart devices, so they communicate with one another. A tech integrator is essential to design an automation system that can pull together appliances, lighting, music, climate control and home networking. Without the integrator's assistance, it's just a bunch of apps on a phone, each of which has to be individually opened to operate, and that gets annoying fast.
Further, many technology integrators' firms have their own showrooms or can take you to a manufacturer's showroom so you and your clients can experience these smart home tech systems firsthand.
After you have experienced smart home technology in a demo, you will be more confident informing your clients about their options.
Beyond home theater systems, technology integrators also design and install smart home control systems, lighting controls, motorized shades and drapes, Wi-Fi and home networks, technology for home offices, surveillance cameras, access control, home wellness technology and energy management.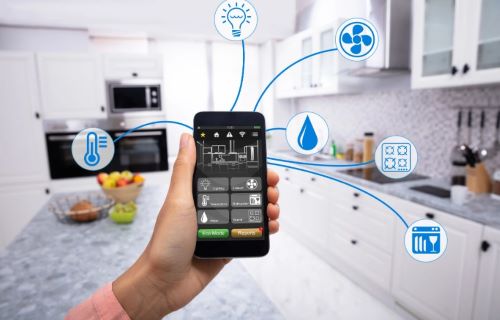 How to Find a Tech Integrator
NKBA has a partner page on their website: Home Technology Association (HTA). If you're not an NKBA member, you can go directly to the HTA website to find a Certified Integrator.
When searching for a tech integrator, it's important that you look for one who is going to care about your design and put in the time for project management. They should have the same enthusiasm for the client experience as you do. Read their reviews and ask for referrals.
Let's Start at the Very Beginning
The integrator should be the first trade specialist you hire for your team, followed by the carpenter, electrician and plumber.
Smart home technology should be one of the first conversations you have with your clients, not an afterthought. It should be built into the timeline, budget and the design before anything is finalized. Retrofitting a space after the project is complete is much more difficult. Further, it narrows down the choices. And, it's definitely less costly to integrate tech into the design from the beginning.  
Your job as the designer is to make the design functional and beautiful. The tech integrator makes the smart tech home systems work.  
To get started with meeting your clients' tech needs, you can use a Project Technology Assessments form provided by the Home Technology Association. This form will give you a checklist of the different home technologies integrators can help design, install and service. One comes with a budget calculator and one without.
Smart Home Technology in the Kitchen
Some benefits of kitchen-specific smart home tech include the following:
remote operation of appliances via app or voice command
monitoring whether the range has been left on
alerted if the refrigerator door is open
being notified if there's a power failure or leak
having appliances do self-diagnostics
monitoring supply levels of dishwasher soap
getting automatic updates over the internet
preheat and set a timer for turning on the oven
view and store recipes
video chat
watch TV
turn the countertop into a keyboard and display
Wellness and Smart Home Technology
Home wellness systems monitor and control a home's air, light and water. Home wellness solutions are based on integrated hardware and software that allow homeowners to better manage their environment for their ultimate health.
Humidity control is part of indoor air quality. The smart home tech system is automated to keep indoor air at a constant and optimal humidity level to prevent mold from growing.
Water purification systems provide real-time info on the quality of water, filter notifications and leak detection.

The kitchen requires different kinds of lighting, such as overhead lighting at the right color temperature so you can see properly what you are cooking. Plus, there's under-cabinet or toe-kick lighting for ambience, accent lighting, and more.
Lighting can be tied in with a smart home tech system to make it all work seamlessly together. That includes not just standard lighting but natural light manipulation via motorized shades.
Lutron controls the amount of natural light that enters a home using automated shades. Your integrator can combine shades with lighting control.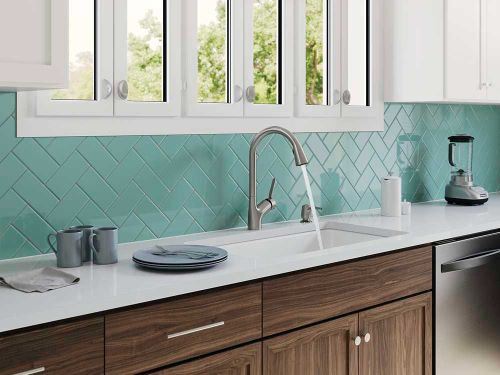 Among the most popular smart home tech-enabled offerings are hands-free faucets that can be turned on and off via voice or motion activation. In addition, voice commands can also dictate the amount of water dispensed, as well as the temperature.
Appliances in the Smart Home Kitchen
More kitchen-specific manufacturers are making their products work with smart homes. Kohler, Moen, Gaggenau, Sub-Zero and others are adding smart features to integrate their products into the overall smart home technology system.
The new Kitchen Hub feature from GE Appliances:
allows connectivity
calls up recipes
modifies recipes for special dietary needs
sends instructions to appliances for temperature and timing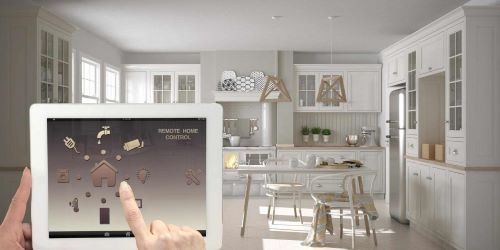 Smart Home Technology and Millennials
Millennials grew up with technology. Consequently, they want their homes to have all the technology that's available, especially in the kitchen. Healthy cooking and app-controlled appliances have strong appeal to Millennials.
This means that if you want to sell to this client base of 25- to 40-year olds, you need to be up-to-speed about the integration of design and technology in the home.
Seniors can Benefit from Smart Home Technology
Smart-home technology enables seniors to stay in their own homes as they age, giving them the freedom to live independently.
Sensors that detect falls, provide alerts when an appliance malfunctions or when there is a plumbing leak are examples of technology that makes remote caregiving easy. Further, sensors can monitor daily activities, sound an alert if the front door opens in the middle of the night or, caregivers may be alerted if the medicine cabinet has or hasn't been opened.
When incorporating technology for seniors, ease of use is key. If the technology is frustrating for them, it won't be used.
Bigger Kitchens Require More Smart Home Technology
Kitchens are growing, with 85% of designers polled in the Design Trends study predicting bigger kitchens — an estimated 25 to 49% bigger — in the next three years. As kitchens become bigger and equipped with more connected technology, the need for a foolproof home network is crucial. It needs to be robust enough to handle everyday needs and more.
Your home technology integrator will suggest the appropriate professional-grade network that will create a great Wi-Fi signal in the kitchen (and everywhere else). The tech integrator can steer you toward a safe, secure, and high-performance home network.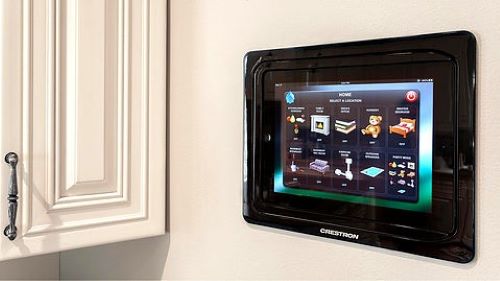 Smart home technology is becoming more and more essential in today's kitchens. This technology is integrated into the kitchen design from the very first step in a way to make your client's life more comfortable, efficient, convenient, secure, easier to use and enjoyable.