Brighton Cabinetry has introduced 10 new finish colors for Spring 2023.  
Color on kitchen cabinets is having a moment. Although white is still being requested as a kitchen cabinet finish color, it's no longer the bright white that everyone wanted for so many years. Today's remodeling homeowners are using color more often in their new kitchens. And Brighton has tuned in to what their customers are requesting.
Each of the new colors – white, gray, blue, red, yellow, and green – can do something different for a kitchen. And all of them help create a warm and welcoming space.
As a bonus – Brighton's new colors have been introduced as standard choices. No custom color matches required!
How Were Brighton Cabinetry's New Colors Chosen?
Since color trends for the kitchen are ever changing and evolving, Brighton went to the experts for assistance in finalizing their selections. They consulted the survey results of the 2023 NKBA annual survey provided by kitchen designers and other industry pros.
Almost half of respondents say that homeowners are asking for green in their new kitchens. Green is followed closely by various shades of blue. After green and blue, designers say people want white for their kitchen cabinets.
Brighton Cabinetry New Spring Colors: Basil and Cypress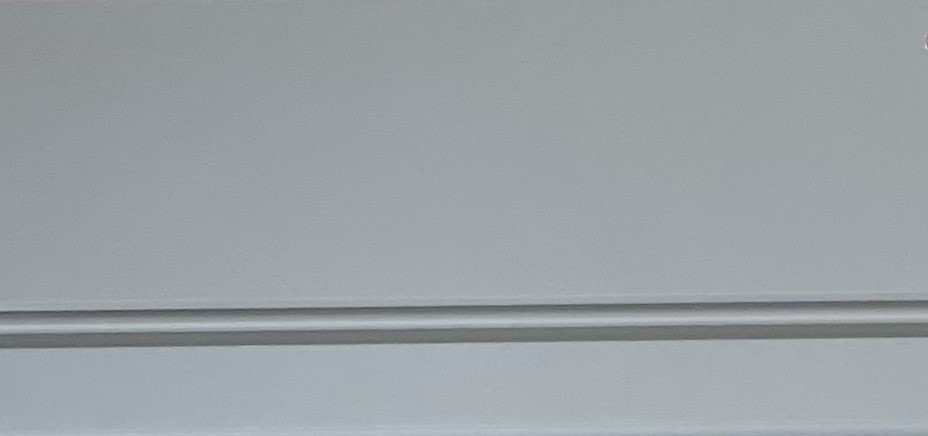 Cabinets in a green shade, such as Basil, (shown LEFT) one of the new greens from Brighton, can bring a feeling of nature into your clients' homes. Green often represents new beginnings, thus having green in the kitchen is a great way to start each day. Green is also part of the Wellness Kitchen, where nature influences play a role.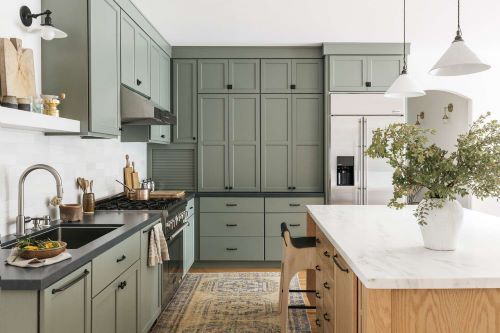 Brighton has an additional green shade in their new colors for spring – Cypress (shown RIGHT). Cypress is a soft combination of green and gray. It's not 100% gray and it's not 100% green. It's the ideal balance between the two.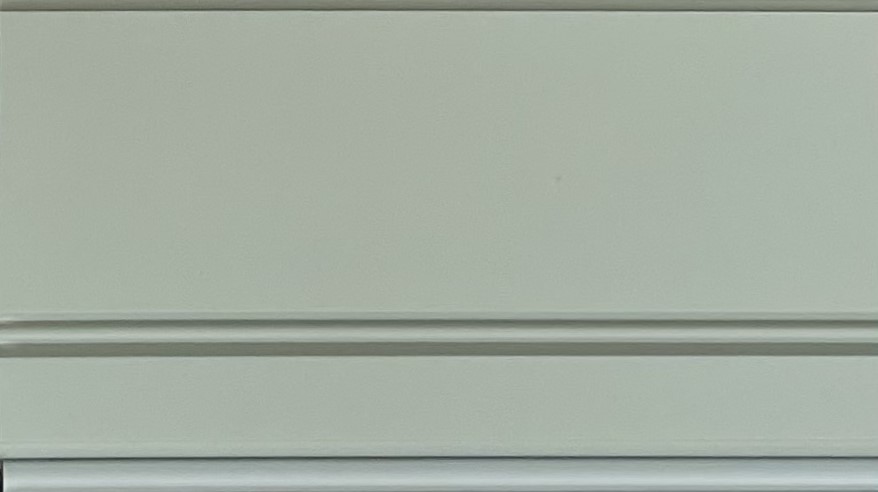 Brighton New Spring Colors: Maritime and Robin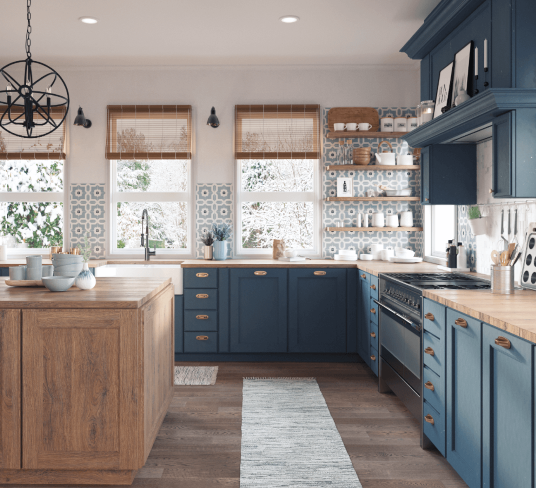 Blue in the kitchen is as popular as green right now. Designers say their clients have told them that incorporating a shade of blue into their kitchens created a sense of calm for them during COVID quarantine.
Brighton has responded to the demand for blue with their new colors Maritime (shown above LEFT) and Robin (shown RIGHT).
Maritime is a classic dark blue, almost navy blue. And Robin is named for a robin's egg, a pale blue. For a classic look, there's nothing like a dark blue, like Maritime.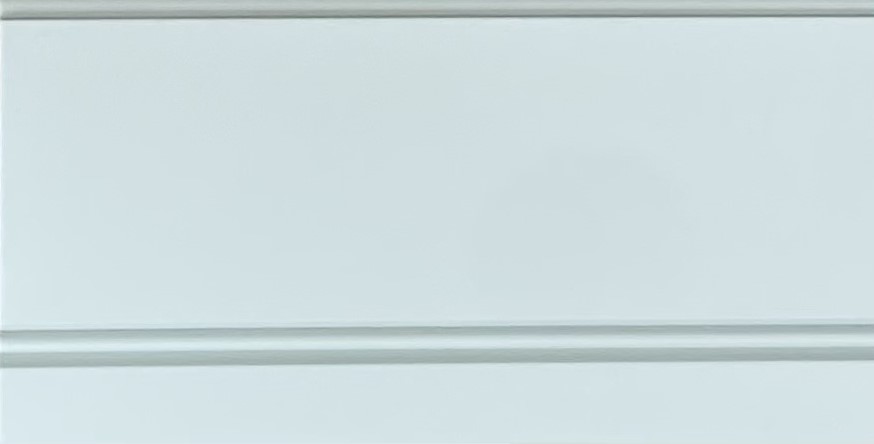 New Finish Color from Brighton Cabinetry: Grays
Gray is a neutral, cool shade for cabinets. "Cool" as in a cool hue, described as calm or soothing. The opposite of warm. Not "cool" as in hip or happening.
Brighton's new colors include two shades of gray: Silvern (shown above LEFT) and Fog (shown above RIGHT).
If you have clients who are nervous about getting their kitchen cabinet finish color wrong, it is hard to go wrong with a neutral, like gray. A neutral paint color is timeless and provides the perfect backdrop for creative accents, such as a backsplash, countertops, wall colors, appliances and floors.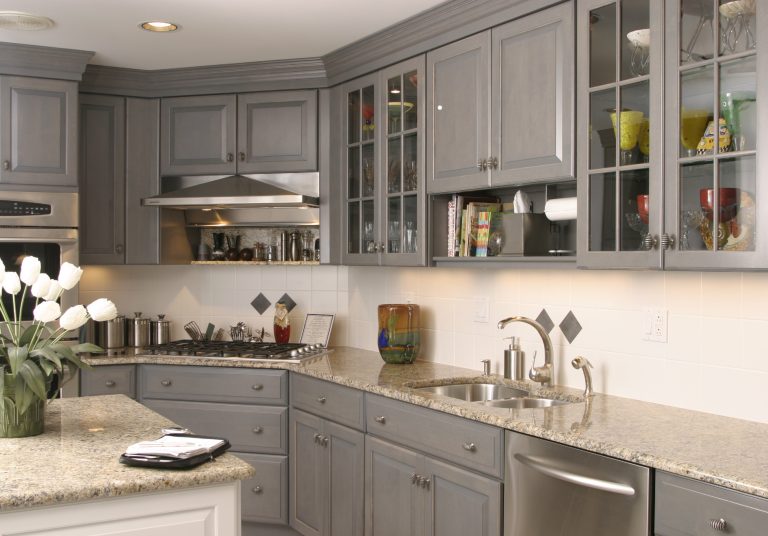 In Spring 2023 Brighton Cabinetry Goes Beyond Gray with New Neutrals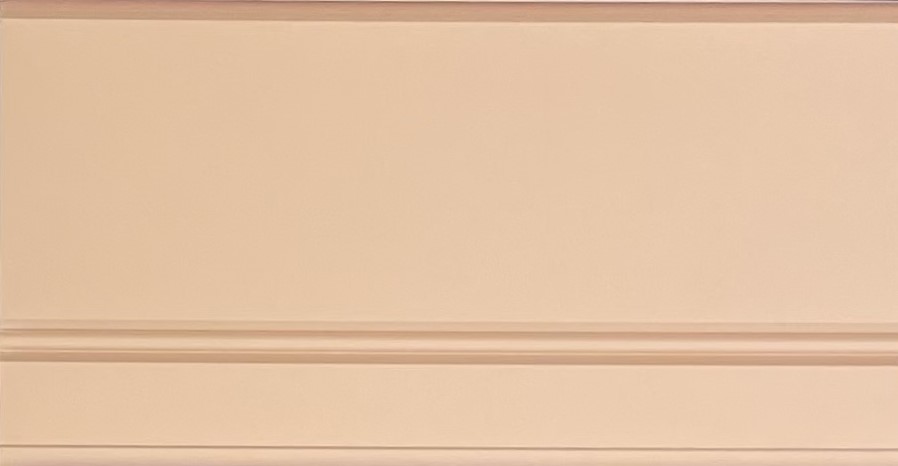 Are neutrals "boring"? There's nothing boring about beige when it comes to kitchen cabinet colors. And besides, neutral paint colors will never go out of style.
Brighton considered the importance of neutrals when they added Blush to their new finish color palette for 2023.  Blush (shown LEFT) is a great base for stronger colors or accents, such as blues, yellows and brass hardware. 
A beige shade like Blush will easily add warmth to any remodeled kitchen.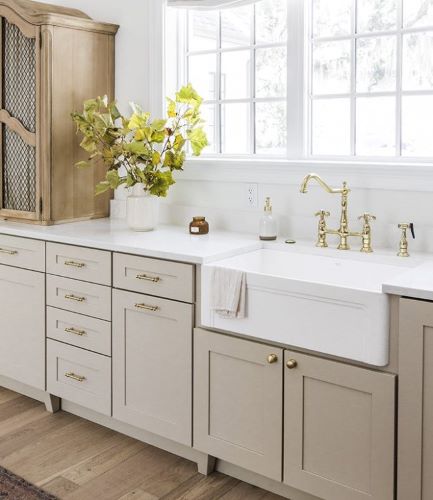 Brighton Introduces an Additional White in New Color Collection
There are over 150,000 shades of white paint. Why so many? Each white has an undertone, or a tiny speck of color, that is almost undetectable but makes each white a different shade.
The new white introduced by Brighton for Spring 2023 is named Cool, and not surprising, it is a cool white. Cool whites have a blue or green undertone. Brighton's Cool is a great choice for a room that gets lots of natural light.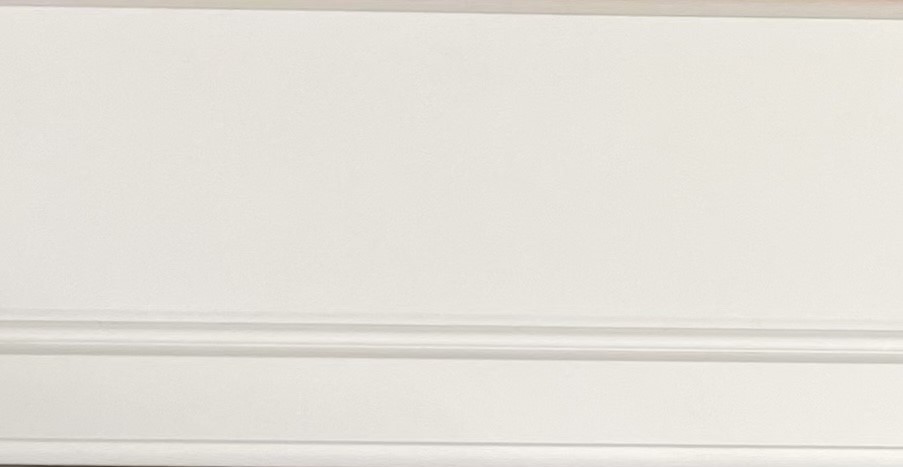 Cool joins the other white finish colors offered by Brighton. In fact, their top three finish colors in 2022 were shades of white: White, Iceberg and Lace. Cool brings a new white dimension to already popular shades.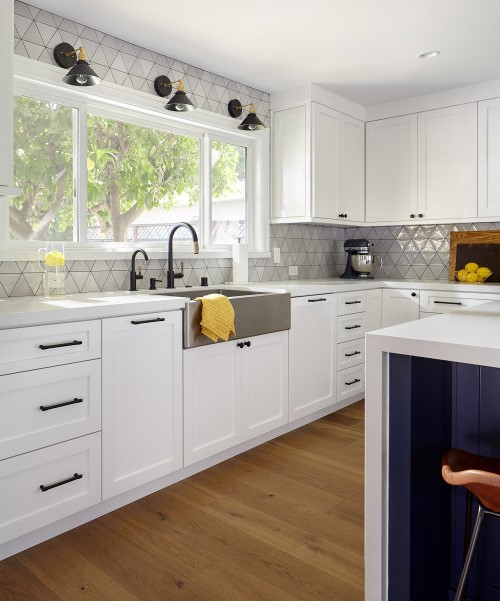 Brighton Introduces New Finish Color: Ablaze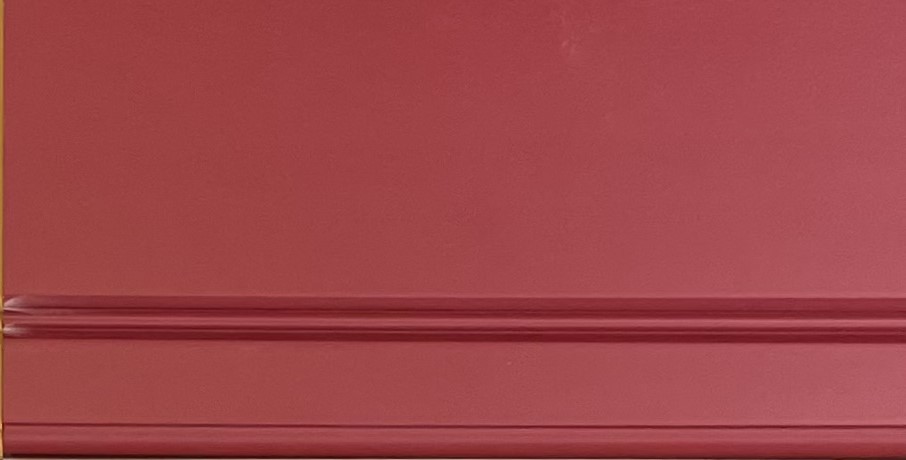 Red as a kitchen cabinet finish color is very versatile. It can work with just about any kitchen style, from contemporary to farmhouse.  As a finish color, it creates a warm, welcoming feeling, especially when paired with natural finished wood. 
Brighton's new red, Ablaze, is a warm shade. It's the ideal color for kitchen cabinets if your client wants to "go wild" or if they want to just a hint of the color.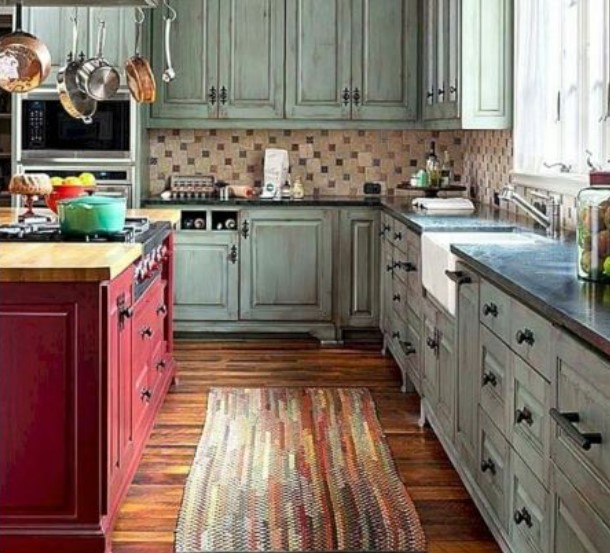 Brighton Cabinetry New Color for Spring 2023: Gilded
Yellow can instantly brighten up a kitchen and will make people feel happy. It's a good option for small spaces because it can make rooms feel bigger and brighter.
Brighton's new yellow, Gilded (shown RIGHT), is a deep, golden color. Consider pairing Gilded with other cabinets finished in darker colors for a two-toned look. Dark bronze hardware will really pop on Gilded. As a bonus, it works well with white and gray accents, like backsplash and/or countertops.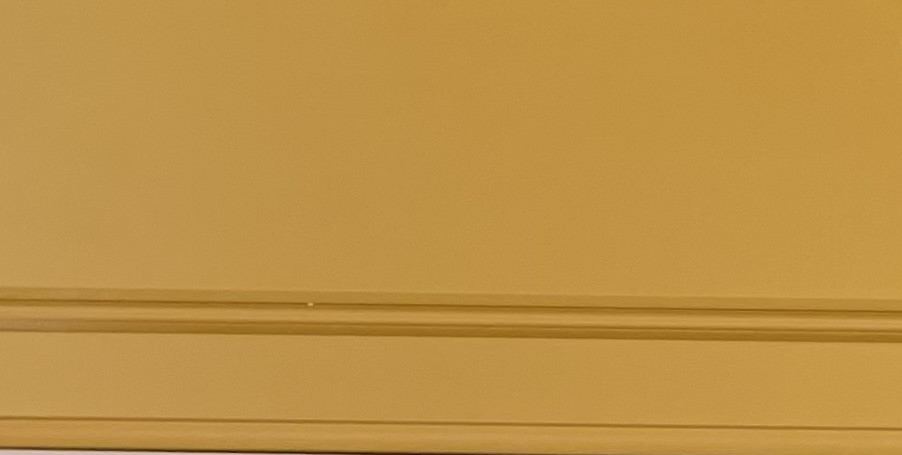 Cabinets are the predominant design element in a kitchen, and nothing personalizes them more than their finish color.
Design professionals from around the country are reporting their clients want more color — and bolder colors — than ever before.  
With the new shades introduced by Brighton for Spring 2023, you will now have additional finish color options for your renovating clients. Help them tell their color story using these exciting new colors.
Bob Aungst Cabinet Sales is a full-service rep agency with the goal of matching kitchen designers and remodelers with the cabinet manufacturers best suited to their business' style and clientele. Owner Bob Aungst III represents Brighton Cabinetry, US Cabinet Depot, Integrity Cabinets and StyleCraft Luxury Custom Cabinets.