What does a post-COVID kitchen look like? The COVID-19 pandemic touched every aspect of our lives, all the way down to what our kitchens will look like moving forward.
It's not really surprising that COVID would affect how people live in and use their kitchens. While quarantining and social distancing, homeowners spent a lot more time in their homes, especially in their kitchens cooking, cleaning up and eating well.
Since the uncertainty of the pandemic impacted the way people were forced to use their kitchens, the focus of the post-COVID kitchen now is on hygiene, comfort, calm and safety. 
Predictions for the post-COVID Kitchen
The National Kitchen and Bath Association predicts that the pandemic will have a lasting influence on kitchen design. Their research shows that post-pandemic kitchens will be contemporary-styled, due to the sense of calm, well-being and simplicity they project during an otherwise chaotic time.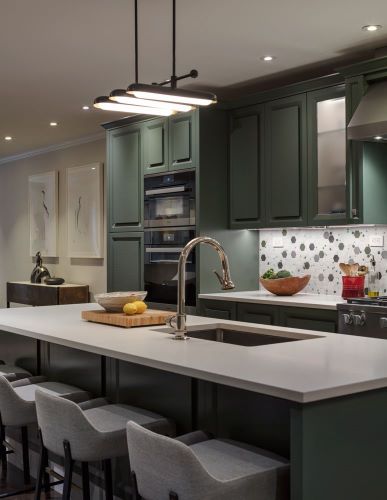 These contemporary kitchens will feature:
clean lines
minimal detailing
the warmth and texture of natural finishes
larger windows to bring the outdoors inside
Further, they predict that homeowners will have an increased desire to invest in their homes post-pandemic. This includes, but is not limited to:
the need for multi-purpose spaces in the kitchen
the use of organic or natural materials
outdoor living areas
According to kitchen designers and other residential design professionals, they are having to deal with demographic changes, technological innovations and product trends, all due to the impact of COVID and its lingering effects on kitchen design.
The American Society of Interior Designers (ASID) revealed in a recent report that health and wellness has become the top priority of homebuyers and people remodeling their kitchens. More and more people want simpler, cleaner and easier-to-maintain living spaces.
Further, they want products that promote a sense of wellbeing and an escape from modern-day stress. ASID predicts that wellness features and "healthy design" will soon become nearly universal in new and remodeled homes.
The Post-Covid Kitchen will be Multi-Tasking
Thanks to COVID, families were forced to spend more time in the kitchen. Now more than ever before, the kitchen is the social hub of the home. It has long been the heart of the home. However, post-COVID it has emerged as the hardest working, multitasking room, as well.
As a result, beyond preparing and enjoying meals, the kitchen is an office, classroom, playroom and restaurant. Further, thanks to the pandemic-inspired phenomenon Zoom, the kitchen is a favored spot for socializing.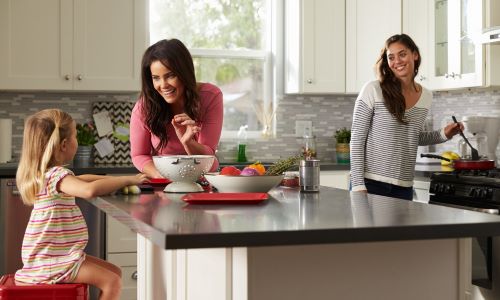 Industry experts see no end to this expansion of the kitchen's uses. They envision post-COVID kitchens with more open-space concepts featuring larger kitchen islands, possibly an extension into multi-season outdoor living spaces. Above all, future kitchens will have increased functionality and storage to allow homeowners to cook, eat, work, home-school and play, all in the kitchen.
What Does the Post-COVID Kitchen Include?
1. Nostalgia Paired with Memories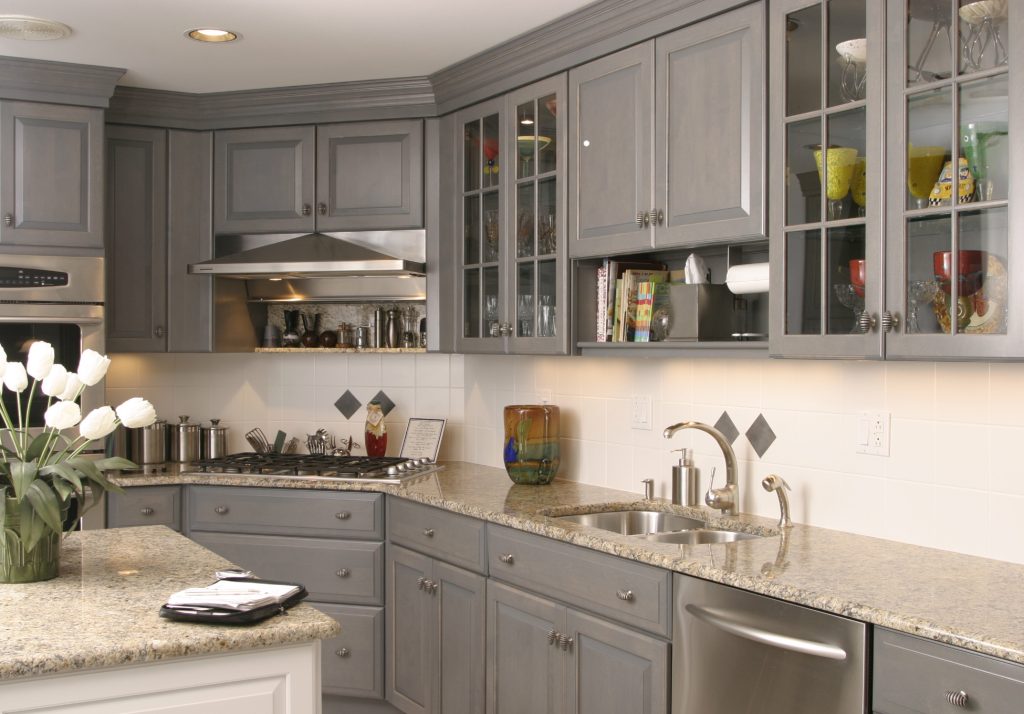 The pandemic made everyone more nostalgic for real human connection, and this desire will be reflected in kitchens going forward. Homeowners will combine unusual or unique items that have meaning and conjure up memories that will spark joy every day.
2. Easy-to-Clean Materials
After a year of being hyper-aware of germs, hand-washing and disinfecting habits will be built into the types of materials homeowners want in their kitchens. Non-porous and easy-to-clean surfaces will be most requested. Quartz countertops will continue to be the leading material, as they are easy to clean and keep clean. Further, quartz will be used as backsplash material.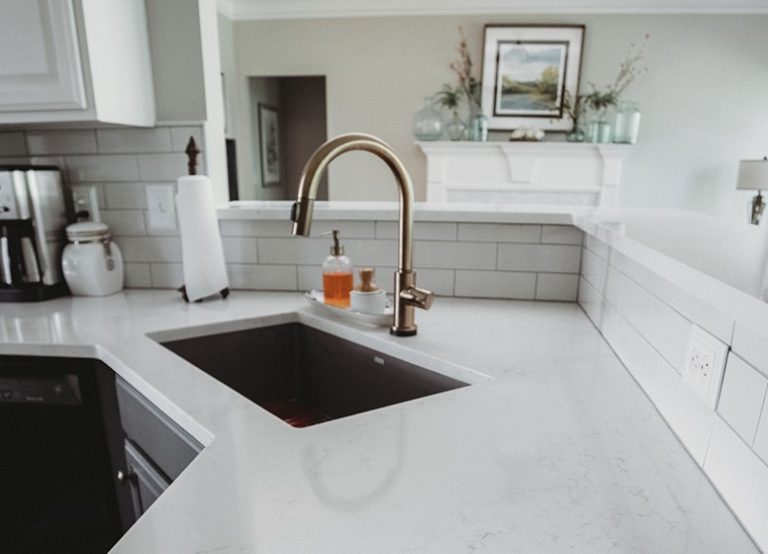 Because of their "cleanability", induction cooktops are on their way to surpassing gas cooktops as the favorite choice.
Antimicrobial surfaces and coatings and materials that can easily be wiped down or are antibacterial, like copper, glass or stainless steel, are becoming more popular.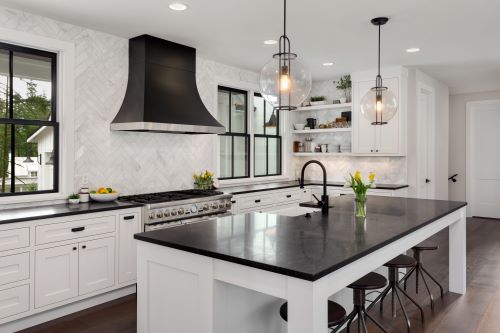 Natural light, large windows, skylights and growing plants are an essential part of the post-COVID kitchen.
Sustainable practices have become more important than ever, from creating a designated place for growing herbs indoors to having a specific area for composting.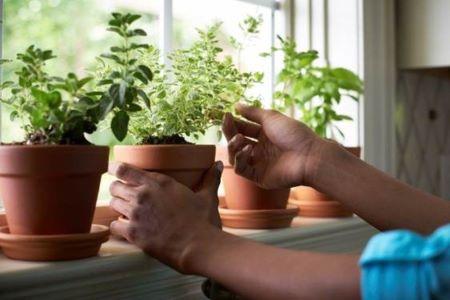 Further, homeowners are predicted to keep sustainability in mind when sourcing materials for their kitchens. For example, Ash wood for cabinetry has low-VOC emissions, which promotes better air quality in the home. In addition, it is a more cost-effective material.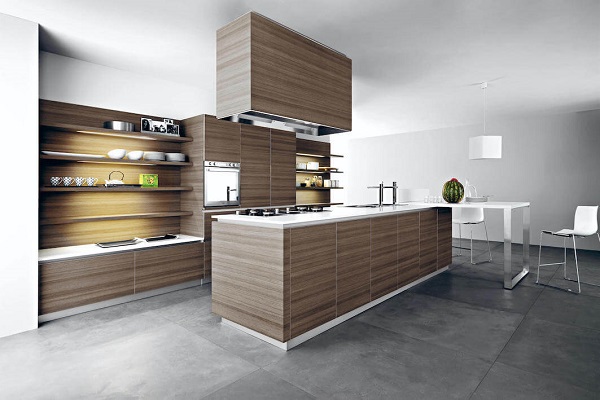 Because people want a calm and soothing space, natural colors, like tans, grays, beige, light blues and greens, are favorites in post-COVID kitchens. The need for a connection with nature has created a move toward a color palette based in nature.
Designers see wood grain cabinetry becoming more popular, in addition to warm and natural finishes.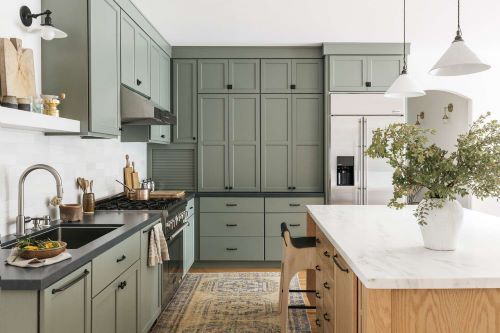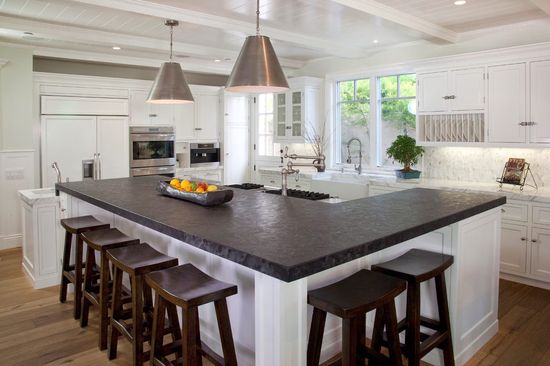 L-shaped islands maximize counter space and open up the kitchen's overall layout. As a result, L-shaped islands represent one of the top trends to emerge from the time spent working from home. Now, islands have become a space to work, to home-school, to use as a dining table, to use for meal prep and for extra storage.
Bigger is better when it comes to islands. They provide seating for more people, with outlets to power laptops and chargers and/or countertop appliances.
Further, organizing has become more important as kitchens become multi-purpose. It's been proven that getting rid of clutter reduces stress, and people want cabinet built-ins that hide clutter. As a result, appliance garages and pantries are in demand.
Post-COVID, smart technology allows homeowners to control their appliances the way they want. Hand gestures and voice recognition are becoming more prevalent.
GE's Kitchen Hub offers a guided cooking app using Google assistant, plus streaming TV and a web browser. An in-oven camera allows the cook to keep an eye on dinner while they're out of the room.
Other smart appliances, including screens on a backsplash or refrigerator panel, can recommend recipes, bring up the day's calendar, and help cook a dish efficiently.
According to the NKBA, technology in the kitchen will continue to grow in importance as homeowners remodel their kitchens based on needs they discovered while working from home and quarantining.
The top priorities for smart tech in the kitchen includes:
dedicated device charging and viewing
video communication
emergency power for the refrigerator
leak detection
voice-activated lighting controls
touch-free faucets
During COVID, people spent more time at home than they had ever before. In the kitchen design world, that pandemic-induced behavioral change is dramatically impacting the industry.
Specifically, it's created a new focus on wellness.
The concept of wellness has expanded beyond the bedroom and bathroom to include the kitchen. Consequently, homeowners are investing in kitchen renovations that bring a sense of wellness into their lives. People discovered that when they surrounded themselves with nature and nature-inspired materials, they experienced a calming effect.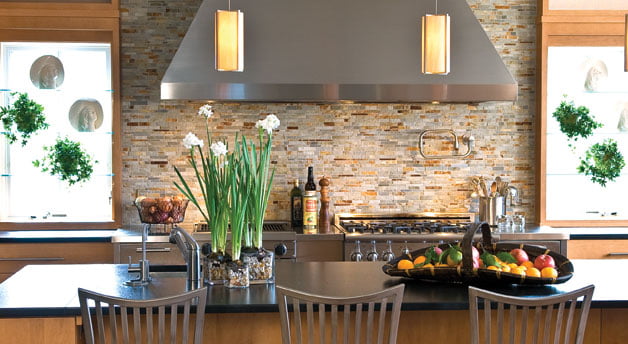 9. Appliances for the post-COVID Wellness Kitchen
Because people are cooking more at home, many homeowners are paying more attention to how their food is prepared. Steam and steam-assist ovens are gaining popularity because they retain food's nutrients during cooking.
Electric stovetops are replacing gas stovetops that release carbon monoxide, formaldehyde and other harmful pollutants into the air, which can be toxic to people and pets. 
Homeowners are buying larger and more efficient refrigerators, thanks to the popularity of natural and organic ingredients and the need to preserve fresh food.
10. Universal Design in the post-COVID Kitchen
The post-pandemic kitchen will be a space that works for everyone, including those with disabilities, the elderly, children in strollers, and anyone else who may be using the kitchen.
This approach not only creates an accessible, multi-functional kitchen with convenient features for a diverse group. It also reduces the need for modifications that may be required in the future.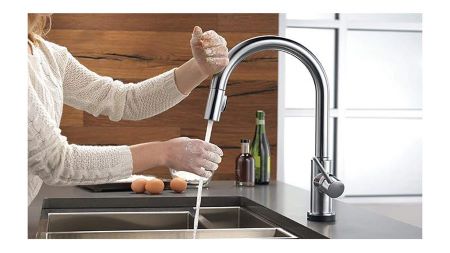 A clean and germ-free kitchen has always been important, of course. However, with a focus on hand washing and wiping down everything, features such as easy-to-clean surfaces, touch-free technology and pull-out spray faucets are extra important, post-COVID.  
Touchless technology is definitely a rising trend. It's now possible to open the oven with an elbow or even your voice. Touchless faucets and hands-free water dispensers for the home are available from Elkay. Sinks are made from more hygienic materials, such as non-porous quartz that helps prevent the spread of bacteria. 
As the threat of COVID recedes, homeowners are eager to spend money on remodeling their kitchens. And these post-COVID kitchens will be multi-functional, focused on socializing, wellness and sustainability.
References and Sources for Further Reading
Bob Aungst Cabinet Sales is a full-service rep agency with the goal of matching kitchen designers and remodelers with the cabinet manufacturers best suited to their business' style and clientele. Owner Bob Aungst III represents Brighton Cabinetry, US Cabinet Depot, Integrity Cabinets and StyleCraft Luxury Custom Cabinets.