TikTok for business delivers plenty of opportunity for your small business to engage with new audiences in a different way. 
TikTok has become a most popular social media platform, but is it worthwhile using it for your business? Initially considered to be just a passing fad, TikTok for business is a low-cost, high-visibility way to get your business seen. Many business owners are now starting to realize that they could be missing out by not using the app.  
Since it first appeared in 2018, TikTok has evolved from a video-creation app meant for users to express their creativity (via crazy dancing and other silly activities) to a place for marketing and advertising. Today, TikTok is the third largest social media network worldwide, behind Facebook and Instagram, with over 70 million daily users in the US (projected to reach 90 million in 2023).
If your target audience includes anyone between the ages of 13 and 60, you should be on TikTok.
How is TikTok for Business Different from Other Social Media Platforms?
TikTok is a social media app that allows users to create short videos up to 3 minutes long. It's different from other social media platforms because while Facebook, LinkedIn and Instagram are primarily focused on sharing images and text, TikTok is all about sharing videos.
More Ways TikTok is Different
The TikTok app allows you to create videos by shooting, editing clips, customizing audio, applying effects and enhancing with filters all while you are in the Tik Tok app. A very powerful, unique user experience.
"We Already Have Enough Social Media"
You may be thinking, "My business already has enough social media, I don't need to add another account to my list." And while we understand that reaction, TikTok opens your business to a new and wider audience than you were able to reach before.  
By using a video-focused approach to your business's social media content, you're able to tell your story in a most relatable way.
Isn't TikTok for Business Just for Gen-Z? (1990s to 2010s)
At first, you might dismiss TikTok for business with thoughts like, "TikTok is just for Gen-Z, my target audience isn't on there". However, Instagram, Facebook and Twitter all started off as platforms for young people only. Business owners rejected them for having no value for their businesses. Today, as we all know, these social platforms are filled with people from multiple generations and millions of businesses use them for their marketing programs.
The same is already happening with TikTok.  Therefore, a more accurate thought about TikTok for your business might be, "My target audience might now be on there – yet". As we've seen, the businesses that get in early and post consistently valuable content are most likely to be successful.
So Tell Me: Are Short Videos Really Effective?
According to a Wyzowl survey, 72% of participants prefer to use video to learn about a product or service. This indicates that video is a great option for small businesses to connect with, educate, convince and convert leads into customers.
 Quick, fact-based videos are especially effective during the "convincing" phase of the customer journey. This type of short video is designed to capture the viewer's attention and explain the key points about a particular concept, product or service in a visually compelling way. Think "Before-and-After" stories. 
What Marketing Goals Can You Achieve using TikTok for Business?
What are your social media campaign goals? Do you want to create awareness? Product education? Or drive people to your website? One of the most important things you can have as a small business owner is exposure. The more exposure you have, the better the chances that you're going to attract new customers and build overall brand awareness.
A few possible marketing goals TikTok can help you reach include the following. Of course, you must determine which one/ones are most relevant to your business.
 Grow awareness of your business, your talent, skills and experience (i.e., your brand)
Educate your target audience concerning how a new kitchen can make their lives more enjoyable. How you can solve their kitchen problems.
Reach future customers
Increase sales volume
Raise the number of click-thrus to your website and other social media channels
Advice from Brands That Have Enjoyed Success with TikTok for Business
Be Real, Authentic and Transparent.
TikTok is not where you want to be perceived as stuffy or uptight. You want to be professional, of course, but you can do it in a way that shows what you and your company are really like.
Showcase Products | Services
Showcasing your products and services is an important part of becoming successful on TikTok. Why? Because many TikTok users say they first discovered brands they'd never heard of before on TikTok.  
Product Education
To boost brand awareness, business owners made TikTok videos that are educational, especially #HowTo vids. For people who aren't familiar with your company, you can create intro content. Or you can showcase the remodeling process.
Hashtags still play a big role for users who are searching for content. More on hashtags later.
How TikTok for Businesses Metrics Work
TikTok provides business owners with many tools to monitor their marketing efforts. This list shows the metrics TikTok gives you:
Follower growth rate
New followers
Video views
Profile views
Likes, comments, shares
Content performance
Website views from TT
Leads from TT
OK, You've Convinced Me I Need TikTok for Business. How Do I Get Started?
Start by setting up your TikTok Business Account
You don't have to be tech-savvy to use TikTok. The app is designed to be user-friendly and easy to navigate.
Download the app to your phone and get your new account active using an email address and phone number, or log in with Facebook, Twitter or Google.
Next you have to populate your profile by tapping on the profile icon in the lower right corner of the screen. Add your business name as the account ID. You can also link your Instagram, Facebook and YouTube accounts here.
As part of the sign up process, you should fill out your bio too. For your profile photo, TikTok recommends using your business logo or a photo of yourself.
As we said, TikTok makes setting up your account and doing the things you need to do to get your business active so very easy. No technical computer knowledge required. Here are some of the screens you will see when you first log in to assist you. As you can see – easy peasy.using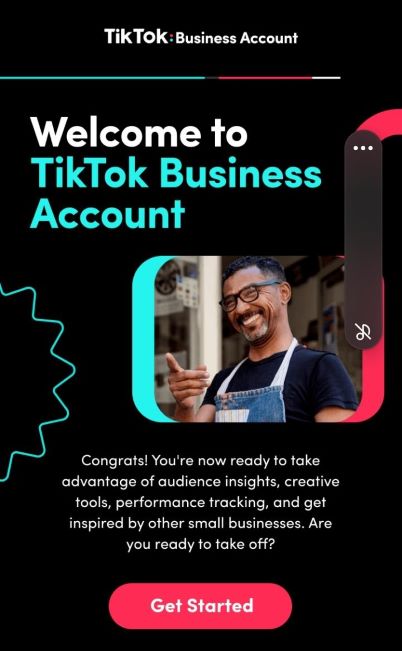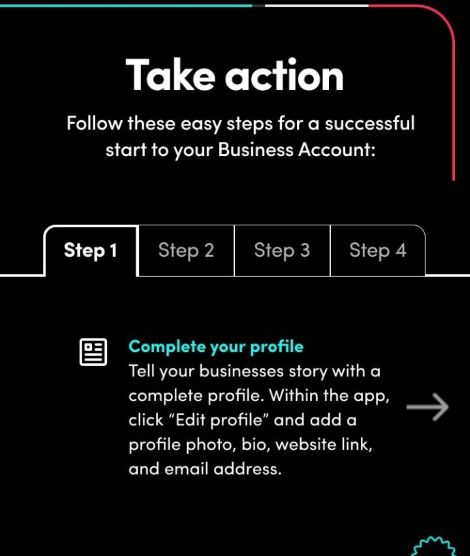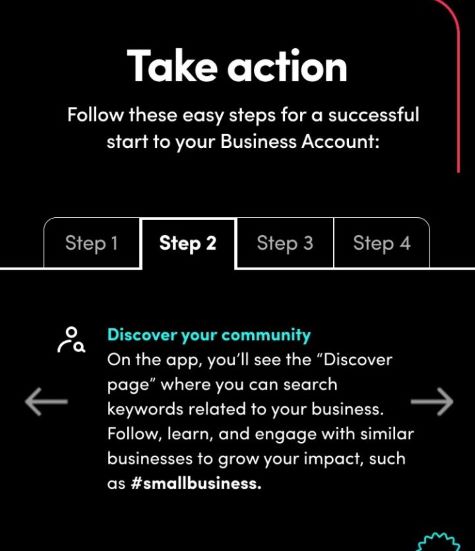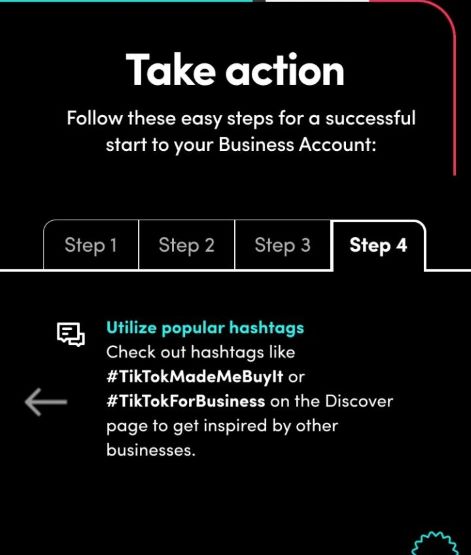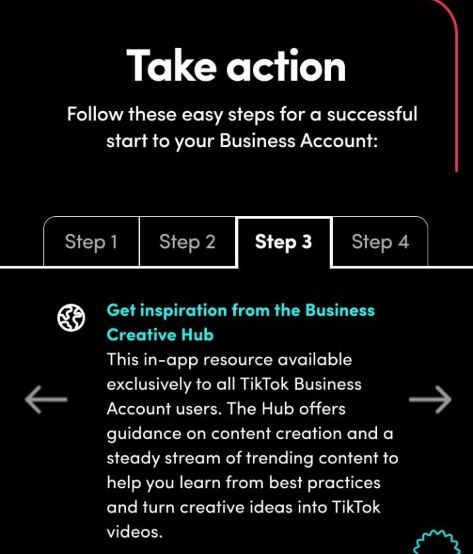 Create Your First Video on TikTok for Business
When you're ready to create your first video, TikTok makes it fool proof. Tap the black plus button at the bottom of your screen. Be prepared for TikTok to ask for your permission to access your phone's camera, photos, and microphone.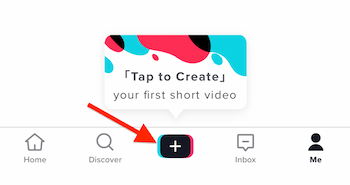 Then the recording page will come up with a red circle to start recording. Choose either the 15-second or 60-second option first. Then start making your video!
You can record while holding your phone, or you can upload photos or videos stored on your phone. To the right of the red record button is the Upload icon, which you use to upload a previously recorded video on your phone to TikTok. Long videos will need to be trimmed to fit within the 60-second timeframe.
Jazz Up Your Video with Music and Effects
To add a song to your video, tap the Sounds button near the top of the recording screen. Be prepared for what you are going to hear and sample each one. Many of these are not appropriate for business! 'Nuff said. There are hundreds of options. It's kind of like picking a ring tone for your phone. However, you do not have to have music. And you can save any selection you find that you like to your Favorites by clicking on the bookmark icon.
When you've found a sound you like, add it to your video by tapping the red checkmark button to confirm.  
Along the right side of the screen, you'll find effects to apply to your TikTok content. Have fun by playing around with these effects – nothing is permanent unless you make it so.
Still Confused How to Proceed on TikTok for Business?
Just as TikTok provided inclusive instructions for getting started with your business account, so they provide assistance for video creation.
Go to your profile and tap on the hamburger menu in the upper right corner. Here you will see a tab for Creator Tools and under Creator Tools is the Creator Portal. If you can't find help there for what you want to do, you don't need to do it.
The TikTok-newbie author of this article was pleased to find Templates. I was also happy to discover you can create a video using photos that TikTok will stitch together to make your video. You don't have to go on camera right away while you are learning your way around the app. Plus you can add words to your photo-video; you don't have talk on camera either.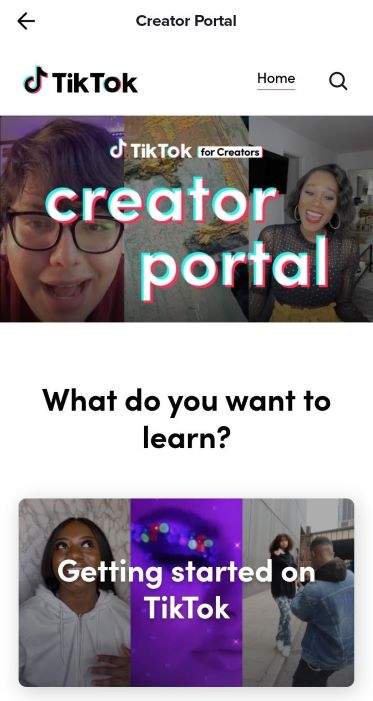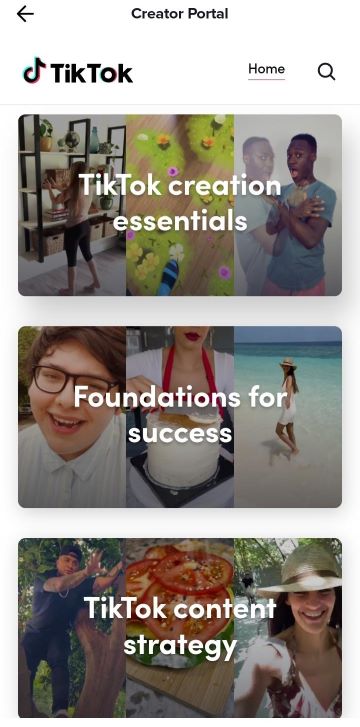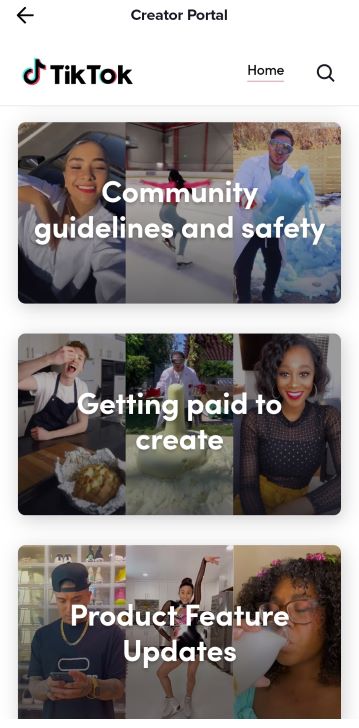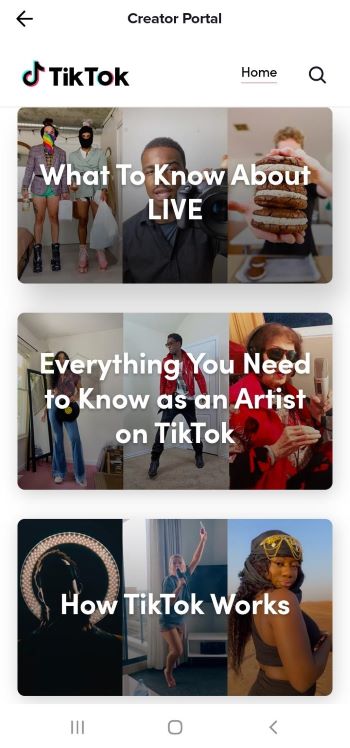 Once you've chosen the music and effects and recorded your video, tap the red circle with the white checkmark at the bottom right of your screen, and then tap Next.
This is the critical step for your business account. Optimizing it in so that others can find it is the entire reason you are on TikTok, is it not?
On the Post screen, you have these options:
Type a description for your video
Add hashtags
@ your friends and prospects
Add links to your website. TikTok lets you include links in both your profile and videos.
Save the video to an album
Videos on TikTok represent the ideal opportunity to create vertical video content for your business. Publish your video on Instagram and Facebook Stories and YouTube at the same time as on TikTok.
Can You Advertise on Tik Tok?
Of course you can. Like other social media platforms, you can pay to have your ads shown to users via the TikTok For Business Ad Manager. Advertising on TikTok is a story for another day.
To Get Your Business Noticed on TikTok, Do These Things:
Post your TikToks consistently.
Promote your TikToks with the right hashtags for your target audience.
Be Inspired by other brands and their content.
Let your TikToks demonstrate your unique voice and style.
Be a good community member by commenting and promoting other users' posts.
When You're on TikTok, Do Not Do These Things:
Get discouraged.
Create content that promotes harmful or unsafe behavior.
View other brands as the competition. 
Always produce the same type of TikTok content.
Violate the TikTok community guidelines.
TikTok for business is a  social media platform where your business can find and reach a new audience in a different way. We're not going to tell you TikTok is right for every business. However, if you hashtag and tag appropriately, you should be able to get your videos in front of the people who will benefit from your content.
When scrolling through TikTok while researching this article, we found some business accounts that you can refer to for inspiration.
#InteriorDesign
#HomeDecor
#BeforeAndAfter
#ModernKitchen
#kitchenDesign
#kitchenMakeover
#kitchenstorage
#kitchenRemodel
#customcabinetry
#modernfarmhouse
#kitchenorganization
#kitcheninspo
Sources Used and For Further Information
Hootsuite.com | Tik Tok for Business
Eternity Marketing | Why You Should Be Using Tik Tok for Business
Wallaroo Media | Tik Tok Statistics