The National Kitchen & Bath Association's Design Trends 2022 Report focuses on the key elements that have influenced and will continue to influence design in the industry over the next three years. Further, the annual report forecasts styles, colors, materials, technology and the most popular products for the kitchen and bath.  
650 professionals from our industry – designers, manufacturers, kitchen and bath specialists, dealers, showroom professionals and remodelers — submitted their findings and opinions concerning design trends. They reveal what clients are looking for now. In addition, their findings report what people will continue to look for in the next three years.
Results from Design Trends Survey
The study found that the Covid-19 pandemic created consumer interest in (1) the integration of smart technology, (2) the adoption of multi-functional spaces and (3) including natural and nature-based designs in their kitchens.
The Design Trends Report revealed four key factors driving design decisions:
simplicity and ease of use
the natural and organic trend
a desire to be bolder with color
multi-functionality
Respondents to the Design Trends Report Questionnaire are predicting that new kitchen design will include
more color
wood tones
new storage options
clean, modern, European-influenced design
integrated high-tech appliances
It's no surprise that transitional styling is still the favorite kitchen design theme.
59% of respondents said Transitional
57% said Organic/Natural (wood tones and wood stains that allow the grain to show through)
54% said Contemporary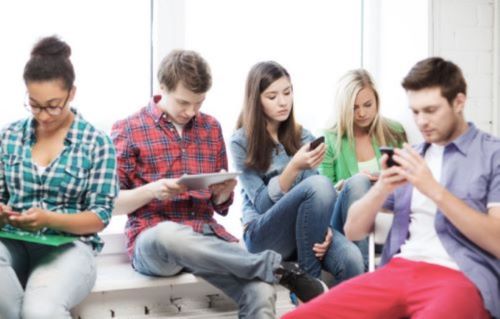 Millennials Influence Design Trends
Baby Boomers and Gen X continue to be a large part of designers' customer base. However, the demographics are shifting toward a younger audience that is influencing future design trends more and more.
Consequently, designers are reporting an increase in work on behalf of Millennials (born between 1981 and 1996). As a result, this has resulted in a shift in how designers do business since Millennials are more likely to conduct meetings virtually. Further, some want to do the entire project virtually.
The influence of Millennials on the direction of kitchen and bath design means we can expect to see more organic features and natural finishes. They want a kitchen that supports their lifestyle. In addition, they want designers to use warm colors, wood tones, more matte and brushed finishes and lots of texture.
Millennials want smart controls in their kitchens that use their phones or tablets. In addition, they're looking for voice-controlled touchless faucets, integrated lighting and smart appliances.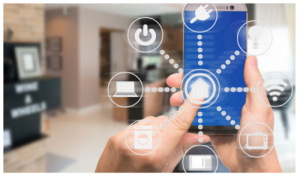 However, estimates show that only 30% of kitchens currently include it. Consequently, manufacturers need to do a better job of communicating its features and benefits to designers and architects so they can get clients to buy into it.
Beyond integrated smart technology, 64% of those surveyed said their clients want dedicated space for charging and using mobile devices, laptops and monitors.
Natural Influences on Design Trends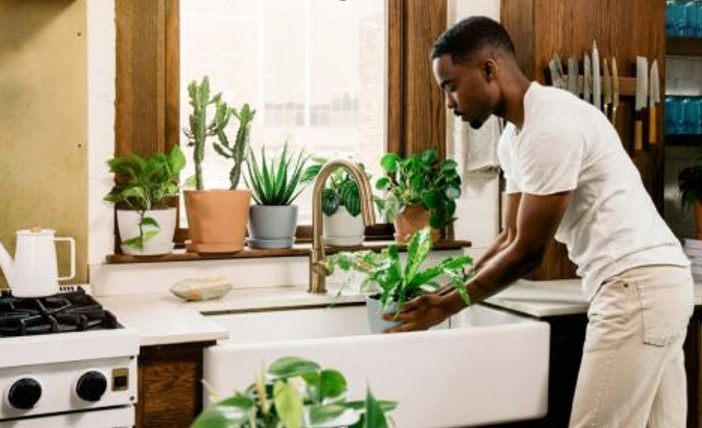 Nature-inspired elements and consumers' desire to connect to nature in their homes is a leading design trend.
natural wood or stained wood that shows the grain
cane (trending for its texture and nature-influenced look)
sea glass
natural light from high-performance windows
anything organic or nature-inspired
outdoor living and entertainment areas adjacent to the kitchen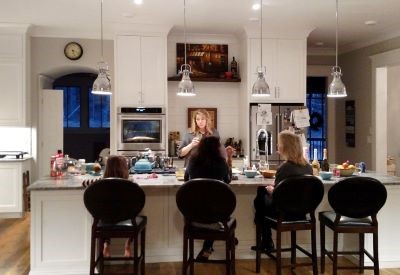 In addition to smart technology, 58% of designers predict multi-functional spaces will become increasingly popular.
Kitchens accommodate work, family, school, entertaining and recreation. Consequently, they have become multi-taskers.
With work-from-home and flexible workdays becoming more widespread, the ability to customize the home for specific needs will only continue to grow in importance for homeowners. Kitchens need to be flexible and versatile so they can transition between functions.
Kitchen footprints are expanding; a majority of respondents reported an increase of 25%. As a result, the extra space makes room for walk-in pantries and larger islands for eating, meal prep and areas for work or schoolwork.
Features that are in demand for the multi-function kitchen:
large or possibly double islands
flex space for working or family time
built-ins such as drying racks and cutting boards, or a workstation sink the incorporates these features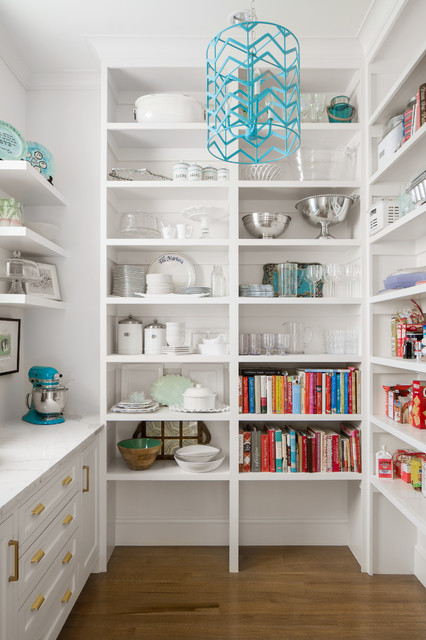 Walk-in Pantry
Many homeowners are willing to sacrifice square footage to create a large pantry for food and small appliance storage. Specifically, they want a coffee center or a second dishwasher or sink to hide dirty dishes while entertaining
51% of respondents to the Trends Survey predict the walk-in pantry to be the most requested storage option over the next 3 years, followed by floor-to-ceiling cabinetry and deeper lower cabinets that provide storage within easy reach.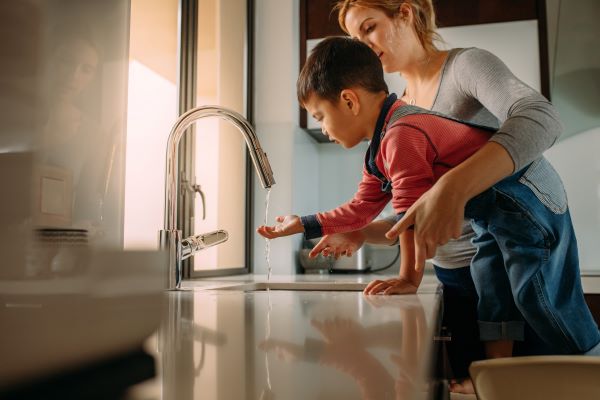 Healthy Living
After living with the threat of disease from COVID for the past few years, it's not surprising that homeowners want their homes to be a safe, healthy, sanitary space.
As a result of their interest in connecting to nature and developing and maintaining a healthy lifestyle, these are the features they want in their kitchens:
sustainability
dedicated recycling areas
energy efficient appliances with Energy Star certification
LED lights
water conservation
air and water purification
easy to maintain surfaces and spaces* including touchless faucets
increased natural light with hi-performance low-E windows
VOC-free paints and stains
radiant flooring
recycled materials in cabinets, floors and countertops
cabinets made from wood that comes from FSC certified forests
*60% said sanitary, non-porous, antimicrobial countertops will be trending over the next 3 years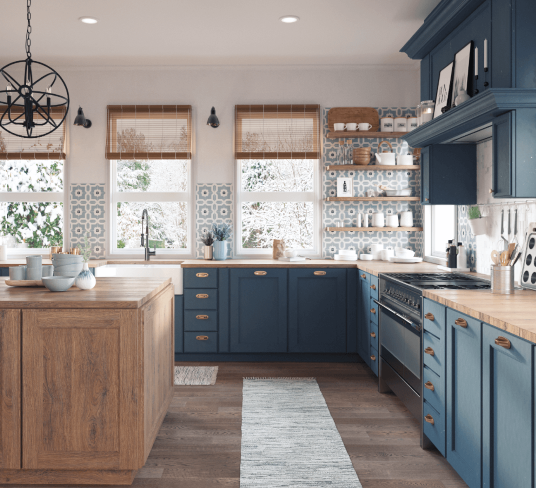 Colors | Finishes
Designers can expect to see increased requests for more color, as all-white and gray in the kitchen as primary colors diminish in popularity. However, whites and grays do remain popular as neutrals. Further, greens, blues and blends of other nature-inspired colors are becoming top color choices. Any of these go beautifully with lighter wood grains. 
Bold colors in darker tones are gaining popularity for backsplashes, cabinets, wall paint and artwork. In addition, you as kitchen designers, can expect to see more wood grain visible in cabinetry.
Predictions from the pros for what will happen over the next 3 years:
50% said green will be the top color choice
45% said Blue
23% said gold
22% said sepia (a reddish-brown color)
Gray came in with only 21%
In Metallics, brushed gold is popular again, followed by bronze and silver tones – all with matte finishes. Nothing shiny.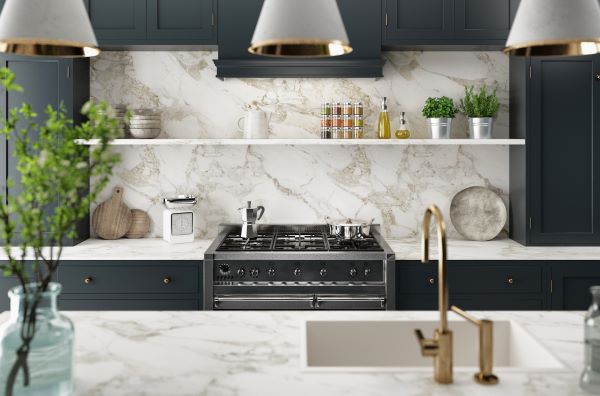 Countertops
Quartz remains the overwhelming favorite countertop material, followed by quartzite and granite. Sanitary and easy-to-clean quartz, especially light-colored quartz, remains popular for countertop surfaces and will continue so. For backsplashes, walls and floors, there is a trend toward fewer grout lines. This means longer subway tile and larger tiles and slabs in the kitchen.
The Future
Asked where they would most like to see innovation in the kitchen over the next three years, designers said in this order:
Cabinets — new styles, colors and customization are most desired
technology solutions
ventilation hoods and appliances
---
Bob Aungst Cabinet Sales is a full-service rep agency with the goal of matching kitchen designers and remodelers with the cabinet manufacturers best suited to their business' style and clientele. Owner Bob Aungst III represents Brighton Cabinetry, US Cabinet Depot and Great Northern Cabinetry.